Centenary conference
It is our centenary year and we are delighted to be producing a conference that will reflect on the progress the industry has made over the last 100 years. More importantly, we will look to the future to enthuse delegates by what the industry has to offer and the exciting challenges ahead.
The Inspiring for Generations programme is as follows:
08:30
Arrival & registration
09:00
Welcome address
Miles Watkins FIQ (Institute of Quarrying)
Creating positive workplaces: how supporting wellbeing and employee engagement helps organisations
09:10
Being a middle-aged man can be fatal!
An overview of the issues affecting men's health and how they impact sickness levels in the UK. Includes guidance on how employers can provide effective support to their employees.
Martin Tod (Men's Health Forum)
09:35
Creating wellbeing by proactively managing work-related stress
It's easy for employers to overlook intangible health issues such as work-related stress and focus instead on resolving physical – and more easily identified - safety hazards. Yet health issues are no less important than safety issues and should be given equal priority. Health, including work-related stress, is a major focus of HSE's 2020 strategy so it's likely that the identification and management of work-related stress will gain considerable momentum over the coming months and years.
This presentation will explore the issue of work-related stress and how by proactively managing it within our organisations we can create wellbeing.
Dr Carolyn Yeoman (OCAID Wellbeing Ltd)
10:00
Panel session: the global perspective. How do different countries approach wellbeing and engagement topics?
IQ International Presidents
Facilitated by Colin Jenkins Hon FIQ
10:45
Coffee Break/Exhibition
11:15
Practical examples of health & wellbeing initiatives undertaken and experiences arising out of these
Helping Great Britain Work Well
Great Britain's health and safety record is the envy of much of the world. Central to this is protecting people by managing risk in a proportionate and effective way, supporting innovation and increasing productivity.
HSE is seeking to influence the system through its 'Help Great Britain work well' strategy.
Colin Mew (HSE)
Commit to be Fit: using technology to support employee health
Commit to be Fit is an innovative initiative for employees that brings together technology and training to support health and wellbeing initiatives.
Ben Williams (EPC)
No longer all in the mind
With more and more employers recognising the importance of mental health, we hear from two organisations that have launched new campaigns to address this issue and the reasons why.
Peter Williamson (Knights Brown) & John Mawer (Tarmac)
12:00
Lunch/Exhibition
Creating positive environments
13:15
What's in a Quarry Garden?
The IQ Quarry Garden was the stand out show garden at the inaugural RHS Chatsworth Flower Show in June this year. The designer, Paul Hervey-Brookes, talks about his inspiration in creating it and the legacy he hopes it will create.
Paul Hervey-Brookes (Paul Hervey-Brookes Associates)
13:25
A global look at what HeidelbergCement is achieving for biodiversity
The quarrying industry is the unsung hero of environmental management. Dr Carolyn Jewell will talk about the initiatives and contributions being undertaken by HeidelbergCement to support biodiversity on a global level.
Dr Carolyn Jewell (HeidelbergCement)
13:50
Alternative fuels for an alternative future
Rising energy costs are driving operators to find increasingly innovative sources of fuel that are good for business and good for the environment.
John Pickering (Sapphire/Tarmac)
14:15
Coffee Break/Exhibition
14:45
Panel session: young professionals of the future
David Hakes (CEMEX)
Dannika Bannon (Tarmac)
Julian Veal (Breedon)
Anastasia Grizioti (Aggregate Industries)
Gary Morgan (Hanson)
Facilitated by Colin Jenkins Hon FIQ
15:30
IQ Pledge presentation
James Thorne (Institute of Quarrying)
15:45
Closing comments and thanks
Phil Redmond FIQ (Institute of Quarrying)
16:00
Conference Close
Industry dinner
Our evening event will continue the 'inspiring for generations' theme of our centenary conference, additionally showcasing the University of Derby student awards, providing a great induction for our industries future leaders.
The dinner event programme is as follows:
18:00
Drinks reception
19:00
Awards ceremony
19:30
Industry dinner with guest speaker Helen Glover
Don't miss your opportunity to be part of it.
You can now book conference and dinner tickets online from the IQ Shop.
If you would prefer to pay by company invoice please complete the form available here (please right click and select 'Download Linked File').
If you have any questions about the event contact one of the team on 0115 972 9995 or mail@quarrying.org.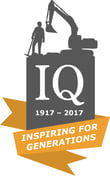 Our special industry conference and dinner takes place 19th October 2017 at The Belfry, Lichfield Road, Wishaw, Sutton Coldfield B76 9PR.