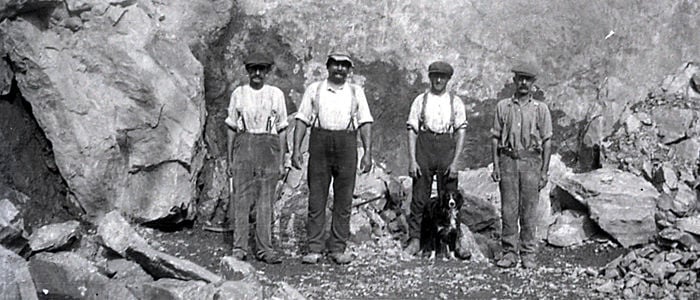 We've mentioned it a few times but 2017 is a special year for the Institute of Quarrying, after all its not every year you get to celebrate a birthday as momentous as being 100 years old!
There has been so many discussions and plans made about how best to mark the centenary that its a little difficult to believe that we are finally here. And I do wonder what thoughts the founding members would have in reflecting on this particular anniversary.
The Institute was set up so that the role of quarry manager was valued and recognised for the skills and expertise needed to carry out that position. It gave credibility to the person running the site, responsible for production and the safety of the workforce when dealing with the landowners. Being a quarry manager was a respected role in the communities in which they lived and were often looked to for their leadership on matters away from the rock face.
Today the Institute is here to support all sorts of roles within an operation: from quarry managers to site operatives to specialist engineers and technicians. But the fundamental reason for membership is the same, to be recognised and valued as a professional person in the industry.
Without doubt the nature of the industry has changed beyond all recognition since those early years in North Wales where the Institute was founded. This image was sent to us by a Fellow of the Institute, Mr Michael Best, and was taken circa 1920's. It shows just how far we have come over 100 years.
The historic view of the sector is one largely made up of independent, family owned sites where even the dog had a role. Now it is typified by large, international corporations. But the changing ownership has brought innovation, technological developments and more sophisticated management practices.
We now support people working in a modern and vibrant quarrying and mineral extractives industry that offers unparalleled career opportunities through personal and professional development. We are going to use this centenary year to make sure that industry and the wider general public hear this message.