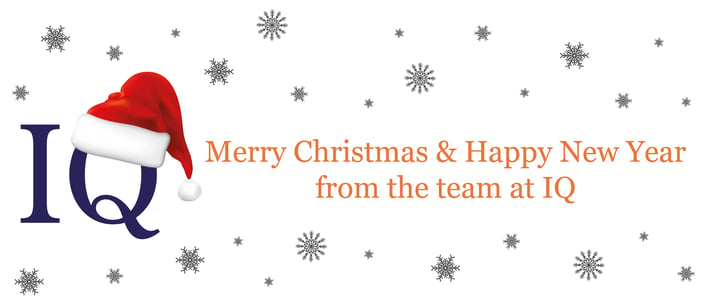 The workshop at HQ is very busy this time of year, filled with merry jingles as the IQ elves are trying to wrap all the presents ordered from ShopatIQ ready for Santa to deliver on Christmas Eve.

It's been an exciting year for us in the office with new website and shop launches, another amazing Hillhead show, which seems like only yesterday and our educational offerings through IQ Academy providing us with global reach from the Middle East and into America.


It's humbling knowing the contribution being made to the bigger picture in helping to train, develop and upskill individuals, lending a helping hand in assisting them along the road to reaching their full potential.

It's also exciting to know this is just the start of things to come, it's our big 100-year anniversary next year and we've all been working hard on ensuring we give the occasion the long-awaited celebration it deserves. We have an exciting calendar of events lined up, more to be revealed in 2017!

We would like to also give a special thanks also to all of those who got involved with the #QuarriesRock centenary calendar too, we had an overwhelming response and some truly awe-inspiring images from across the globe, thanks to our International branches involvement. Don't forget you can also welcome in 2017 in style and get hold of your copy at ShopatIQ.org

We're also pleased to announce our newly released bite sized short course dates for 2017, an ideal CPD opportunity to get booked onto, standing you in good stead for the New Year.

Don't forget, although the elves are out the workshop you can still find a wealth of information at quarrying.org or IQ branded goods and educational offerings at ShopatIQ.org throughout Christmas and New Year.

From all the IQ office elves, we hope you have a very Merry and safe Christmas and New Year, wishing you all the best for 2017!