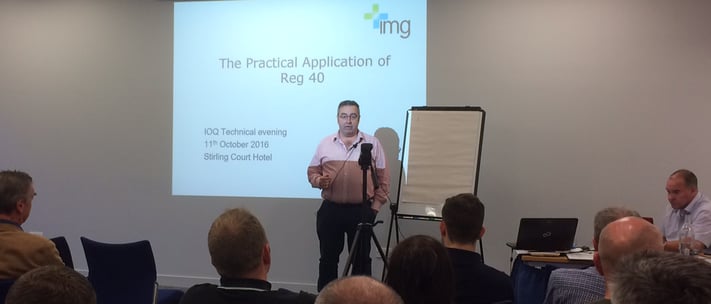 The Scottish Branch continued its 2016-17 technical evening calendar on Tuesday 11th October at the Stirling Court Hotel. The presentation entitled "A Practical Application of Reg 40" was given by Colin Nottage of Influential Management Group (IMG).The evening was well supported by 39 members and guests both at the venue and via two webinar locations.
The presentation was designed to follow last month's presentation of "Intelligent Quarrying" given by HSE which covered compliance aspects. The presentation provided a more practical understanding and different ideas to implement on sites in order to be fully compliant.
The key elements of Reg 40 paras 1-9 were highlighted and following this the key stages below were explained in more detail:
Consult and Communicate

Sources for H&S information

Employees being most important of all

Safety committees, Daily briefings
Risk Assessments

Investigate

RIDDOR events but more importantly the near misses. To be done by trained, competent, confident, comfortable and supported teams
Incident triangle
Belief vs reality

Inspect

Equipment
Systems and procedures
People
Benefits of allowing employees to undertake inspections
A vote of thanks was given by branch chairman Andy Gillon and thanks was duly given from the floor in the normal manner.