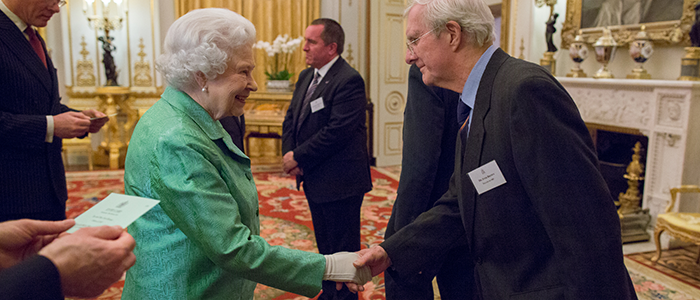 Dr Ivor Brown, Honorary Fellow of the Institute, former Chairman of the Yorkshire Branch and long standing member of its committee was recently introduced to the Queen and Duke of Edinburgh at a reception for a representative number of past recipients of a Winston Churchill Travelling Fellowship.
Ivor was awarded his Fellowship in 1986 to cover a study of mining and tourism in the USA and Australia. At the time he was employed as Minerals Planning Officer by West Yorkshire Metropolitan County Council and was as part of this, looking at ways of using the County's heritage of underground mining and quarrying as a tourism feature.
During his trip in 1987 he met members of the Institute in Australia and Tasmania and on the return flight stopped off in Malaysia to give a talk to the newly formed branch there.
The results of the tour can now be seen in the formation of the National Coal Mining Museum at Wakefield and the preserved Walking Dragline feature at St Aidans Opencast Site, Leeds.
Dr Brown joined the Institute in 1965, when he became the first appointed Quarry Lecturer for the Institute' s Doncaster Diploma Course in Quarrying. He is still active in the Yorkshire Branch.