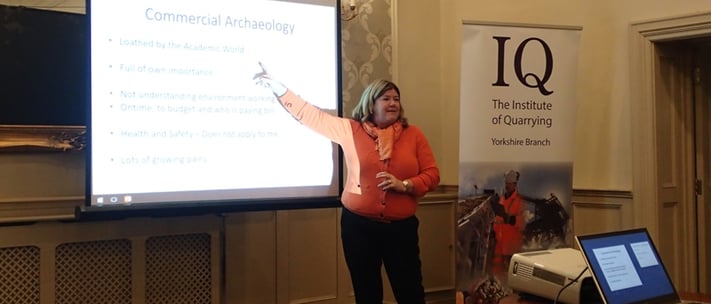 The technical meeting at the Bridge Inn, Wetherby on 8th March was on the subject of Archaeology on Mineral Sites and presented by Paula Ware of MAP Archaeological Consultancy.

In a fascinating and well-illustrated talk, Paula gave an overview of the regulations and requirements affecting site operators as well as how to use archaeologists to best effect in terms of site operations and control of costs. She also reminded the audience of what it was reasonable for planners and authorities to request and what was not – even though sometimes there is little choice!


Despite the frustrations on-site archaeology can cause to the operator, there is little doubt that the discovery of ancient settlements and artefacts lends an interesting aspect to operations as well as knowledge which adds to the history of the nation. Paula gave some particularly interesting examples of ancient site discovered around York.

It is indicative of a good talk that the question session lasted almost as long as the talk itself, with the audience asking a range of questions before the evening was brought to a close with a vote of thanks proposed by branch chairman Graham Lamond.