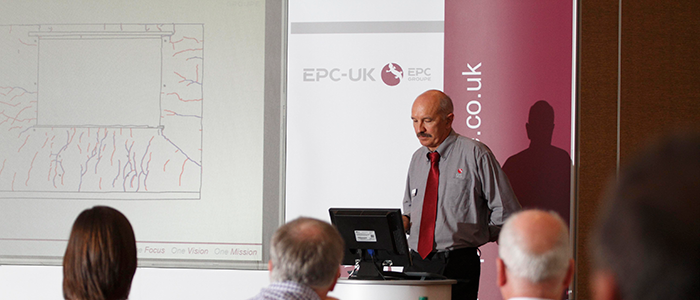 In conjunction with the Institute of Quarrying, EPC-UK hosted its fifth series of Best Practice Seminars during 2015.
The Seminars are delivered with professional excellence and effectiveness, in a relaxed atmosphere. Providing delegates with the opportunity to enhance their professional development, learn new skills and ensure they are informed of any changes in legislation, technology and working practice.
The seminars were rolled out across the United Kingdom, covering venues from Scotland to South Wales and Cornwall with the aim of providing informative presentations focusing on sharing Best Practices, along with answering common questions and challenges presented by today's extractives industry.
With excellent attendance levels of over 170 delegates, EPC-UK collaborated with IQ to provide a total of 1020 valuable Continuing Professional Development hours.
The Seminar's commenced with a welcome speech from the Commercial Manager at EPC-UK, followed by an important safety pause, centered on perceptions and behavior, supporting their Esprit d'Equipe initiative. The Presentations that followed incorporated information on current industry news and insights including:
Control of the danger zone
Current UK Threat levels
Prevention and analysis of Fly rock (HSE)
The future of the IQ and CPD update
Structural damage criteria
ITOER regulations
EPC-UK new to market
EPC-UK drew the day to a close with a renowned video round up of the most interesting blasts and demolitions, concluding a day of excellent thought provoking presentations, which promoted questions and discussions allowing people to develop conversation and new ways of thinking.
By attending and engaging in CPD events and seminars, such as the EPC-UK Best Practice events, individuals demonstrate their commitment to ensuring their effectiveness, providing them with a significant advantage in their career development.
Planning for the next series of highly anticipated Best Practice seminars set to take place in 2017 is already underway. Special thanks are passed onto the guest speakers from the Health & Safety Executive and NATSCO.