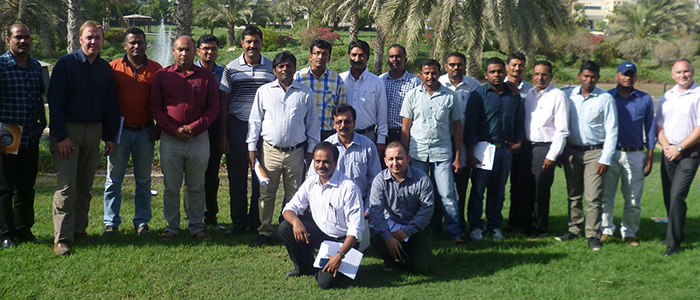 Stevin Rock has been the leading quarry operator in the Middle East for over 35 years; with the capacity to produce in excess of 60 million tonnes every year of high-grade limestone, gabbro rock, concrete and asphalt aggregates. Owned by the government of Ras Al Khaimah in the UAE, they deliver their products to the construction and manufacturing markets of the United Arab Emirates, Gulf region and Asia.

The Institute of Quarrying were chosen to deliver a bespoke Supervisors Course, designed to cater exclusively for the individual needs and requirements of the company. The focus of the training was to provide a greater understanding of the importance of operational management, whilst improving performance and better equipping its workforce to meet with the needs of the business and its customers.

Catering for a total of 40 delegates over two days, the sessions made use of educational resources developed from the Institute of Quarrying's quality assured units in the University of Derby Foundation Degree in Mineral Extractives Technology.

The training approach combines web-based content available through the Institutes dedicated Learning Management System (LMS). The online learning aspect is supplemented with face-to-face tutorials, providing a cost effective method of learning in the delivery of 25 subject units via three modules, all of which add value to the business through the forward development of it's employees.

On successful completion of the course, delegates are awarded with a CPD certificate jointly badged by IQ and Stevin Rock, defining the number of hours CPD that has been undertaken providing recognition to those individuals working to maintaining their competence.

A programme of tutorials, commencing February 2015 has also been scheduled to run alongside further training being delivered by the Institute.

To find out more about any of the training and educational offerings from The Institute of Quarrying, or how our bespoke training opportunities can benefit you contact Julian Smallshaw, Head of Educational Development on 0787 0737 645.