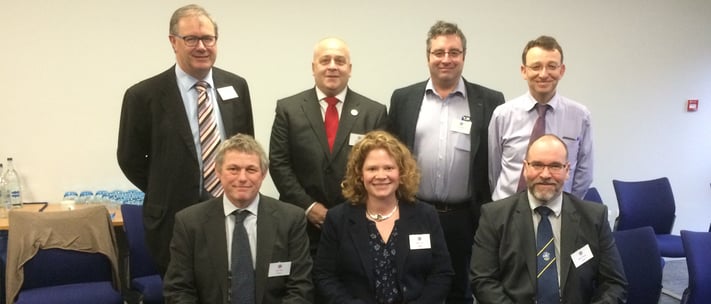 The Scottish Branch continued its 2015-16 calendar with a CPD day, held on Tuesday 16th February at the Stirling Court Hotel. The day was supported by a turnout of 140 members.The day began with an introduction from branch chairman Malcolm Stewart, who gave a brief insight into the keynote presentations planned for the day;
Workforce Engagement - David Johnson, Jabez Safety Solutions
Workforce engagement.
An overview of Regulation 40 of the Quarry regulations and ACOP.
The benefits of worker engagement.
The consequences of failing to engage.
Safety from a contractors view - Keith Oakes, Finning
Working together to achieve a consistent approach to health & safety on sites.
Keeping your employees and our engineer's safe whilst working on your sites.
Safer by Sharing - Kevin Stevens, MPA
To share or not to share
Sharing best practice
Incident alerts with real life examples
Current Topics - Mike Tetley, HSE
The real meaning of Reg 40 - Quarry Regs 1999
Have you read it?
Do you understand it?
Managing Contractors - Colin Nottage, IMG
Challenging Contractors behaviours
Pre-vetting through induction and onsite assessment
Your workforce being eyes and ears when contractors are on site
Handling Conflict - Saffron Grant, Civil Engineer
Specialises in working in male dominated workforces to improve their wellbeing.
Reduce the need for unnecessary conflict,
To prevent conflict escalating or to end up with a positive outcome when a situation does come to a head.
CDM 2015 - Graeme Smith, Fairhurst (Partnership)
How it affects the Quarrying industry
What type of activities does it cover
Appointment of Duty Holders
The day concluded with closing remarks from branch chairman Malcolm Stewart.
Thanks was given to all the speakers, attendees, committee members and the venue staff for the support of our branch in this year's CPD day.