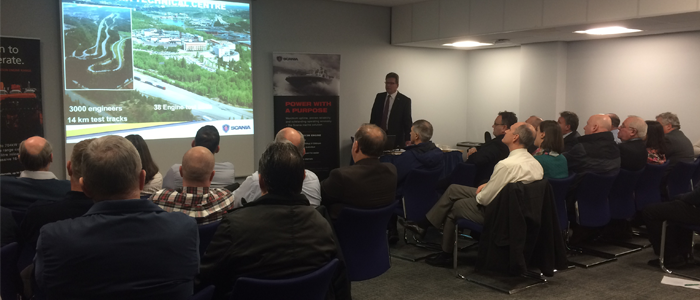 David Bamber, Alistair Campbell and Hugh Moore of Scania provided the January technical evening for the Scottish Branch, with a presentation covering Diesel Engine Developments. The evening was supported with an excellent turnout of 35 members and guests.
Formed in 1881 and with a presence in over 100 countries, Scania is one of the oldest and largest automotive manufacturers with links to prestige car companies including Bentley, Porsche, Ducati and Lamborghini.
Delivering their first industrial engine in 1905, the company now produces a wide range of engines across a diverse market including heavy trucks, buses, coaches, industrial and marine.
Applications for its I&M engines include power generation sets, vessels and a wide range of global OEM's in the quarrying sector with crushing and screening machines and also Terex Trucks Motherwell. Focus in design has been maximising up time, fuel consumption and environmental performance.
With the E2011 I&M engine family sharing the same modular design it has led to fewer parts but a wider range of engine variants to suit the application. Scania launched the stage 4 IV/Tier 4 engine family in 2012, delivering a massive reduction in NOX and particulates use a mix of technologies when compared to previous stage developments. This technology includes Ad Blue but does not require a diesel particulate filter. Stage V will see further reductions in emissions
Scania GB has invested heavily in obtaining Quarry passes and CSCS cards to support customers. They ensure that technicians meet necessary safety requirements and have a 24-7-365 customer support function available in the event of unscheduled problems. With its new £3M Inverness depot supporting its branches I&M customers are provided with support throughout Scotland.
The evening concluded with branch chairman Malcolm Stewart thanking the Scania team for the support of our branch in this year's programme.