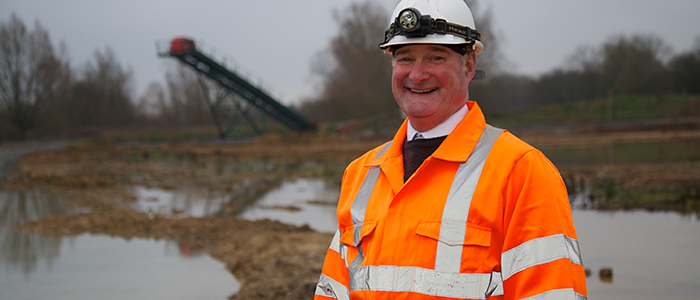 Wiltshire-based company Hills Quarry Products' newest quarry at Cerney Wick is scheduled to open 1 September 2015 and will be managed by production manager, Ian Southgate who has taken on the new role of production manager for quarries in the Cotswold Water Park. The Cerney Wick site resides on the western side of the Water Park in South Gloucestershire where sand and gravel have been extracted for nearly a century.
"The mineral reserve will yield around two and a half million tonnes of washed aggregate products at 250,000 tonnes a year during the ten year project, enabling the company to keep up with the thriving market and helping to meet the demand for washed aggregate products," says Hills Quarry Products' group director Peter Andrew.
The Cerney Wick gravel, which is a product of the last ice-age, is Oolitic gravel, which has a rounded or egg-like shape. The Cotswold Oolitic gravels provides a good concreting aggregate and are also used as a decorative all-round gravel for applications such as driveways.
The extraction process will be fairly standard for aggregate production. The gravel will be excavated and transported to the washing plant by a network of field conveyors, be washed with ground water, the hollows clay-lined and turned into retaining ponds. Ground water – which will be used to wash the gravel – will be recycled by its flow around the ponds in a closed loop water system.
Cerney Wick quarry borders North Meadow, a Site of Special Scientific Interest (SSSI) and a Special Area of Conservation (SAC), which is owned by Natural England. The area is protected because the rare Fritillaria Meleagris, or Snake's Head Fritillary flower, which grows in abundance on the meadow. The Quarry Products team has worked with Natural England, the Open University, Gloucester County Council and the Environment Agency to create a scheme that enables them to preserve the area. The agreed method of working restricts operations to within around 250 metres of North Meadow during the summer, when ground water levels are low.
The land is also of international importance as one of the finest examples of lowland hay meadow in Europe. Hills Quarry Products' divisional director, Andrew Liddle notes that the team "will need to cause no disturbance to the site. We plan to conduct annual reports and monthly monitoring to ensure that this important area is preserved."
Although there are currently no habitat maintenance issues for wildlife on the site, the team will encourage wildlife to the area during the various stages the quarry will go through. During the extraction phases, some of the gravel faces will be left open for the flocks of Sand Martins to occupy during April to October. As phased restoration takes place aquatic wildlife and wading birds will also be attracted to the site.