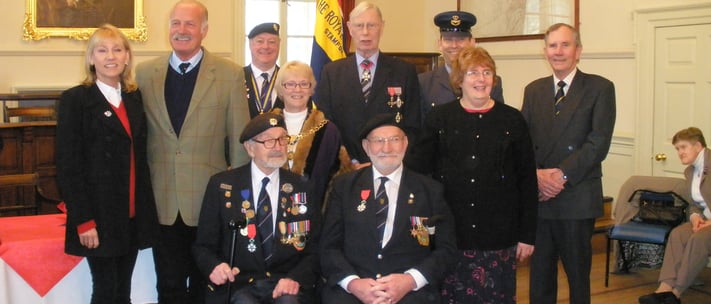 Cllr Sue Sandall, Mayor Stamford, Wg Cdr Simon Erskine-Crum, President of RBL Lincolnshire, and Sqn Ldr Mark Hassall (representing the Station Commander, RAF Wittering), joined more than a hundred Legion members, neighbours, friends, and proud family members as they crowded into Stamford Town Hall on 24 March to witness and to celebrate the investiture of IQ member Derek Burton and Bill Warrington as Chevaliers of the Ordre national de la Legion d'Honneur.

The Légion d'Honneur was established in 1802 by Napolean Bonaparte and, as the French Ambassador to London, Mme Sylvie Bermann, wrote in her letter to Bill and Derek, this high honour was awarded to them and to all other veterans of the D-Day invasion by the French Government in recognition of their acknowledged military engagement and their steadfast involvement in the Liberation of France during the Second World War. She said that "We owe our freedom and security to your dedication, because you were ready to risk your life".
The Branch Chairman, Ray Beresford, explained the purpose of the ceremony, and called on Jim Jackson, Parade Marshal, to read the French Ambassador's letter. He then introduced AVM Peter Dodworth, CB, OBE, AFC, BSc, FRAeS and Patron of Stamford Branch, and invited him to make the presentations.
In his address, AVM Dodworth said that
"The ceremony of the Légion d'honneur is a solemn moment. It is highly symbolic and represents the highest honour to be bestowed by France and an opportunity for quiet reflection and thanks for the family, friends and relatives of the brave veterans.
Through this honour, the whole of France past and present expresses its immense gratitude to those brave young men who like Derek and Bill distinguished themselves in the fighting to liberate France from barbarity and Nazism.
These veterans, together with those that lost their lives in battle and those that we have lost in the years that have passed, gave outstanding service not only to France, but also to Britain.
Their sacrifice will echo through the ages. Today we remember them all. Their commitment, bravery and spirit is something that we shall never forget."
He concluded by saying that it was an honour to be part of such a unique and special ceremony and a pleasure to present the insignia of Chevalier de la Légion d'Honneur to Derek Burton and Bill Warrington.
Derek, a longstanding member of the IQ, served in the REME, attached to 33 Independent Armoured Brigade, throughout and after the invasion of Normandy. His job was to go through the lines to recover damaged tanks for repair and return to active service and Bill drove an amphibious DUKW of 633 Company, RASC, taking men and equipment to the beaches on the morning of D Day itself and helping colleagues to ferry the wounded back to the ships offshore.