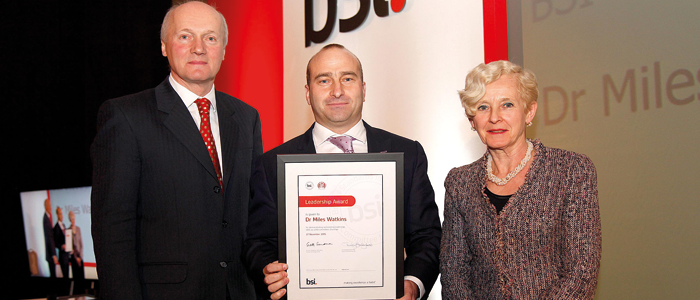 We are pleased to congratulate Dr Miles Watkins, Fellow and Chairman of the IQ on being awarded a prestigious BSI (British Standards Institution) Leadership Award in 2015. The Leadership Award distinguishes those who have demonstrated outstanding leadership, helping sectors to develop and grow whilst also helping to safeguard consumers.
At the awards ceremony, held late last year, Dr Miles Watkins was recognised for his outstanding contribution in progressing sustainability and social responsibility within standards.
Nominated for the BSI Leadership Award, on the basis of his exceptional leadership and contribution to the management committee SDS/1 (Sustainable development), and the delivery of the sustainability standards BS 8900:2013-1 and -2, a substantial revision and extension to the original standard from 2006.
Miles became Chairman of SDS/1 in 2008, at a time when he was also making a significant contribution to the development of ISO 26000:2010 (Social responsibility). He undertook both these roles whilst he was an Executive Director of a major UK business, Aggregate Industries, and as an active representative of the trade association, British Precast, which shows his personal and professional dedication to standards.
His work is clear evidence of an exceptional and specific personal commitment to the progression of both sustainability and social responsibility within standards. He was able to draw on his professional experience and attract a strong network of contributors to the committees, such that the standards documents were of a very high quality. He instigated the creation of case studies to show how the standard might be applied in a range of organizations, including his own. In these ways, Miles is an excellent and credible example of an industrial committee chairman.
Miles was proactive in his leadership of SDS/1 and championed the revision of BS 8900, encouraging the drafting committee to shape the debate, inspire organizations to adopt standards and innovate in its methods and outputs, and he put in substantial personal efforts to ensure that the standard was the best that it could be. By taking responsibility for progress and acting as an exemplar in terms of professionalism, energy and clear thinking, Miles demonstrates the leadership skills necessary to produce excellence in British and international standards. Importantly, in steering the committee through the revision of BS 8900:2013, his input was instrumental in delivering the new version in two parts (including a new self-assessment section), such that a wide range of organizations could now self-assess against a range of criteria; the contents were honed carefully and sensitively under his chairmanship. The standard can now be applied effectively in a variety of settings, including small businesses and third sector organizations. This contribution alone provides excellent evidence of Miles's commitment to the promulgation of standards across a broad range of BSI customers, beyond large commercial companies.
Miles's sustained leadership of SDS/1 was instrumental in stimulating the debate around sustainability in standards, and his work on BS 8900 contributed significantly to the shaping of ISO 26000, which a standard of high regard and influence. In this way, his global influence in standards generation has been confirmed.
Highlights of the second annual BSI Standards Awards can be viewed at https://youtu.be/cdTWL9ZrvEA