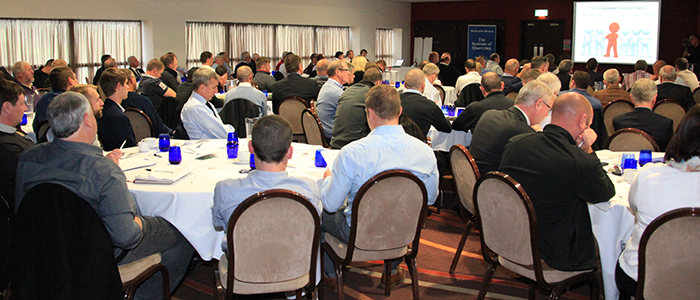 The Derbyshire branch opened the doors to its third annual Safety Conference, 8 October 2014. The event was held in conjunction with the Health & Safety Executive (HSE) at the Proact Stadium in Chesterfield, where a variety of presentations were delivered from several specialists within the industry.
The opening to the day was brought about with an introduction from Richard Noble (HSE) and Chair of the Derbyshire Branch, Kim Shilcock. Roy Bush (HSE) was also on hand to provide an insight into hard targets, with particular focus on Regulation 40 – workforce engagement/involvement. Detailing that it is the operators duty to co-operate effectively in promoting and developing measures in the workplace along with checking effectiveness.
Roy followed on by focusing on accident rates, drawing attention to reports of minor accidents plateauing over the previous five years, with major accidents and fatalities slightly increasing. To counter this he suggested linking incentives to health and safety performance while also raising the question to whether all minor accidents are being reported. Contractor accident reporting was also covered, before bringing attention to the role QNJAC undertakes through communication, incident investigation, inductions and education.
Jon Butterworth of National Grid followed with a presentation on "How safe are you?" Creating a generative culture based on Piper Alpha. The talk started with an overview of the national grid, followed by safety performance before an example of a fatality was shown, something that could have been avoided with the correct use of procedures. He suggested that an accident is not a failure of a single mechanism but a failure of multiple layers of protection, stating that an accident can happen when "all the holes line up". This was demonstrated by analysis the disaster of Piper Alpha, which was shown to have been a result of not just one, but multiple failed "layers of protection".
After a short break Colin Jenkins, President of the IQ (2012 -14) covered "Why workforce engagement matters at your quarry & how to do it". He stated that it is the people that make the difference through workforce engagement. The report 'Engaging for success' – Macleod 2009, suggested organisations with inspiration and engagement of employees produce world-class levels of innovation, productivity and performance. Evidence from the HSE also suggests improving leadership and workforce engagement directly improves occupational health & safety. There are means of achieving genuine workforce engagement and real change can be made through driving improvements site wide, providing strong leadership accompanied with a genuine desire to create a positive site culture and true employee engagement.
Bob Robinson of Hope Construction Materials gave an insight into the challenges and processes involved in uniting two health and safety cultures. The challenge was to create a safety culture both fitting and embracing to all, to make people feel comfortable and confident in the new business. One of the main driving forces was the creation of an identity, the success of this team "hope united" depended on visible felt leadership, requiring managers to become leaders assisting in employees feeling more valued and motivated at the end of the day. When asking the question why health and safety really matters, he used a child's words "I want you to keep my daddy safe, because I love him…a lot!"
Craig Arditto and Ian Brown of Lafarge Tarmac contributed a joint presentation on the link between Geology and Quarry face Operations, making the point that quarry safety isn't just about understanding geology. Examples were shown of replacement plant brought in to suit the geology, linking geological and geotechnical process with human behaviour through safe working. Geology-assessment-management documents-operations (all chain linked) must be considered for safe working. They explored the tools available including geotechnical assessments, review meetings, optimisation and training among others.
After lunch, Richard Noble celebrated 40 years of the Health and Safety at Work Act 1974, before talking about accidents and incidents in the industry. He reminded the audience of past major events relating to failures in health and safety while iterating that it is our duty to prevent events like these from reoccurring. Richard outlined a review "Health and safety made simple" removing 20 unnecessary regulations (up to November 2013), before speaking about RIDDOR (Reporting of Injuries, Diseases and Dangerous Occurrences Regulations) requirements, which was accompanied by a series of videos showing the long term effects of exposure to substances hazardous to health, such as exposure to silica dust, with a focus on the personal effects and available measures of prevention. A fee for intervention review revealed income of £12.3million, with 24,260 invoices averaging £508.
The final presentation, given by Rob Shore focused on the behaviours of an effective incident investigation team. He suggested that the success to health and safety exists in four steps; Plan-Do-Check-Act, making references to RIDDOR. Rob suggested the profile of a competent investigation team, with the scale of an investigation dependent on the actual outcome of incident, along with the potential severity of this to prevent reoccurrence. The presentation finished with a final point, before pointing the finger always consider there are three fingers pointing back at you.
The conference ended with thanks to the event organisers, venue staff and speakers, who delivered important messages and provided fresh insight into health and safety within the industry following on from the successes made in previous years.