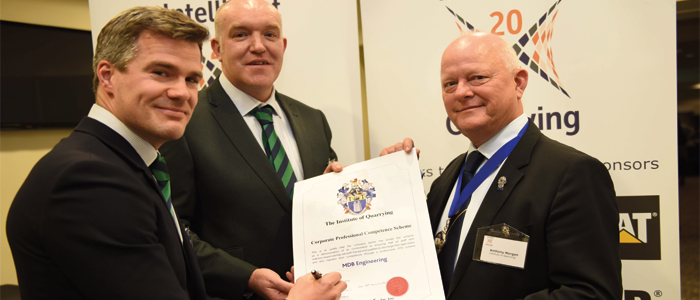 MDB Engineering has been welcomed in as the Institutes fourteenth and newest member to the Corporate Professional Competence (CPC) scheme.
Dan Brunt and John Dye of MDB Engineering were both present at the IQ Annual conference to formally sign the certificate with Anthony Morgan, IQ President, demonstrating both their and the companies ongoing commitment towards both the industry and their employees, striving towards achieving and maintaining a fully competent workforce.
The CPC scheme recognises the importance of Continuing Professional Development (CPD) and role this plays, supporting companies who demonstrate their ongoing commitment to health and safety along with the development and training of its workforce.
For more information on the CPC scheme call us on 0115 972 9995 or email mike.phillips@quarrying.org.