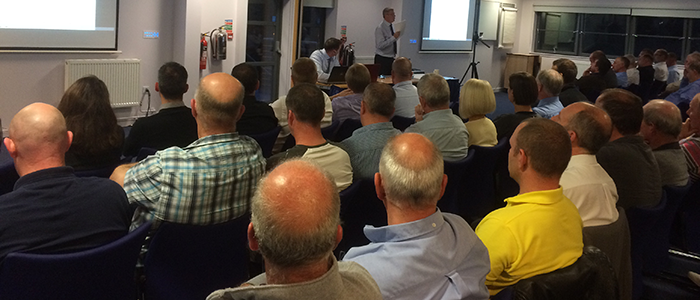 The Scottish Branch opened its 2015/16 technical evening calendar on Tuesday, 8 September at the Stirling Court Hotel. With a presentation by Mike Tetley, HM Inspector of Quarries from the HSE, providing an insight into topical issues being dealt with by the National Quarries inspection Team.
Eighty-eight members and guests at the venue supported the evening, with an additional 16 members, across three remote locations in Scotland linked in via webinar.
A good cross-section of issues had been selected including hard rock, geotechnics (along with recent guidance) in addition to sand and gravel operations. To promote engagement and understanding, open debate and questions were welcomed throughout the presentation.
Initially focusing on investigations and recent legal proceedings, Mike explained that it was the HSE policy is to publicise these, but the gravity of one of the case studies had to be respected as it involved a fatality. The cases focused on a fatal accident at Hatton Mill Quarry, involving Geddes Contractors Ltd and a catastrophic geotechnical failure at New Pilough Quarry involving Blockstone Quarry Ltd. Both of the cases had gone through the due legal process.
The underlying focus from these cases was to provide self-reflection for quarry operators, asking themselves the question "could this happen to us? Are we doing all we should and are our systems and procedures error tolerant?" In both cases the investigation findings were presented along with the issues, which provoked thought and learning discussion.
The key messages from the case studies covered: the design of tip stops through risk assessment, mobile plant operator training, use of seat belts, auditing of workplace transport in quarries, importance of geotechnical assessment, quarry design/development plans, operator competence, involvement of a geotechnical specialist when changes/tension cracks occur, RIDDOR reporting and the available QNJAC guidance along with information sheet GS5.
The presentation also raised awareness of the latest bulletins and guidance on the HSE website, including the changes to visibility requirements on earth moving machinery and the removal of the presumption of conformity, health surveillance for those exposed to respirable crystalline silica (RCS) and worker engagement, covering the requirements of the Quarry Regulations, this was also highlighted as being a priority for the National Quarries Inspection Team.
The evening concluded with branch chairman Malcolm Stewart thanking Mike Tetley for his valuable, appreciated attendance and support of the branch again in this year's programme.