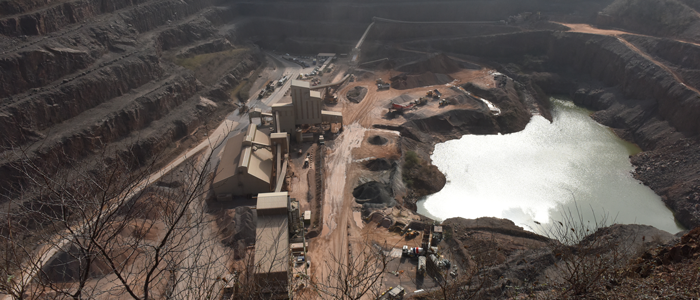 A new educational factsheet exploring the importance of effective water management in quarries is now available from the Institute of Quarrying (IQ).

The IQ Water Management Factsheet has been developed in partnership with environmental water specialists Hafren Water. It aims to raise knowledge and awareness of water safety management and related environmental issues for professionals working within the quarrying and minerals extractives industries.

Chris Leake, Senior Hydrogeologist at Hafren Water, is the author of the factsheet. He said: "In order to manage water effectively it is necessary to fully understand the water environment in the vicinity of a quarry. This can include measuring volumes of water pumped around the site, measurement of groundwater levels and volumes of water pumped off-site. In short, if you can't measure it, you can't manage it."

The factsheet develops IQ members' technical skills under the 'Knowledge and Innovation' section of the IQ Skills Wheel. The Skills Wheel was launched earlier this year to help quarrying and related industry professionals map and maintain an ongoing path of continuous professional development.

Water management has been an important consideration in mineral extraction historically, but this has increased significantly in recent times. Growing public awareness of environmental issues, stricter regulations, and the impact of flood risk are all key factors which have increased the need for improved water management across the industry.

Sarah Fry, Business Development and Communications Manager at the Institute of Quarrying, says: "We created the factsheet to raise awareness of the importance of these factors. Our aim is to educate site operatives and workers about how to manage water correctly for the benefit of the quarry and for the surrounding communities and ecosystems."

Another key driver behind the focus on effective, planned water management is the increasing realisation that quarrying can be ecologically beneficial to local communities through the creation of new habitats for wildlife.

Nature After Minerals (NAM), a partnership programme led by the RSPB and supported by Natural England, the Mineral Products Association and the British Aggregates Association, works to raise awareness of the benefits that high-quality restoration on mineral sites can offer people and wildlife. It details many best-practice case study examples on its website www.afterminerals.com.

One of these case study examples is Langford Lowfields in Nottinghamshire, an RSPB reserve created from the progressive restoration of a Tarmac quarry. Since opening, Tarmac's Langford quarry has produced between 400,000 and 500,000 tonnes of high quality alluvial sand and gravel per annum. The restored areas of the quarry are now home to large areas of reedbed, fringed with species-rich grassland and scrub, whilst the silt-settling lagoons have the future potential to develop into wet woodland. High quality restoration, combined with careful aftercare management of habitat and water levels, has meant that Langford Lowfields has become a haven for wetland wildlife.