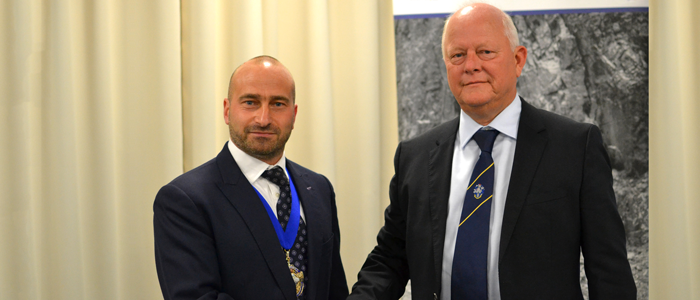 Chartered environmentalist Dr Miles Watkins FIQ takes up his presidency at the IQ after almost five years as the organisation's chairman. Miles is widely recognised within the industry, joining BRE in 2013 to take up the pivotal role of Group Business Development Director, following a 17 year stint at Aggregate Industries.
Commenting on his new role, Miles says: "I have always taken a proactive role in our industry and the scope of my presidency enables me to continue to champion quarrying and the huge benefits we, as a sector, deliver not just to the UK economy, but around the world.
"The IQ is well equipped to support the industry at all levels. In recent months I have seen the great work delivered at Hillhead showcasing the IQ Skills Wheel which maps continuous professional development for operators and operatives to four key areas of development. These are solid foundations that the Institute is well placed to promote internationally to support the industry and help it to achieve world-class standards.
"I'm hugely excited by the opportunity the presidency presents and I would like to convey my appreciation to our outgoing president Anthony Morgan, who passes over an organisation in great shape for the future."
Outgoing president Anthony Morgan was the IQ's first South Wales branch member to undertake the presidency for 40 years. He says: "It has been a personal and professional privilege to represent our industry at the highest level and I am immensely proud of the progress that the IQ has made over the last couple of years. In our new president we have a dynamic, enthusiastic and driven individual who I am certain will drive forward the IQ and continue to enhance the industry's reputation as well as its pivotal position in the UK, European and global economies."
Anthony Morgan succeeded Colin Jenkins as IQ President in December 2014. He has served the IQ for over 25 years at branch level and is former Chairman of the Quarry Products Association in Wales.