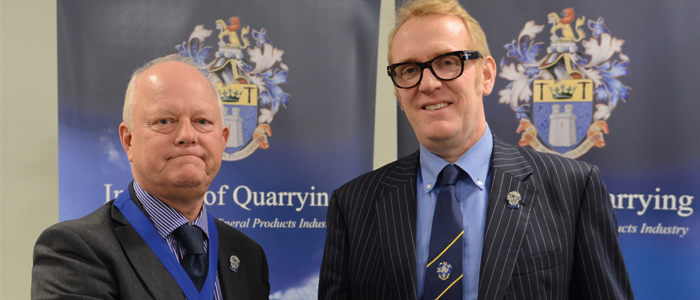 Anthony Morgan was welcomed in as the new President of the Institute of Quarrying, succeeding Colin Jenkins who presented the Presidential chains at the AGM, 15 December 2014.
Anthony has served the IQ for over 25 years at branch level and is the first South Wales branch member to undertake the Presidency for 40 years, the last being John Adams in 1974/75.
Anthony passed on his commendation to Colin Jenkins for his drive and vision to the role during the term he has served, underlining his own commitment to continuing to push and progress the Institute, ensuring it continues to be fit for purpose as it nears its first 100 years and moves into the next.
In recognition of his contribution, Colin Jenkins was presented with an Honorary Fellowship to the Institute of Quarrying.