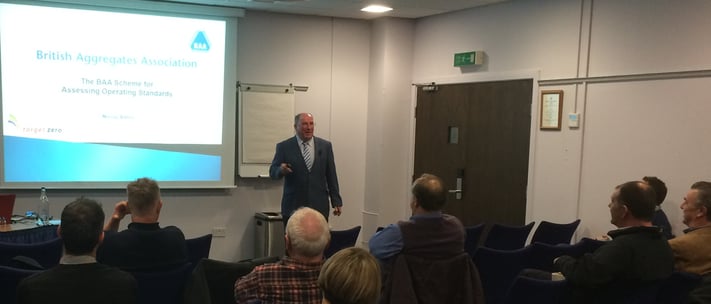 The Scottish Branch continued its 2015-16 technical evening calendar on Tuesday 9th February at the Stirling Court Hotel. The presentation entitled "Quarry Certification" was given by Murray Alston from the BAA.
The evening was supported by a turnout of 20 members and guests at the venue itself and 11 via 3 sites using the webinar link.
The BAA launched its assessment of operating standards scheme in 2007. Take-up was initially slow but to date over half the BAA membership are involved in the scheme and some 35 certificates of compliance have been issued.
The scheme was established to give the quarry operator (who is often the owner of a SME quarry) the reassurance that the health and safety systems at the quarry generally comply with the Quarry Regulations 1999.
The scheme is not intended as an in-depth audit of all items pertaining to the Quarry Regulations but as an expert outsiders' assessment of the operation and the systems employed to manage health and safety.
The assessment makes use of a traffic light system where items are flagged as red, amber or green. Before a certificate of compliance in terms of the BAA Assessment of Operating Standards is issued all items that are flagged as red or amber need to be addressed to the satisfaction of the Assessment Panel. The assessment panel is chaired by former HSE Chief Inspector, Eric Darlow and assisting him are several health and safety professionals drawn from member companies.
A recent development within the scheme has been the involvement of the HSE Quarries Inspectorate. A HSE/BAA Scheme of Co-operation has been operating for the past few years with the HSE taking an active role to assess the effectiveness of the BAA scheme in raising the standard of compliance with the BAA membership.
A number of BAA members who operated larger companies with numerous sites have generally found the existing scheme to be expensive and repetitive. To address this issue the BAA is currently working on a multi-site scheme which they hope to launch in the summer of 2016.
The evening concluded with branch chairman Malcolm Stewart thanking Murray and the BAA for the support of our branch in this year's programme.