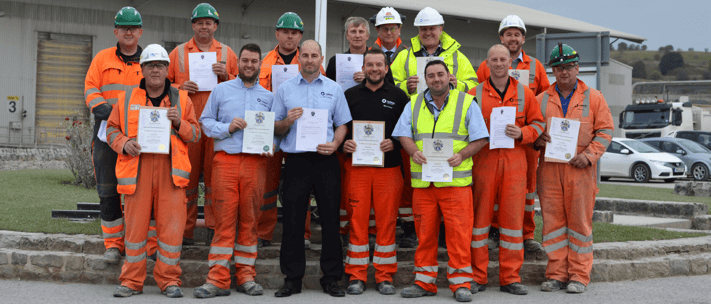 With an operational area running to over 340 hectares Tarmac's Tunstead site is one of the largest in the UK and one of the biggest limestone quarries in Europe.

Located around 4km east of the centre of Buxton in Derbyshire, the operation is comprised of two separate extraction areas, namely, Tunstead Quarry, which dates back to 1929, originally established to provide a consistent supply of high purity industrial limestone for use in the chemical and other industries and Old Moor Quarry, which started out its life in 1985.

The extraction of limestone, production of lime and cement are all fundamentally linked, with over 99% of quarried material being converted into saleable products and any remainder used for onsite restoration.

The key overriding components in making all of this highly efficient process possible are the dedicated and skilled professionals on site, who are passionately committed to their lifelong learning and development, supporting both themselves and their career through their Continuing Professional Development (CPD).

Mike Phillips, General Manager of the IQ and Viv Russell FIQ, Lime and Powers Director were pleased to take time out in order to provide recognition of the commitment to the professionalism demonstrated by the seventeen IQ members at the Tunstead site who have recently undergone a CPD audit, achieving between them an astounding 6,362 hours of accredited CPD.

Commenting on the attainment, Viv Russell FIQ said 'Over 6000 hours of audited CPD hours achieved by the Tunstead team is fantastic. It is a great credit to them and demonstrates the engagement in the IQ CPD scheme right across the workforce.'

Those recognised on the day included:
Ben R Boardman MIQ
Phillip Mellor TMIQ
Aaron R Wood MIQ
Viv Russell FIQ
Phillip Shimwell TMIQ
Peter O'Nyons
Peter Butterworth MIQ
John R Fotherby MIQ
Neil Mycock TMIQ
Mark Holmes TMIQ
Jason P South FIQ
Ian Holland TMIQ
Dan Byatte TMIQ
Rick Hutchinson TMIQ
Russ Taylor TMIQ
Steve Fox TMIQ
Wayne Wilkinson TMIQ
The sites commitment to the CPD scheme was echoed by Peter Butterworth MIQ, General Manager 'Here at Tunstead the Institute CPD scheme is being sustained across all levels of the operations team, and it is really pleasing to see it grow even further across different functions. Ensuring we have a safe and skilled and fully engaged workforce is really important in supporting our ability to embrace the challenges and opportunities ahead in the extractive industry.'
The undertaking of CPD actively demonstrates an individual's commitment to maintaining competence and commitment to good practice. Supporting and taking charge of your personal development, progression and lifelong learning helps contribute to raising standards across the workforce, promoting the forward development and continuing progression of individuals and it's never too late to start recording this.
'As a Quarry Manager, I started my CPD record in 2004 when it was perceived as no more than a "good thing to have". Today, it was fantastic to stand with my colleagues and see Shotfirers, Supervisors, Operators and Senior Managers who all understand the importance of being engaged with the CPD Process as a clear means of demonstrating their professionalism and talents in our ever changing industry.' - Jason South FIQ, Tunstead Quarry Operations Manager.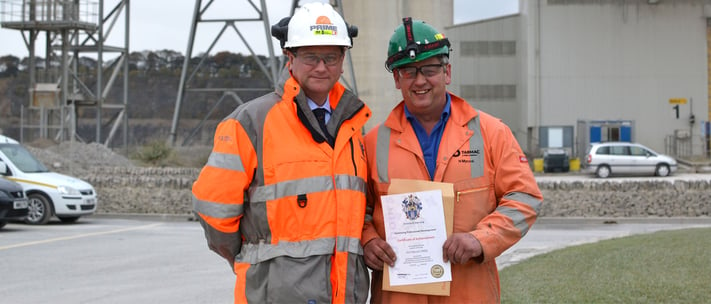 Neil Mycock TMIQ, lead shift hand and Cat 992 loading shovel operator, was also present to receive recognition on the day. As one of the more public faces of the PRIME projects success stories, Neil went onto say, 'The recognition of my achievements over the last couple of years, including the attainment of the Gold card and TMIQ member status has been realised through the hard work and commitment to both myself and my employer. It has opened up new opportunities and helped me to further develop, learn and progress, all of this has been made possible through the PRIME project and my commitment to CPD.'
To discover more about membership to the Institute of Quarrying and the benefits Continuing Professional Development (CPD) can bring to you and your career visit http://www.quarrying.org/iq-membership