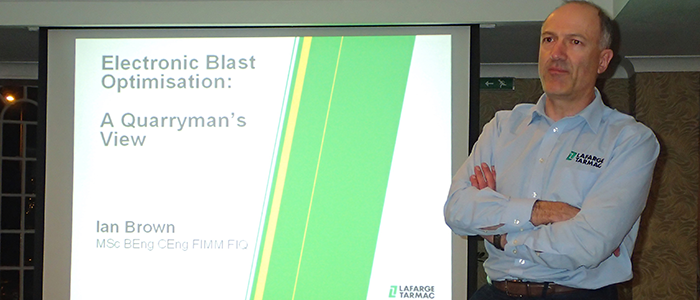 The final Yorkshire Branch meeting of 2014 took place 9 December at the usual venue of the Bridge Inn, Wetherby. Ian Brown of Lafarge Tarmac provided a presentation on the research and use of electronic detonators, covering the improvements in cost and efficiency they have yielded.
Originally developed in the 1970's, electronic detonators have been commercially available in the UK since the turn of the century in 2000. Often perceived as being expensive and complicated, initial take-up was slow as lack of data made it difficult to justify the extra cost. The widespread use of conventional non-electric initiation provided a cheap and easy to use system but was inaccurate in timing, occasionally unreliable and sometimes led to misfires.
Working in conjunction with Leeds University, Ian studied the use of electronic detonators across a number of sites, comparing and refining the blasts as data was recorded. Not only were accurate records of the blast design and result made, but also crusher throughput, blockages, power consumption and secondary breaking. A specific study at Dowlow quarry enabled him to complete an MSc.
By use of accurate records and adoption of improvements and best practice, Ian and his team have been able to show an overall reduction in cost per tonne of some 17%, which more than offsets the increased cost of the detonators themselves. The reduction was shown across 4 quarries, which are now using 100% electronic detonators, some 23 million tonnes has been produced without a single misfire. This is not only a significant safety boost but also a reduction in time and production loss whilst the misfire is dealt with.
Amongst the benefits of using electronic detonators, Ian has been able to show that improved and more accurate timing has allowed them to open patterns out and increase the number of rows, saving time on surveying and improving drill utilisation. An example of opening the pattern up by only 500mm was sufficient to offset the cost of the electronic detonators before taking into account other benefits.
The accurate timing offered by electronic detonators has also been significant in reducing vibration and nuisance, particularly at Whitwell and Thrislington quarries. The need for the traditional sub-drill has also been eliminated leaving clean floors without toes and saving on drilling cost and explosive. Faces also tend to be cleaner with less back break or overhangs and requiring less scaling than previously.
At the moment the cost of electronic detonators is likely to remain high as they continue to be imported from South Africa where they are made. Demand is still insufficient to justify construction of a UK or European manufacturing operation, but sales of electronic detonators have jumped from 5% to 20% of the UK market in the last 4 years, showing hope for the future. However, as Ian was able to show, the increasing accumulation of data is able to show that despite their costs, electronic detonators are the way forwards in terms of safety, reliability and sheer commercial necessity.
Understandably, such an interesting topic generated a lot of questions from the floor. It was some time before Technical Committee Chairman Aidan Ranftler was able to rise and propose a well-deserved vote of thanks to Ian for making such an enjoyable evening.