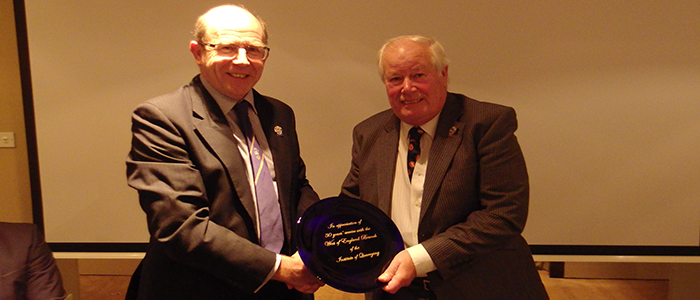 Eric joined the Institute of Quarrying as a Graduate member 55 years ago in 1961. He joined the West of England Branch in 1973 and was with them until 1986 when he was relocated to HSE's head office in London. In 1989 he moved back to Bristol and back to the West of England branch. Then posted to Liverpool in 1990 as the Principal Inspector of Quarries, he remained on the committee of West of England. He retired from the Civil Service at the time he was Branch Chairman 1997 to 1998. Eric has been on the committee ever since, totalling 30 years of service.
Eric has been a leading role in the branches Member's paper evening for over 20 years and always followed up his judging with a kindly written letter to entrants giving tips and encouragement for the future. The Branch will certainly miss his precise summing up after technical evenings!
As special thanks for his years of dedicated service, Eric was presented with a Bristol Blue Glass Plaque from Steve Cole. The West of England Branch would like to wish Eric all the best for a long and happy second retirement.