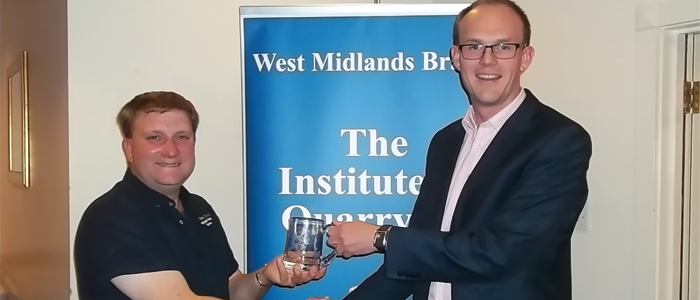 West Midlands Branch Chairman Richard Frost welcomed Paul Davis (S E Davis & Sons) to the branch meeting on 16 October 2014, reminding the audience that Paul had presented a successful talk at the same venue for the Institute in January 2011.

Providing an overview of the development of the washed aggregate mobile plant, Paul reminded those present that S E Davis were a long-established family business, specializing in crushing and washing aggregate and operating in counties from North Wales to East Yorks, Norfolk, West Sussex and in the South West. They had started from the premise that washing aggregate is not complicated and that the real problem was having a water supply clean enough to maintain the process.

Through a series of developments from the first generation of mobile washing plant dealing with dirty water, a dewatering screen at 0-4mm was incorporated, which although efficient had an unsustainable wear rate.

The next generation incorporated a log washer, which was able to remove debris from the roads; this was further developed to use a single shaft version and a centrifuge to deal with silt.

Paul went through the process currently in use on the mobile plant. Starting at the lie head feed for the dirty aggregate through the washing process, the dirty water treatment where flocculant is added and the clean water recycled to the dry slit cake that comes off the centrifuge at the end.

Describing the typical job as being high PSV aggregate from highways with typically 20% rubbish. Local authorities have recognised the value of the service being offered, where virgin aggregates can be reduced and costs kept down because operations can be carried out close to the source.

Sharp sand is being now being produced, up to 100tph in some operations, but silt remains the biggest issue at around 6% in the feed stock, although this can be as high as 35% when washing top soil. Sand is sold to utilities and is much sort after and they have started producing washed hardcore and rail ballast for Network Rail.

The advantages are being seen by operators with the plant able to fit into relatively small footprints and can be set up and working within 2 hours, slightly longer when producing washed sand. Dismantling is as quick and has an advantage when moving the plant around a site.

The plant is fully modular so there is flexibility in the provision and operators are fully competent in the use and maintenance. Paul explained that a software package is also under development, which will allow remote fault-finding, helping to reduce downtime and repair in addition to a fully tracked version of the plant, which will be a first in the UK.

A lively question and answer session ensued, after which committee member Phil Shakesheff thanked Paul for his presentation and congratulated him on the endeavour and energy showed by him and his company over this project.