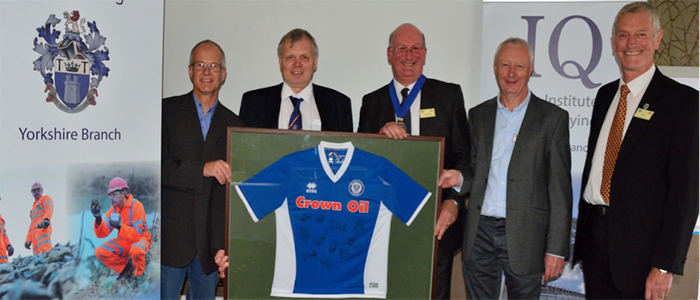 The Yorkshire Branch hosted its annual joint health & safety conference with HSE at Scotch Corner 17 September 2015. These conferences have been held over a number of years and their popularity is such that numbers this year were at the maximum of 150 both at Scotch Corner and also at the second conference held in Chesterfield.
The main panel consisted of Roy Bush and Richard Noble from HSE, with the Institute being represented by General Manager, Mike Phillips and Yorkshire Branch Chairman, Graham Lamond.
As usual a wide range of topics was covered, including an update on Hard Targets, which were flagged as slipping back a little after achieving a very low level.
Richard Noble gave a review of two incidents he had dealt with recently, in relation to a fatality and a landslip incident and Mike Phillips was on hand to provide an update on the progress of the Institute's PRIME initiative, short for Professional Recognition In Mineral Extraction, which is gaining wide acknowledgment and acceptance in the industry both directly and with supporting companies such as Volvo and Caterpillar.
Additional areas covered included control of respirable silica, hand/arm vibration, demonstrating leadership to cover legal requirements in the industry and also the legal requirements covering the increasingly popular use of drones for survey and inspection work.
Phil Robinson from Amber Valley Blasting Services covered practical interest as he explained the different approaches to using demolition charges on a wide range of structures from radio masts, chimneys and office blocks, through to cooling towers and bridges.
The day concluded with a presentation to Richard Noble in acknowledgement for many years' service to the industry and the Inspectorate. Richard was presented with a signed and framed Rochdale Football Club strip, of which he is a keen supporter.
All delegates were presented with CPD certificates for their attendance. The highly anticipated event will be taking place again in 2016 being supported by QNJAC rather than HSE directly.