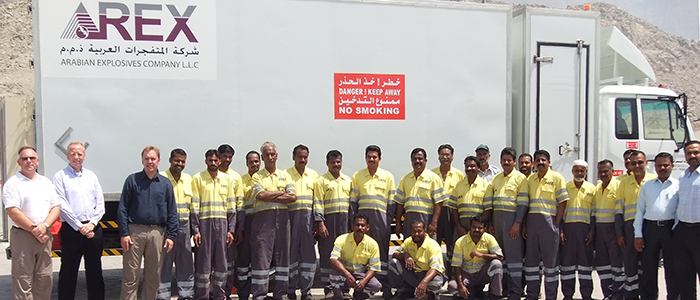 Maximising employee engagement and fulfillfing the needs of the expat workforce.
The Institute of Quarrying & Mineral Products Qualifications Council undertook the delivery of 3 days of training sessions to Arabian Explosives (AREX), at their production plant in the Northern Emirate of Ras Al Khaimah (UAE) in early September this year.
Utilising materials tailored to the bespoke needs of AREX, the training provided a comprehensive guide to Health, Safety and Environmental Awareness over three half-day sessions. The course was designed to be interactive and included a number of specially designed exercises, serving to maximise employee engagement and fulfil the needs of the expat workforce.
Established as a joint venture between the Easa Saleh Al Gurg Group and the EPC Groupe, Arabian Explosives (AREX) ensures the growing demand for water gel slurry and ammonium nitrate-based industrial explosives can be serviced within the UAE, meeting a large proportion of the requirement for explosives used in civil, mining and quarrying projects.
Paul Clarke, General Manager at Arabian Explosives Company LLC was quoted as saying:
'The professional training provided by IQ sets a solid foundation for the future learning and development of our employees, assisting in instigating a mindset and culture change which is already providing visible benefits to our workforce and stakeholders.
IQ & MPQC were chosen to meet our training needs over other providers to demonstrate AREX's commitment and support of the recently launched PRIME (Professional Recognition In Mineral Extractives) initiative.'
We are pleased that AREX have arranged for a further six days of training sessions to be held in the early part of 2015. This includes the enrolling of four students onto the new IQ qualification Level 3 Award in Health Safety and Environmental Awareness. They will be the first new starters outside the UK.
For further details on the training and educational offerings from the Institute please contact Julian Smallshaw, Head of Educational Development on 0787 0737 645.