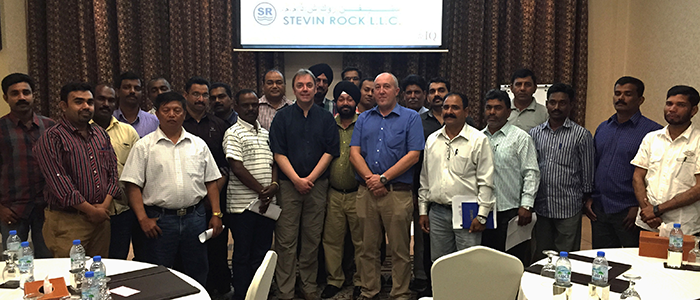 The Institute of Quarrying were delighted to be invited along to deliver further bespoke training to 80 foremen and supervisors of both Stevin Rock & Ras Al Khaimah Rock Company LLC (RAK Rock) in the United Arab Emirates during February 2015.
All who undertook the training, delivered by Julian Smallshaw, Head of Educational Development for the Institute of Quarrying, excelled at completing the course requirements, which covered communication, Safety, Health & Environmental.
The training underlines the company's commitment to ensuring the workforce retains key qualities in safety and efficiency, whilst maximising employee engagement.
The training sessions, which took place the week commencing 16 February 2015, made use of materials adapted from the educational resources, which make up part of the quality assured courses from the Institute of Quarrying.
The training delivery combined web-based content available through the Institutes dedicated Learning Management System (LMS). The online learning aspect is supplemented with face-to-face tutorials, providing a cost effective method of learning in the delivery of 25 subject units via three modules, all of which add value to the business through the forward development of it's employees.
On successful completion of the course, delegates will be awarded with a CPD certificate badged by IQ. The certificates provide recognition of an individual's achievement, whilst underlining their commitment to maintaining their competence.
Stevin Rock is renowned as being the leading quarry operator in the Middle East for over 35 years; with the capacity to produce in excess of 60 million tonnes every year of high-grade limestone, gabbro rock, concrete and asphalt aggregates. Owned by the government of Ras Al Khaimah in the UAE, they deliver their products to the construction and manufacturing markets of the United Arab Emirates, Gulf region and Asia.
RAK Rock was formed in 1973, producing and delivering materials to cement plants in the UAE. Over four decades they have established themselves as one of the leading suppliers of high quality materials, producing high quality limestone, aggregates and sand for construction, Rock Armour for breakwater projects and high calcium carbonate limestone. Used extensively by the UAE's premier cement plants and India's foremost steel manufacturing plants, RAK Rock has a capacity to produce 22 million tonnes each year.
If you would like any further information relating to the training and educational offerings from the Institute of Quarrying, please visit www.quarrying.org/education/ or contact Julian Smallshaw, Head of Educational Development on 0787 0737 645 / Julian.Smallshaw@quarrying.org