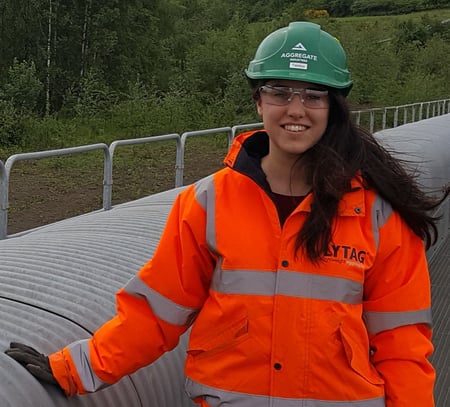 The quarrying industry is without any doubt a really interesting and challenging one. Construction and building materials are essential products in our modern world for our roads, buildings, gardens and homes so the decision to be part of a team that makes this a reality is really exciting. I really encourage people to be a part of it too!
Teresa Pérez Rodriguez MIQ Graduate Management Trainee, Aggregate Industries UK
[fa icon="quote-right"]
I wanted to be an engineer ever since I was told that engineers use their ingenuity to solve problems.
It's what I love about my role, I get to apply engineering knowledge to find solutions to problem areas.
Twenty six year old Teresa Pérez Rodríguez is from Asturias, a region in the north of Spain. She is a Graduate Management Trainee at Aggregate Industries currently working in the lightweight aggregate business Lytag® in Yorkshire.
Lytag® is made from the fly ash generated by coal fired power stations. Proprietary technology transforms the fly ash into small round pellets, which are then heated to 1,100°C. This creates a very hard pellet with a honeycombed internal structure of interconnecting spaces. These hard pellets can then be used as a superior, consistent, lightweight aggregate which is up to 50% lighter than natural aggregate.
Teresa explains: "I've wanted to be an engineer ever since I was told that engineers use their ingenuity to solve problems. That's what appealed to me and it's what I love about my current role in charge of yield and process improvement for lightweight aggregates. I get to apply my engineering knowledge to find alternatives and solutions to problematic areas, which is really challenging."
Since graduating with degrees in Industrial Chemical Engineering and a Masters in Mechanical Engineering, Teresa's short career has taken her from her home in Asturias to Madrid, working for LafargeHolcim. In 2016 she joined SINTEF in Norway briefly, before heading to Aggregate Industries and the UK.
Teresa spent her first six month placement working at Aggregate Industries' Bardon Hill Quarry in Leicestershire. It was here she that she was introduced to the Institute of Quarrying.
"Shortly after joining I was told about the Institute of Quarrying and its importance for those working in the quarrying industry. I've found that it's a fantastic way to engage with other people who work in the sector. It has also been really helpful because IQ offers a variety of learning resources and training courses on important aspects of our industry, such as innovative technology and working with the environment."
Teresa continues: "I'm always looking forward, so continuing professional development is very important to me. I've already completed the Diploma in Mineral Extractive Studies at the University of Derby and of course, as a graduate management trainee every day is about learning new skills.
"When I complete my graduate scheme I'd like to do the Management Development Programme course to acquire the skills to become a good manager and to develop myself in this challenging industry.
"The quarrying industry is without any doubt a really interesting and challenging one. Construction and building materials are essential products in our modern world for our roads, buildings, gardens and homes so the decision to be part of a team that makes this a reality is really exciting. I really encourage people to be a part of it too!"