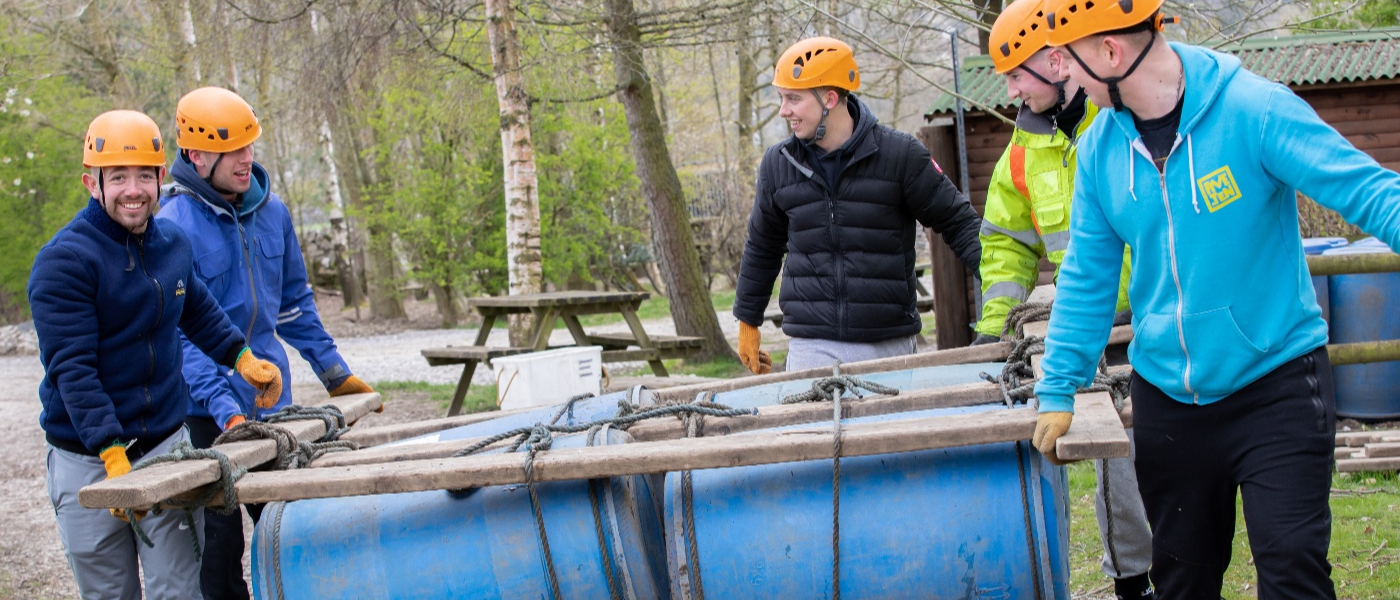 An ageing workforce is an ongoing challenge for the mineral extractives industry, with the average worker in the sector aged 55[1] . So, how is the sector developing the next generation of young talent and creating future leaders?
Developing and supporting technical and leadership skills for the world of work is a core part of the Higher Apprenticeship programme at the University of Derby's Centre for Mineral Products. The compelling partnership between the Institute of Quarrying (IQ) and the University delivers tailored learning programmes for young people interested in developing their career in the industry, as well as supporting those already working in mineral extraction.
Higher Apprentices from the University of Derby's Centre for Mineral Products recently took part in a week of outdoor activities supported by the Lindley Educational Trust at its Hollowford Centre in the Peak District. Seventy five Year 1, 2 and 3 students completed a series of tailored programmes of hands-on challenges specifically designed to inspire future industry leaders and develop new skills.
Mark Osbaldeston MIQ is Head of Centre for Mineral Products at the University of Derby and a former apprentice himself. He says: "The week at Hollowford is an annual highlight for our apprentices and the programme grows each year. It provides a great opportunity to take learning scenarios out of the classroom and apply them in an inspiring setting. Plus apprentices get time to socialise and share experiences and ideas with colleagues from across the mineral products sector.
"It's also a great focal point for partner organisations, including our colleagues at the Institute of Quarrying. The Institute is an essential contributor to our higher apprenticeship and degree level courses. Having them join us at Hollowford is a real bonus for the apprentices, particularly as this year they are taking a more hands-on role in the programme, applying their experience and expertise to a number of activities."
The apprentices are employed by independent operators and large multinationals from across the UK and ranged in age from their early 20s to late 40s.
Lindley Educational Trust is a nationally recognised and respected provider of outdoor learning. The Trust creates programme content in collaboration with the University of Derby and IQ tailored to the different year groups - from team building exercises and challenges to support leadership and thinking skills.
Sean Snow is a Development Trainer at Hollowford. He says: "The apprentice groups are made up of people of all ages and experience from across the quarrying and mineral products sector. It's a rich melting pot of ideas and we take that and apply it in a series of tailor-made scenarios designed to provoke positive responses and behaviours.
"Each year group have a different experience, but all are intended to equip apprentices with essential skills that will help them to become future industry leaders."
Year 1 Apprentices: Team Work
Year 1 apprentices focused on the importance of teamwork. In day-to-day operations at quarrying and mineral extractives sites, everyone from the Trainee Shot Firer, Shift Manager and SHE Supervisor, to Operations Manager and Quality Manager must work together to achieve targets and operate a safe site.
As part of the programme, Year 1 apprentices planned and problem solved together, developing new skills to enhance their ability to contribute to teams in their workplace. In addition to formal review sessions drawing out learning from carefully designed outdoor exercises, the programme and Lindley's facilitators also helped to develop the reflective practice capabilities of the apprentices. Throughout the week, students were given plenty of opportunities to develop their ability to learn through trial and error.
Year 2: Personal Development
Year 2 apprentices learned about leading others effectively, building on the learning and development from Year One and reflecting the increasing responsibilities of the more experienced apprentices. This second residential experience was designed to expand their understanding of their growing leadership roles and develop the skills to deliver those roles. The outdoor exercises in the programme included increased levels of complexity and challenge, compared to the previous year. In addition, apprentices were required to identify how their learning helped their employing organisation deliver its corporate objectives, as well as preparing for an assessed element of their studies. The Lindley team and University tutors worked in partnership to facilitate effective reflection and application of learning.
Years 3: Leadership, Knowledge and Skills
Final year apprentices spent less time on outdoor learning and focused on industry specific development, knowledge and skills. A series of case studies and a mock industry development project took learning to date and challenged the apprentices to apply it to a complex real world scenario. The Lindley team supported the University's 'industry experience rich' team to deliver the programme.
For the project this year, apprentices were split into three groups and tasked with the challenge of designing a new plant for CEMEX's Dove Holes Quarry. At the end of the week, each group presented their results to a panel of professionals from the industry, including the University of Derby and IQ, and participated in a question and answers session to further enhance personal development and understanding.
Calum Barnsley, Trainee Supervisor with Aggregate Industries north-west contracting division, says:
"Over the three year course, you notice your own leadership skills changing. I've become better at adapting and working with others."
Tom Hill, Trainee Supervisor at Hanson Padeswood Cement Works, adds:
"Each year I've come to Hollowford it takes you out of your comfort zone. You get dropped into tasks at the deep end with little guidance. It really shows personalities and individual strengths and weaknesses and how you come together to build team working skills."
James Thorne, Chief Executive Officer, IQ, attended the final day at Hollowford. He says:
"This is the fourth year that the week-long programme at Hollowford has run. As the industry membership body we're keen to engage with people working at all levels in our sector. The week at Hollowford provides a great setting against which to introduce the apprentices to what we do and to reinforce the importance of membership as they progress in their career."
"Part of our mission is to develop future leaders for our industry. From what I've seen over the last few days we should be optimistic about the sector's future, given the energy, enthusiasm, intelligence and application of all those involved."
[1] Sector statistics - Inspiring Futures, Attracting the next generation of talented young people to the Mineral Products and Mining Sector