Turn the clock back 12 months. It's the first-ever Institute of Quarrying (IQ) Fellows Lunch and Student Awards. The setting is the New Armouries' Banqueting Suite at the Tower of London. A new IQ president takes the stage and sets out his stall, introducing the Institute's 'Creating Future Leaders' strategy, shaping the direction ahead for the organisation and its members.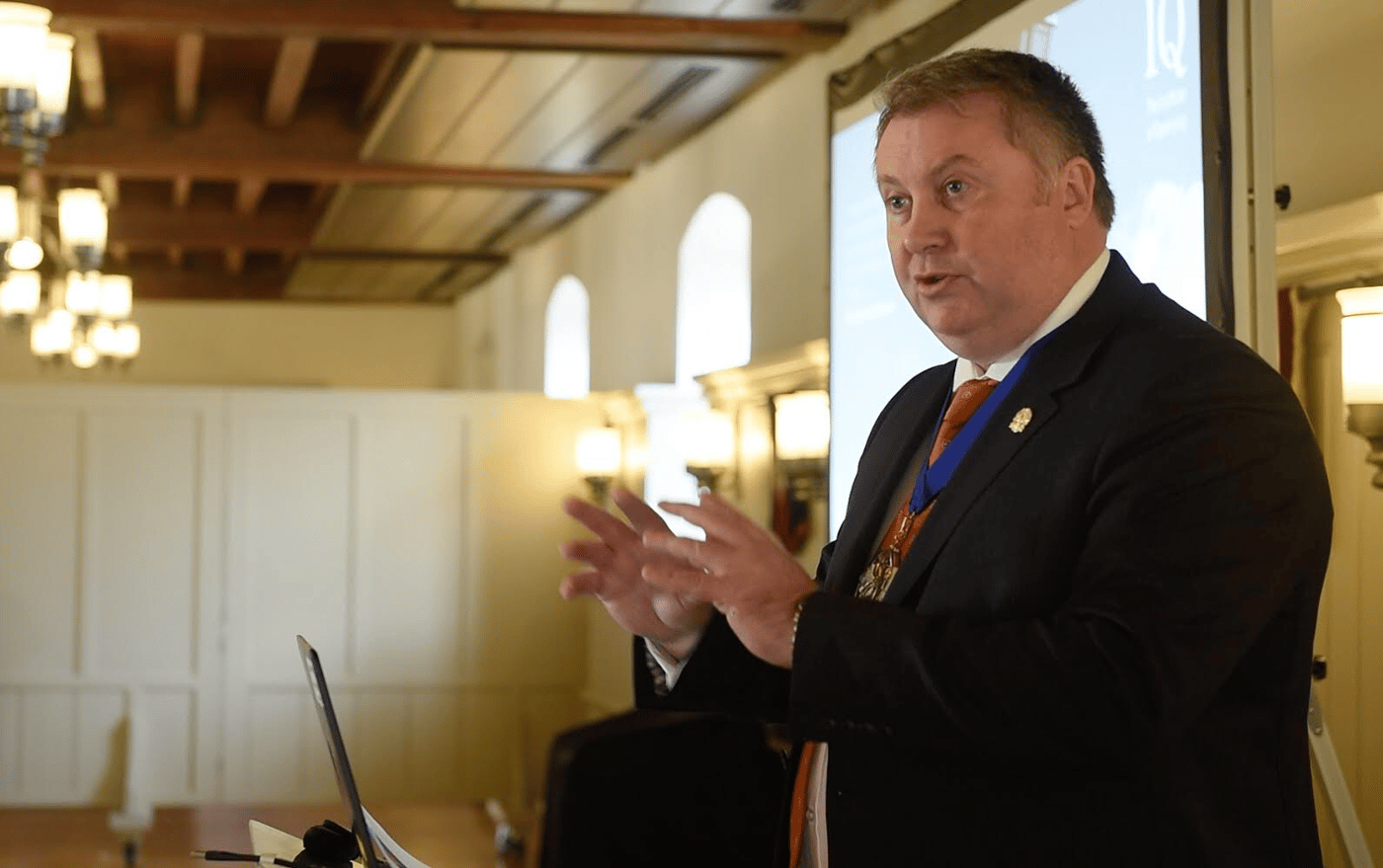 Roll forward 12 months. The scene is once again the Tower of London and IQ hosts the second IQ Fellows Lunch and Student Awards. It's a packed house. Phil Redmond FIQ, the Institute's president steps up in front of more than 100 Fellows of the Institute of Quarrying (FIQ) and guests to update all present on progress and to recognise the success of students from the University of Derby's Centre for Mineral Products.
Phil Redmond said: "At last year's inaugural celebration we launched our future strategy for the Institute, reconfirming our commitment to our charitable purpose and our members. We set out clearly our four pillars of success; to be the global leader in standards for the mineral extractives profession; to promote the positive impact of the industry and the profession; to support the industry in driving healthy, sustainable workplaces; and to drive innovation and operational best practice."
Focusing on IQ as the go-to organisation for professional standards in the quarrying and minerals products sector, Redmond explained: "The Institute has made strong progress over the past 12-months. Our Professional Standards Committee is made up of members and key stakeholders. It has started to review our membership grades, as well as revisiting the IQ Skills Wheel and qualification pathways to ensure they are fit for purpose, that's both now and in the future.
"Work to promote and deliver our education offerings in the USA and the Middle East continues to progress, and this year has also seen this support programme extended to industry professionals in Thailand. We have also been working closely with our colleagues in our affiliate national IQ's around the world to develop new tools and processes to engage with other parts of promoting membership and our standards to new areas."
Other initiatives aimed at promoting the sector beyond the industry include IQ's Excellence awards. Redmond continues: "What better way to recognise the great work we do as an industry. This year we launched the IQ Excellence Awards. These regional awards recognise the best of the best, with the national finals taking place next year at Hillhead. It's a real opportunity to shine and I look forward to celebrating with colleagues and members at this prestigious event.
"The IQ Excellence Awards, along with those recognising our Derby winners, represent fantastic opportunities for us to showcase and celebrate what our industry and people are about. Through activities such as these awards, we can begin to educate the wider world and public at large about the positive contribution we make to society, the built environment and the natural environment.
Around support for the industry in driving healthy, sustainable workplaces, Redmond reported: "We have maintained and delivered in our partnerships with others to support key industry initiatives. These include the Mineral Products Strategic Forum for Health and Safety. The key focus for this year was around eliminating entrapment.
"We also continue in our support to QNJAC and its critical work in developing guidance for our sector.
"In our own areas, we have published our updated Health and Safety books to support members and the wider industry in developing their understanding of our obligations.
"Alongside this, we are working with DEFRA, Natural England and other industry partners to revise and update the good soils handling practice guidance for the industry. Delivering on practical issues supporting the wider environmental and sustainability agenda."
Summarising successes around IQ's fourth strategic pillar, Redmond explained: "In driving innovation and best practice our branches continue to be the driving force allowing members and the industry to come together, understand the key issues and share experiences and seek solutions for better outcomes.
"It is true that without our members, and especially those that give their time selflessly as volunteers on our branch committees, the Institute would not be able to function. Once again this year, along with a wide variety of technical events and evenings, the branch Health and Safety days have proven of great value not only to members but to the wider industry.
Finally, in supporting our members, 2019 has also seen the launch of IQON our educational and informative 'TV programmes' exploring core industry issues, including health and safety, and leadership. IQON brings together experts and leaders from industry to explore topics that are critical to our profession, presented in a media that is accessible by all members."

Student Awards
Winners of the 2019 Institute of Quarrying (IQ) Student Awards were presented with their awards and prizes at the Tower. Mark Osbaldeston, Head of the Centre for Mineral Products at the University of Derby, presented the awards to the eight high achieving students, accompanied by IQ president Phil Redmond and IQ chief executive officer James Thorne.
Commenting on the success of this year's winners, Mark Osbaldeston said: "Congratulations to this year's cohort of IQ Student Award winners. Each and every one has excelled academically and demonstrated an outstanding continuous commitment to the minerals products industry. The Institute of Quarrying's Fellows Lunch at the Tower of London provided the perfect setting to celebrate your achievements. We certainly have some future leaders amongst us."
Winners includes David Owen MIQ, Asphalt Plant Manager at Aggregate Industries UK, awarded The Goodwin Barsby Award. The Reginald W Coles Prize was awarded to Gabrielle Jewett, Assistant Quarry Manager at Tarmac, for Best Overall Mineral Extractives Foundation Degree Student 2019. Project Manager at Hanson UK, Thomas O'Boyle TMIQ won The Ransomes Rapier Award. Diane Housley TMIQ was crowned the winner of The Scottish Springbank Quaich Award for Best Third Year Foundation Degree Student 2019. Lagan's James Butler MIQ and Tarmac's Michael Russell received Longcliffe Calcium Carbonates Awards of Excellence for Best Performing Mineral Extractives Foundation Degree Students in Year One and Two. Best UK Diploma Student 2019, Katie Sexton, and Best International Diploma Student 2019, Ryan Reid TMIQ, were awarded The Peter Preston Award.