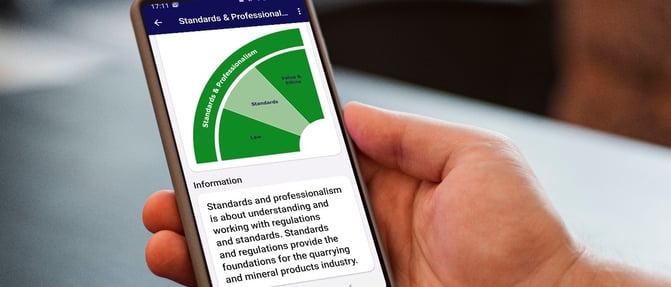 One of the many benefits of being an IQ member is access to advice, best practice and industry resources. These resources exist in different formats and include everything from textbooks to factsheets, videos to webinars through to industry articles and case studies.
To help members navigate these resources, IQ launched its new mobile app for members,
IQ Connect
. IQ Connect is a portal where members can access bite-sized learning, easily link to all the published content and resources available to them and record their
Continuing Professional Development (CPD)
directly to their membership record.
The Skills Wheel, the device used by IQ to help its members develop knowledge and awareness across a range of industry related subjects, is used to help organise these resources into different subject areas.
For the IQ marketing team, the challenge is to make sure that content is developed across all segments of the Skills Wheel and then to distribute it to members at regular intervals. Members receive updates via email, social media and through the IQ Connect tool.
With the impact of the coronavirus impacting certain activities, it has been IQ's priority to ensure that it continues to provide useful industry content to members.
"Keeping your own skills and knowledge up to date is one of the most important aspects of being an IQ member. Our members pride themselves on their professionalism and CPD is a way of them demonstrating their commitment to their own learning and career development."

Sarah Fry, IQ's Head of Membership and Marketing.
In fact, IQ have recently updated their guidance for members about CPD. A new CPD Guide for Members Handbook has been produced along with a webinar that answers frequently asked questions. The webinar goes through what CPD is and explains the systems and processes that help members record their CPD.
Along with the revamped guidance on CPD, IQ have also updated their membership information. The new IQ Member Handbook outlines all the benefits available to IQ members and how to get the most value from their membership. There is also an accompanying webinar that guides people through the application process and explains to existing members how they can upgrade their membership.
Reinforcing member benefits and setting out the membership application process in a clear, easily digestible format is key for IQ in attracting new members.
In looking to reach new audiences, as well as try new content formats, IQ has collaborated to record podcasts. Julian Smallshaw, IQ's Head of Education and Standards, has recorded a series of podcasts on mentoring with Carol Ewels, MD of Always Consult which are scheduled for release in October. James Thorne, IQ's CEO, recorded an episode with Colin Nottage on the Interesting Health and Safety Podcast talking about innovation within the industry and IQ's role within it.
Innovation in the industry was also the subject of the latest IQON film from IQ. This series of films are aligned to the Skills Wheel and have so far covered health and safety, leadership and use of data to drive operational improvements.
Ben Strickland MIQ of Smiths Bletchington and Levi Hamilton MIQ of Delabole Slate discuss technologies such as drones, telemetry and autonomous vehicles and how these are impacting the industry.
Bringing the industry together using technology has been something IQ has been working on with its branch network. Branches have traditionally been the focus of member-led events and bringing people together. Whilst these events have had to take a back seat for now, branches are looking at new ways of helping members to make connections and network with each other.
In conjunction with IQ, branches have produced their technical presentation events in a digital format. The great advantage of this is that members can now access more technical events than those scheduled in their own area. IQ West of England branch hosted a presentation from Julie Edwards of MP Skills on Mental Health & Wellbeing. IQ Derbyshire branch hosted Cath Pickett of HSE who presented the HSE Hot Topics affecting the industry.
Working alongside other respected organisations and industry groups to share content is another key aspect of ensuring members can access valuable industry information.
The Extractive Industry Geologists had their planned conference interrupted because of the coronavirus and instead moved some of their planned sessions online. IQ shared their presentations on the UK Minerals Strategy by David Payne of the CBI Minerals Group and Mineral Products Association and the session delivered by Barnaby Harding of Stantec about the impact of water on mineral sites.
Water management issues was behind IQ's own webinar with James Dodds of Envireau Water and Sharon Palmer of Tarmac in talking through the frequently asked questions for Water Abstraction licencing in quarries.
Topics that cover regulations and standards are most frequently found in the 'Standards and Professionalism' segment of the IQ Skills Wheel. Health and safety is a key focus area. Working with MSA Safety, topics covered have included working at height and fall protection. Separately, Simon Higson of SLR Consulting looked at how health and safety considerations can impact quarry design and restoration.
Operational best practice topics are covered too within the 'Knowledge and Innovation' segment of the Skills Wheel. So far this year members have had access to a bite-sized training session with Dr Rob Farnfield of EPC on how to use a blasting seismograph; a presentation on pumping solutions for the industry from Kelvin Glass and Deryck Harmer of Atlantic Pumps and case studies from AcePlant on the approaches within the industry to dust suppression.
Away from purely site-based topics, the 'Personal Effectiveness' and 'Engagement, Influence and Impact' segments of the Skills Wheel are more about how individuals develop their own personal attributes and leadership qualities. The factsheet about understanding your personal qualities was released along with the re-release of all the factsheets that IQ have developed to date.
Ultimately resources and content produced by IQ is developed for members, with members and by members. The foundation of IQ is that it is a collective organisation that works collaboratively for the benefit of all members.
There are rich resources available to IQ members and through the IQ Connect app, can now all easily be found in one place. Members are urged to download the app from the Apple and Google Play stores. By following IQ on LinkedIn and You Tube, members can also make sure they are keeping tabs on all the content available to them as its published.
IQ YouTube: www.youtube.co.uk/c/instituteofquarrying
IQ LinkedIn: www.linkedin.com/company/institute-of-quarrying