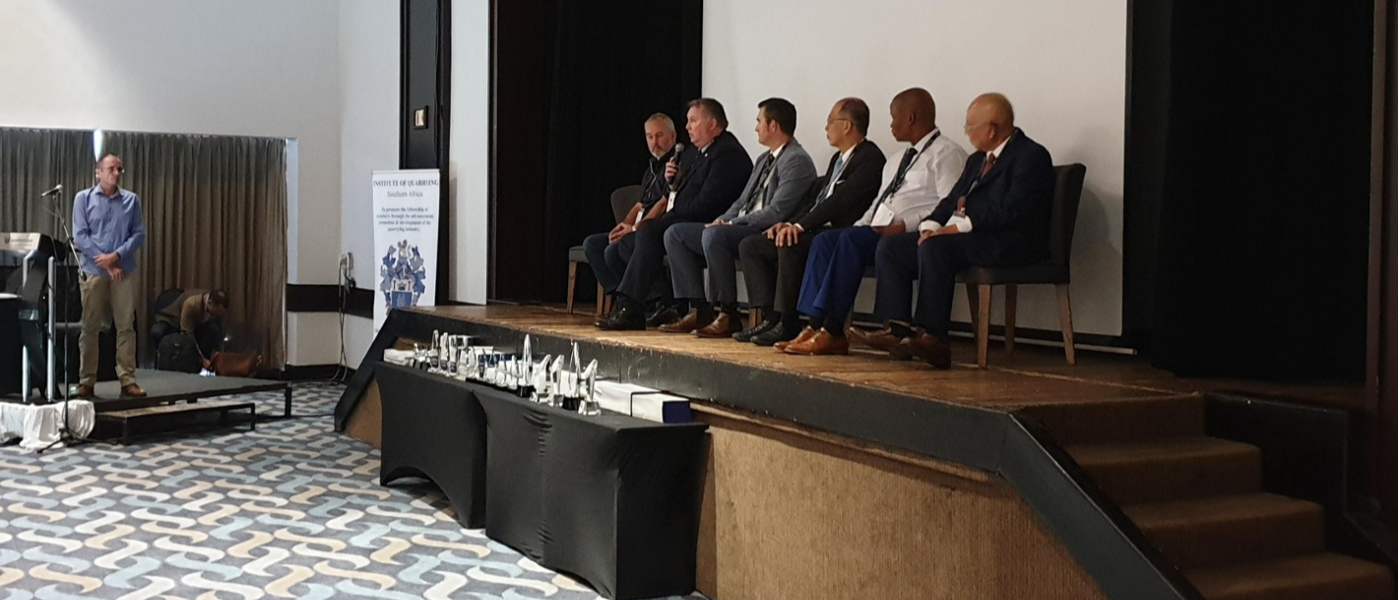 The Institute of Quarrying Southern Africa (IQSA) celebrated reaching a landmark in its history at this year's annual conference and exhibition, held in Durban from 11th to 12th April 2019.
The 50th-anniversary IQSA Conference was attended by over 200 delegates from across Southern Africa's minerals extractives and quarrying sector. Delegates were joined by the Institute of Quarrying's (IQ) international presidents, representing Australia, Hong Kong, Malaysia, New Zealand and the UK. A large number of suppliers also exhibited at the conference, including Bell, CDE, Sandvik and Weir.
Simon Tose is IQSA's outgoing president. Commenting on the 50th anniversary, he said: "Landmark anniversaries seem to be coming upon us with such great regularity. Two years ago we celebrated 100 years of the Institute of Quarrying, whilst last year it was IQ New Zealand's opportunity to mark 50 years of service. Now it's our turn and I feel very privileged to hold the position of president in this memorable year. The experience, understanding, knowledge, passion and enthusiasm we all share is evident for all to see so the outlook for the Institute as a whole, and for IQ South Africa, is very positive."
Providing his own view of the current state of the industry in southern Africa, Simon added: "Our industry continues to experience tough market conditions. Competition is fierce and we see rapid change in many of the large and small industry players. We await significant government investment into the civil and building industry – the leaders in employment – and development of our workforce is key to the quarrying industry."
Looking to the future of the sector, he continued: "Our Young Members network is taking on momentum. They now enjoy their own networking event at the AGM. Jeremy Hunter-Smith is spearheading this initiative and has great plans for the future. I am sure that under the stewardship of our new President, Lazarus Meko, this group will go from strength to strength."
Simon also pointed to the drive towards industrial automation and the ever increasing prevalence of technology and robotics in the extractive process, as well as the need to work towards smarter, cleaner and more sustainable operating methodologies. Simon concluded: "For the foreseeable future our products, such as sand, stone, cement and tarmac, remain the base for building the future. The challenges of depleting natural reserves and managing recycling offer our developing professionals the opportunity to further build the Institute for the next 50 years. New opportunities to manage computer software, proximity warnings, autonomous equipment and artificial intelligence will evolve the industry and create new stories and different leaders."
The conference agenda included a presentation from the Department of Minerals H&S Inspectorate by David Msiza, DMA Chief Inspector of Mines. An International Presidents Panel, comprising all international residents, took to the stage to discuss global issues in front of a packed audience. In addition, a student paper on Mechanical Fatigue Failure and Remedial Design was presented by Lebo Labase of Afrisam.
Past President Bryan Rookledge talked about the history of IQSA, whilst Simon Tose's presentation 'From cave dweller to millennial, a changing quarry industry' provided a history of blasting. And wrapping up procedures was a presentation of Awards in Health and Safety by ASPASA (Aggregate and Sand Producers Association of South Africa).
International Presidents Meeting 10th May 2019
The day prior to IQSA's Annual Conference, the Institute's international presidents met to outline the challenges and opportunities the industry is facing in different parts of the world. Attendees included presidents Clayton Hill (IQ Australia), Alfred Chan (IQ Hong Kong), Lee Kam Fatt (IQ Malaysia), Phil Redmond (IQ UK), Simon Tose (IQ Southern Africa) and Peter Morgan (IQ New Zealand).
Issues identified by the meeting included national government infrastructure programmes affected by recent or upcoming changes in government, supply chain stresses due to trade wars, skills development and slower growth, as well as the challenges of Brexit.
The positive responses to these challenges were represented by local offices responding with innovative ways of engaging with members, teaming up with industry partners to influence government policy, creating accessible training and qualifications to upskill the workforce and improve standards.
Also on the table during the meeting was the International Trust Fund Charter. An international trust fund has been established to support projects that meet the needs of members globally. The meeting agreed a mechanism to calculate each country's contribution and when payments into the fund would start. In addition, an application for the first project for the trust fund was put forward and agreed - a subscription-based offering for professionals in countries where there is no local IQ office to connect with IQ.
Phil Redmond, President, IQ UK, said: "Considerable progress has been made around the internationalisation of the Institute that we have been talking about now for some years. A number of innovations are nearing fruition that will bring our global community closer together, raising standards and opening up opportunities for our members around the world."
James Thorne, IQ UK's chief executive officer also attended the International Presidents Meeting and IQSA Conference. He said: "The Institute is working hard behind the scenes to expedite a more international approach to standards of professionalism across our industry. It's no quick fix but the incremental gains that we make with each initiative, and the engagement we achieve with people across the sector, are enhancing our reputation and improving lives.
"What we've seen at IQSA's conference is a real appetite for progress. That, mixed with the 50th anniversary celebrations, provided a real sense of positivity for everyone to take away with them."