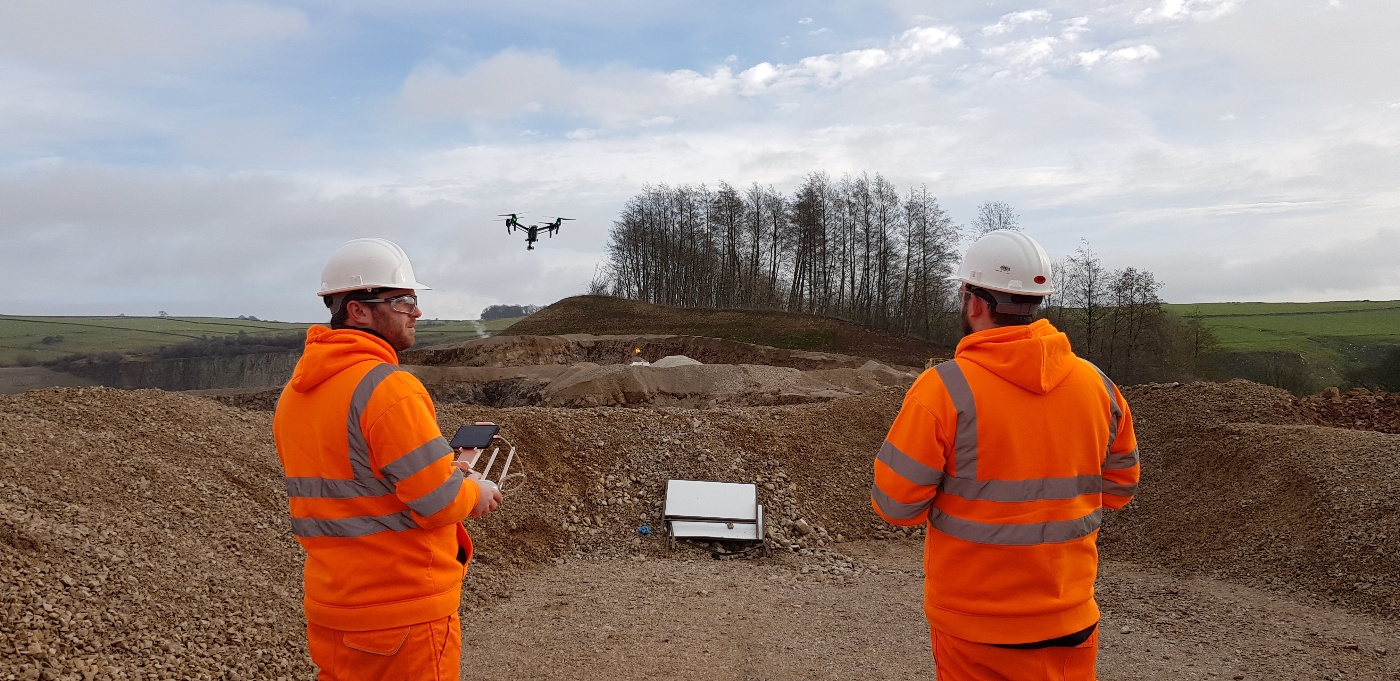 Major advances in technology are impacting construction industries like never before. In the mineral products sector the application of robotics and automated production processes is reshaping one of the world's largest industries, improving safety and optimising production efficiencies.
Increasingly, the use of drones, robotic automation, artificial intelligence and digital-twin technologies are being embraced by quarry operators large and small. Such investments are mission critical for operators, in terms of staying competitive, meeting customer needs and addressing sustainability goals, as well as for forecasting future production levels and controlling costs.
Earlier this year the Institute of Quarrying's (IQ) Derbyshire branch explored the rise of digital technologies in quarrying with Finning UK & Ireland. Greg Wheeler, Applications Manager at Finning, talked about how the comappplying mobile technology in quarries. The machines record asset and operational performance to improve site performance and increase employee engagement.
Wheeler explains: "By connecting machines to an online portal we can collect valuable performance data about our quarry sites. The data is used for bespoke reports which quarry supervisors use to create achievable KPIs. For example, recording what machines are doing on a day-to-day basis and how to improve productivity moving forward."
In addition, some Finning UK & Ireland sites have installed metrics boards linked to the performance data gleaned from the machine technology. The metrics boards display a number of KPIs with data from previous daily production. The KPIs turn red or green to show if the site is above or below target. These are used by operators and supervisors to influence daily production processes going forward.
The enhanced production reporting also enables quarry supervisors to be kept informed in real-time about daily production and how machines are working via KPI dashboards on a PC or tablet screen. Performance data is refreshed throughout the day in an electronic format.
James Thorne is IQ's Chief Executive Officer. He says: "The pace with which new technologies are being adopted across our sector is extraordinary. Innovations such as pioneering machine control technology is delivering increased efficiency, accuracy and safer use of equipment.
"Where possible, operators are looking to design out risk, using automated solutions. Take the example of Sibelco; working in partnership with SE Davis & Sons Dredging, the company has developed a new, remote controlled dredger to clear silt lagoons. In addition, the dredger has been designed to not pose an environmental risk by ensuring no contaminants are present."
Further large-scale examples include LafargeHolcim and Volvo Construction Equipment. These multinationals have recently appeared in the news around future-proofing initiatives. LafargeHolcim is launching 'Plants of Tomorrow', with a four-year programme that will see the utilisation of technology across its entire cement production process. Volvo CE is enhancing its electronic site project in Eskilstuna, Sweden, with major investment.
But it's not just the global operators that are embracing innovation. An example closer to home is Smiths Bletchington's Gill Mill Quarry in Oxfordshire. Here the installation of a remote telemetry system on its recycling plant and main plant has enabled the site to monitor and improve performance in real time.
As with the introduction of all disruptive technologies, there is some uncertainty around the rise of the digital age and its potential impact on employment. When weighed against the multiple benefits of automation, the quarrying industry has been quick to respond. As well as making quarrying sites safer places to work by reducing the number of people required for often labour intensive roles, the rise of automated technologies adds considerable value to employment, with industry professionals now developing their skills in higher value, technology-led roles.
Investment in individual skills development is what the Institute of Quarrying is all about. The membership body for the quarrying sector is addressing the rise of digital technology with easy-to-access continuing professional development (CPD) opportunities.
IQON: Not just drones
Launched earlier this year, IQON provides members with an in-depth broadcast focusing on topics aligned to the IQ Skills Wheel. The online broadcasts are designed to fit around the busy schedules of industry professionals. Each 45-minute film can be watched at any time and counts towards valuable CPD.
The third in the series of video-based member communications demonstrates how technology is impacting on all areas of quarrying operations, with insightful case studies from several major operators and equipment suppliers.
Available for members to view from the end of September, key topics in the 'Digital, Data and Automation Film' will be:
How data is driving decision making and operational efficiencies
How digital and automation helps to make sites healthier and safer for people and the environment
What the impact of technology will be on the skills and development of people within the industry
Whether the use of technology can help attract new talent into the industry.
James Thorne, IQ CEO, concludes: "We are in an exciting new age of technology-led production where extraction is guided by satellites and drones, using driverless vehicles. With the developments impacting all aspects of quarrying, we encourage members to be competent and develop their skills for the digitalised world."