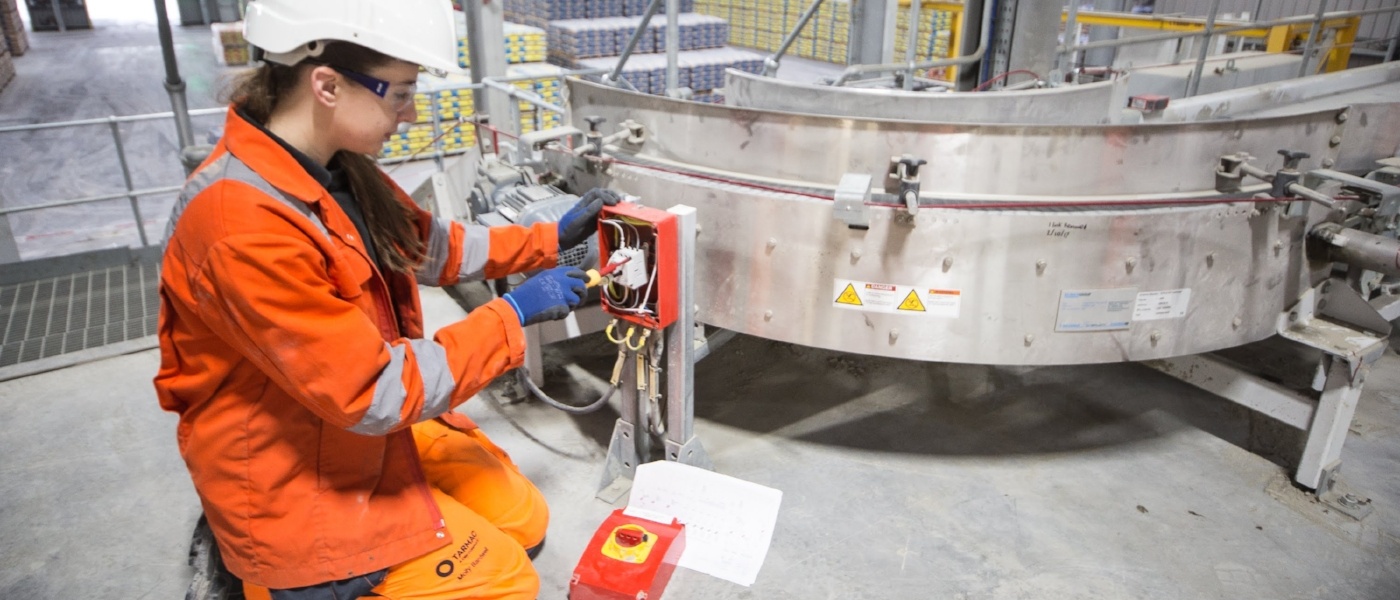 Awareness days dedicated to women working within STEM industries are now well-celebrated and firmly established across the globe. However, workplace gender segregation in the 21st century continues to be an ongoing issue. Now, pioneering work around workplace diversity by Komatsu Australia has been recognised by the Institute of Quarrying (IQ) in its prestigious, annual Caernarfon Award.
The Caernarfon Award is presented to someone within the mineral extractives industry who the international IQ Presidents credit as having made a significant contribution to the advancement of the science and practice of the quarrying sector.
Komatsu Australia has acknowledged the need to address issues of workplace diversity and inclusion. The company is a major supplier to the construction, quarrying and mining industries, offering a full range of some of the most innovative, advanced and productive machines on the market. It employs over 3,400 people across Australia, New Zealand, New Caledonia and Indonesia, however 85 percent of its employees are male.
Statistics from the Australian Government reveal that there are only 12 percent of females represented within the construction sector1. Komatsu Australia's CEO and MD, Sean Taylor has made it his personal mission to improve diversity and inclusion across the organisation. His extensive efforts and research, that were covered in a powerful presentation delivered at the Institute of Quarrying Australia (IQA) National Conference, received the Caernarfon Award.
Martin Riley, IQ UK President, comments: "The commitment and dedication to make a real difference from Sean has been outstanding. Of all the presentations at the conference in Australia, Sean's received the most follow up and interest. There were multiple requests for a copy of the presentation and requests for permission to use the concepts from both large and small quarry operators and suppliers. He was able to challenge personal paradigms and hopefully influence people to take steps towards addressing the lack of diversity in the industry. He is thoroughly deserving of this international recognition. Congratulations!"
Say Again?
Back in late 2019, Sean presented his paper 'Let's Talk about Diversity and Inclusion' at the IQA National Conference in Geelong. The presentation focused on Komatsu's campaign 'Say Again?' - an awareness programme that was launched by Sean and his senior management team to improve diversity across the organisation.
'Say Again?' was developed to promote the importance of language in creating a genuinely inclusive workplace. Komatsu undertook research of its Australian workforce through extensive surveys, which identified that language was a powerful influencer on creating genuine inclusion at work. Through 'Say Again?' staff were empowered to challenge negative language or language in general that made them or others feel excluded. The culture that ensued was one of a broader sense of inclusion for individuals and a clear demonstration at all levels that everyone should be heard and valued.
Sean says: "One of the best things we did earlier in the campaign was to sit down with all the men and women in the business and talk about this in a serious way. I learnt a lot about what was happening; I was really surprised about how much everyday sexism was happening."
At the IQA National Conference, Sean openly discussed the current gender statistics at Komatsu during his presentation, with 85 percent of staff currently being male, and the targets in place to promote increased female participation for all roles. He described the need for diversity targets, but also provided clarity that sound HR policy and leadership is needed to support addressing any gender and diversity imbalance.
Sean comments: "In a year where the mineral products industry has demonstrated its flexibility and adaptability because of the COVID-19 pandemic, ensuring that organisations are resilient has become the single key issue driving businesses in all parts of the global economy. Leading research shows that organisations that have a proactive approach to diversity and inclusion can achieve greater resilience and performance2.
"I am confident that Komatsu will be in a strong position as it emerges from the pandemic because of the steps it has already taken. The 'Say Again?' campaign is at the heart of the programme being driven by the senior management team. It gives everyone the ability to challenge language and ideas that can undermine building diverse teams. Being a more open and inclusive company means we can utilise the different skills and experiences of our team and ultimately develop better solutions for our customers.
"It's fantastic that our experiences have been recognised by IQ Australia and the rest of the IQ community as delivering value to the industry. It is an unexpected honour and we are thrilled to receive this award."
Shane Braddy, President of IQ Australia and National Quarries General Manager-Resources & Development at Boral, adds: "As an industry we have promoted the benefits of a diverse workforce for years. IQA members learned from Sean's presentation what organisations can achieve when there is coordinated commitment from within to bring about real change."
IQ Caernarfon Award
In every country where a national IQ office exists (Australia, New Zealand, Malaysia, South Africa and Hong Kong), local members benefit through a network of professionals sharing their industry knowledge and expertise. The topics covered are far ranging from geotechnical and processing through to improvements in health and safety. These papers and presentations are vital to support members in meeting the challenges and opportunities facing the industry.
The Caernarfon Award is an annual international honour presented by the Institute of Quarrying to the best of these presentations. Since 1989, the Caernarfon Award has been given to someone who the international IQ Presidents perceive to have contributed the most to the advancement of the science and practice of the quarrying industry.
Appendix
1 Gender Segregation in Australia's Workforce April 2019 https://www.wgea.gov.au/data/fact-sheets/gender-segregation-in-australias-workforce
2 Diversity wins: how inclusion matters - McKinsey and Company - May 2020
https://www.mckinsey.com/featured-insights/diversity-and-inclusion/diversity-wins-how-inclusion-matters