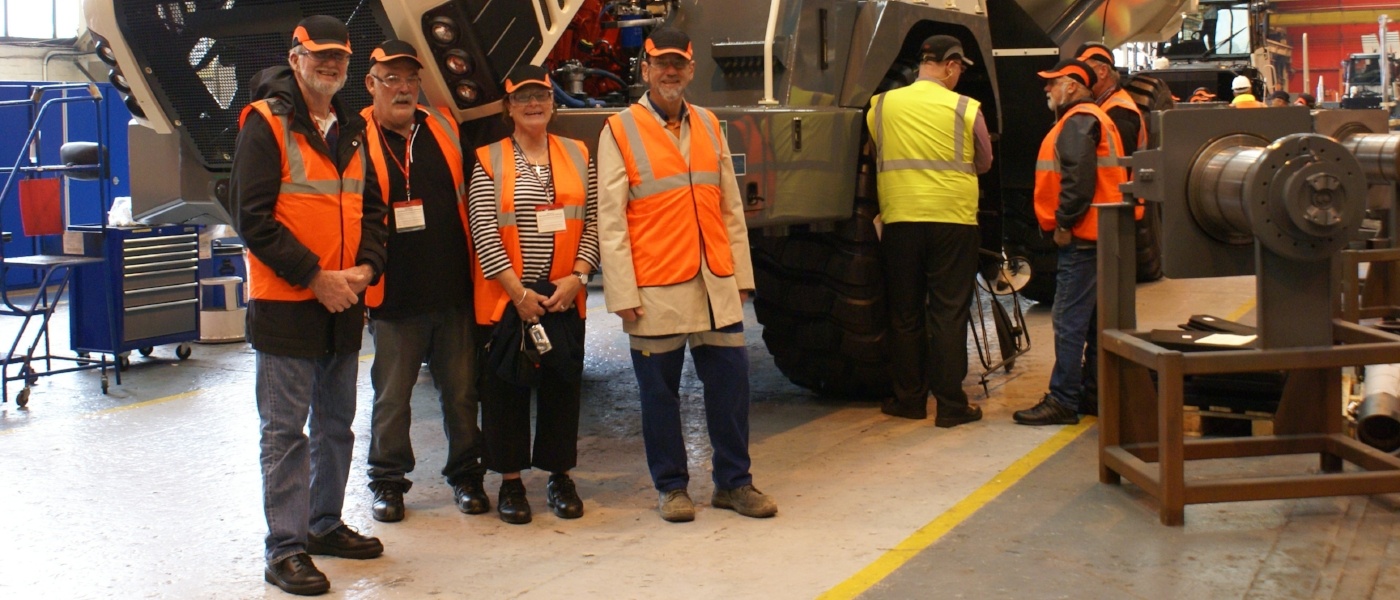 Setting off for the UK on our 10,500-mile IQ centenary quarrying odyssey at the end of April 2017, we left Australia behind bathed in late-autumn sunshine, arriving in the UK as spring took hold. Our group of 17 members of the Institute of Quarrying Australia (IQA) have quarrying in our blood. A few of us arrived early and enjoyed a couple of days of leisure before the start of our intensive 12-day study tour, organized in partnership with our UK colleagues at the Institute of Quarrying (IQ).
Over the 12 days we visited all four corners of the UK, arriving in the Midlands then travelling north to Scotland, before jumping on a ferry to Northern Ireland. We then crossed over the border into Eire before heading back across the water to Wales. Each site we visited offered something completely different – from learning about modern slate extraction techniques in Penrhyn to getting up close and personal with the latest mobile crushing, screening and recycling machines in Northern Ireland.
3 May: Terex Trucks, Motherwell
Our first visit involved a 270-mile journey north to Glasgow, where members of the IQ's Scottish branch and their partners welcomed us for a social evening. We visited Terex Trucks in Motherwell. Terex Trucks come from a strong hauling heritage, producing robust, reliable articulated and rigid dumptrucks for the most extreme hauling applications. These outstanding, no-nonsense machines deliver a powerful performance in all conditions, from the intense heat of the desert to bitter-cold arctic conditions.
The company's heritage can be traced back to 1934 when the world's first off-road dumptruck was created. This pioneering new machine offered a straightforward, no-nonsense solution for every hauling application, from mining to construction work. Our visit included a whistle-stop tour of the manufacturing facilities and a product briefing which showed how, today, Terex Trucks are still committed to producing outstanding, benchmark rigid and articulated dumptrucks.
Following a special lunch at the factory with members of Terex Trucks' management team, and with an enhanced understanding of the hardware we see used in the mineral extractives sector all over the world, in the afternoon some of us visited a couple of local quarries, organized and escorted by members of the Scottish branch, while the rest went on a tour of Stirling Castle.
The following day our tour journeyed west to Cairnryan in south-west Scotland, where we boarded the ferry for a two-and-half-hour crossing to Larne and on to our hotel in Belfast. Members of the Northern Ireland branch of IQ joined us in the evening for dinner.
5 May: McCloskey Washing Systems, Terex Finlay and CDE
We headed further west, skirting around the south shore of Lough Neagh, to arrive at the European headquarters of McCloskey Washing Systems (MWS) in Coalisland, Co. Tyrone, for a factory tour and product briefing. MWS are one of the leading players providing equipment to the materials, mining and minerals industries.
Our next stop to the west was the Terex Finlay factory in Omagh, where we took part in a factory tour, product briefing and lunch. Terex Finlay have been manufacturing a wide range of tracked mobile crushing, screening and recycling equipment for more than 50 years. The company is a global pioneer in tracked mobile solutions and offers a comprehensive range of equipment to the quarrying, mining, construction, demolition and recycling industries.
Early afternoon we circled back towards Belfast, stopping at the global headquarters of CDE in Cookstown. It is the world's largest campus dedicated to the wet processing of materials in the sand and aggregates, mining, C&D waste recycling, industrial sands and environmental sectors.
In 2016, CDE extended their production and assembly facility, resulting in a 32% increase in production capacity. Since their birth in 1992, CDE have grown to become the largest wet processing equipment company in the world, as a result of their focus on constantly developing and improving materials processing technology in a way that allows businesses to maximize ROI, minimize environmental impact and gain significant competitive advantage in markets.
On Saturday 6 May our group enjoyed a guided tour of the Titanic Museum before travelling to Dublin, where we had a fantastic tour of the Guinness Storehouse. Fortunately, Sunday was a rest day so we all took the chance to take in more of the sights in Dublin.
8 May: Roadstone's Belgard Quarry
The Roadstone quarry in Belgard provided us with a fascinating tour and briefing about the site. Founded in 1949, Roadstone's nationwide business includes the manufacture and distribution of a wide range of construction products, including ready-mixed concrete, aggregates, asphalt and macadam, mortar and plaster, concrete blocks and masonry, paving products, roof tiles and agricultural lime.
After the quarry visit we went into Dublin for a guided tour of the city, including the Irish Whiskey Museum and the famous Old Jameson Distillery. The following day we skipped back across the sea to Holyhead, travelled to Caernarfon, where we had a guided tour of the castle, then on to Betws-y-Coed where we had dinner with North Wales branch members and their wives.
10 May: Welsh Slate, Penrhyn
On this day we visited Welsh Slate at Penrhyn for a guided tour of the quarry and offices. Welsh Slate is the world's leading supplier of high-quality slate. Over 500 million years old, the material is widely recognized as being among the finest natural slate in the world. Penrhyn Quarry has been at the centre of UK natural stone extraction since the thirteenth century and a major operation for more than 400 years.
The business also produces a range of slate granules and powders. Today, Welsh Slate continue to operate in the same four locations, producing roofing slate, architectural products and aggregates.
In the afternoon several members of our party visited some other local quarries, organized and escorted by North Wales branch members, while the rest of the group undertook a tour of Snowdonia National Park.
Welsh Slate was the final stop on our study tour. We were welcomed wherever we went, with branch members and IQ head office staff joining us for a range of social events, as well as on a number of site visits. Everyone who took part in the study tour would like to extend their thanks to all those who made the tour such an excellent experience.
For many of our group the study tour was part of an extended visit to the UK and Europe. After all, when you travel 10,500 miles around the world, you have got to make the most of your visit.
We are all most grateful for the generous support and warm welcome we received from the IQ head office and Scottish, Northern Ireland and North Wales branches, and all of the manufacturers and quarries. The tour could not have happened or been anywhere near as successful without them.
Further information about IQA.