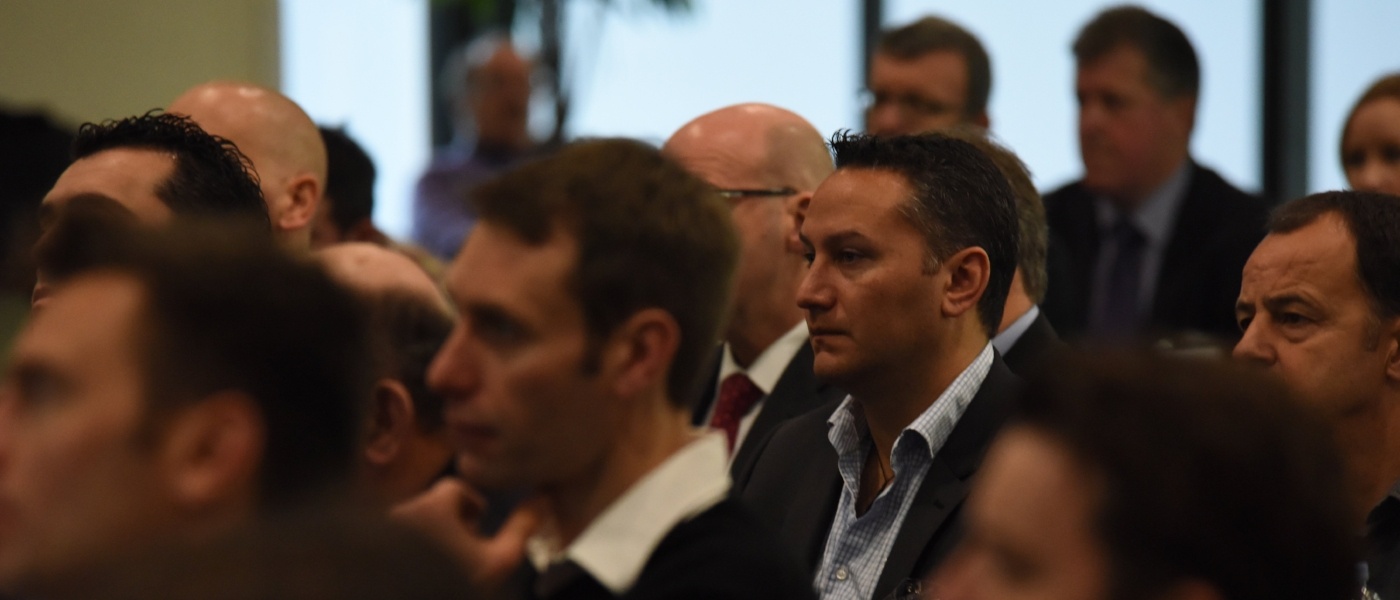 In today's fast moving digital age of social networks, email, video conferencing and mobile phones, it's often easier to Tweet, message or Skype than it is to make time for face-to-face meetings or attend events. But feedback from members of the Institute of Quarrying (IQ) point out the important role that IQ's branch meetings play in connecting people working in the mineral extractives and quarrying sector.

The Institute has a comprehensive UK network of 13 regional branches. Run entirely by passionate volunteers, IQ's branch network is a major benefit to members, bringing people together from across the industry to share knowledge, network and socialise.
Kevin Parker FIQ is one such willing volunteer. He is Secretary of IQ's Yorkshire Branch, where he has also served as Branch Chairman. "I started my quarrying career in 1975 working as an apprentice engineering technician for a multinational quarrying, concrete and refractories company. I must have liked it because I stayed with them for 26 years! Before I left I was Area Operations Manager for North of UK. Subsequently I joined Lightwater Quarries Ltd in Harrogate where I am now General Manager of the quarrying business and where I continue my long-standing commitment to raising professional standards within the industry as a member of IQ."
IQ's Yorkshire Branch is based out of Wetherby in West Yorkshire. Kevin continues: "I've been involved in the Yorkshire branch since the 1990s, so have seen many changes over the years. But the one constant afforded by branch meetings is the opportunity to meet face-to-face with people working across the sector.
"That might be in the shape of the many technical evenings that we organise, our AGMs or purely as a social evening in the ever popular Bridge Inn in Wetherby and the chance to share experiences and learning with friends and colleagues. It's that personal element that can't be replicated elsewhere that I particularly enjoy."
Spread across the UK, IQ's regional branch network extends from Cornwall to Scotland. The 13 branches cover Derbyshire, Devon and Cornwall, Lancashire, London and the Home Counties, Midlands, North of England, North Wales, Northern Ireland, Scotland, South Wales, West of England, West Midlands and Yorkshire.
Ben Uphill MIQ is an enthusiastic and active committee member of IQ's Devon & Cornwall Branch and works as a Multi-site Manager (UK Clay) for Sibelco Group. Starting outwith Aggregate Industries in 1994, Ben did a five year apprenticeship in Engineering & Maintenance, working in hard rock and sand and gravel. In 2005 he completed his BSc (Hons) in Mechanical Design & Manufacture at the University of Plymouth. Following a nine year spell with Sibelco he went to Centristic as the Operations Director, before returning to Sibelco to look after its Kaolin operations, before assuming his current role.
He says: "I see membership of our industry's professional body as an automatic choice. It's a badge of honour, reflecting my commitment to what I do and the importance I place personally on my career development.
"That reaches into my role as IQ Council Representative, where I fulfil a role as an intermediary between IQ's main council and my local branch. It's a great way of generating two way communication about new ideas on practices and thoughts on strategic direction, as well as raising the profile of the Devon & Cornwall Branch with Council.
"In my opinion, achieving IQ membership is an important milestone in anyone's career. It opens doors to all sort of benefits, as well as access to a network of fellow professionals. But membership is just the start; being active at branch level is how you get the best out of your membership. The energy you put in is rewarded in equal measure; enhanced knowledge, improved skills, more valuable contacts, new friendships, the list goes on."
Adapting to the times
Having marked its centenary in 2017, IQ is a modern, forward facing organisation that continuously reviews its fitness for purpose. That includes the role of its branch network and the way branches engage IQ members.
Uphill continues: "I agree with Kevin that networking events and meeting up with colleagues are among the highlights of branch membership, but evolving how our branch networks work is key to unlocking greater engagement from across the membership, as well as encouraging new members to join IQ.
"What is equally important is the ability of branches to update and adapt. Working practices change constantly, so we need to be attuned to these. And the way we interact and communicate with our branch members needs to reflect this. Devon & Cornwall covers a huge area and road connectivity is not always the best. So we need to find innovative solutions to ensure we stay connected, without necessarily having to leave site too often.
"We have started to make subtle changes, so instead of running monthly technical evenings that require members to travel from all over, we now run them six times a year. And to mix things up a bit, we also host an annual field trip, which has proven very popular to date.
"What has impressed me is that IQ is also changing with the times. It's 'Lunch and Learn' webinar programme is something that I know is popular with our branch members because they are accessible, relevant and delivered in bite size chunks of learning, so are easily digestible."
Sarah Fry is IQ's Business Development and Communications Manager. She adds: "We're always looking at new ways to engage our members with content that's meaningful and relevant, plus we're really keen to increase the visibility and role of each of our branches.
"We introduced our new 'branch blogs' via Agg-Net last year and these have proven very popular. They started out as a flag waving exercise for the branches and have evolved into using local members to be a recognisable face for upcoming events to encourage other members to attend. They are a comfortable fit in the broader message of IQ doing things differently to attract more, new and younger people to branch events."
Whilst the social aspect of branch membership is clearly a high point, many of the activities and events that branches organise count towards an individual's Continuing Professional Development (CPD). Technical Member, Member and Fellow grades of the Institute have a mandatory 30 hours of CPD required to maintain IQ membership per annum. Examples of activities that qualify as CPD hours include IQ technical evenings, seminars and conferences, toolbox talks and mentoring, all of which can be gained through branch activities.
IQ makes recording CPD very simple. Members have access to IQ's bespoke CPD recording App through both the Apple and Google Play stores. The App provides a simple, yet intuitive way to easily record CPD and store CPD records in once place.
Mark Broadley FIQ is Chairman of IQ's Lancashire Branch and Business Improvement Manager with Aggregate Industries in Lancaster. A career quarryman, Mark started his career in 1982 with what was originally Ribble Cement at Clitheroe as an Apprentice Maintenance Fitter. Having transferred into the onsite cement works quarry in 1999 as Assistant Quarry Manager, Mark moved to Aggregate Industries in 2004 as Quarry Manager at Holme Park Quarry. He echoes the sentiments of Kevin and Ben.
"Branch membership has, for me, been a wonderful opportunity to share experiences and learning with colleagues from my local area. It's one of a long list of benefits, but it's the one that I value most because it personalises what I do through shared experiences. Innovations like online learning programmes are fantastic but to me it's the people that count."
James Thorne is IQ's Chief Executive Officer. He sees the branch network as the beating heart pumping out the lifeblood of the Institute to reach its growing membership. "As with all things in business, stand still and you die. But the IQ branch network has evolved over the years to adapt to the changing landscape of the sector. By their very presence in the regions that each serves, the branches provide a sense of collective belonging. Each focuses on issues that resonate with the region, which is why they are so important.
"As the body representing professional development in our industry, we need to remain connected to our membership and the regional branches do just that, as well as providing a fantastic contact point for our members in each region. What is great to hear from members and committee members alike is that the human touch is still as important today as it has always been, despite the advances in technology that, in some senses, negate the need for the face-to-face."
"The value and rewards of being active in your local branch are huge. Take the time to get involved, you never know who you'll meet or what you'll learn!"