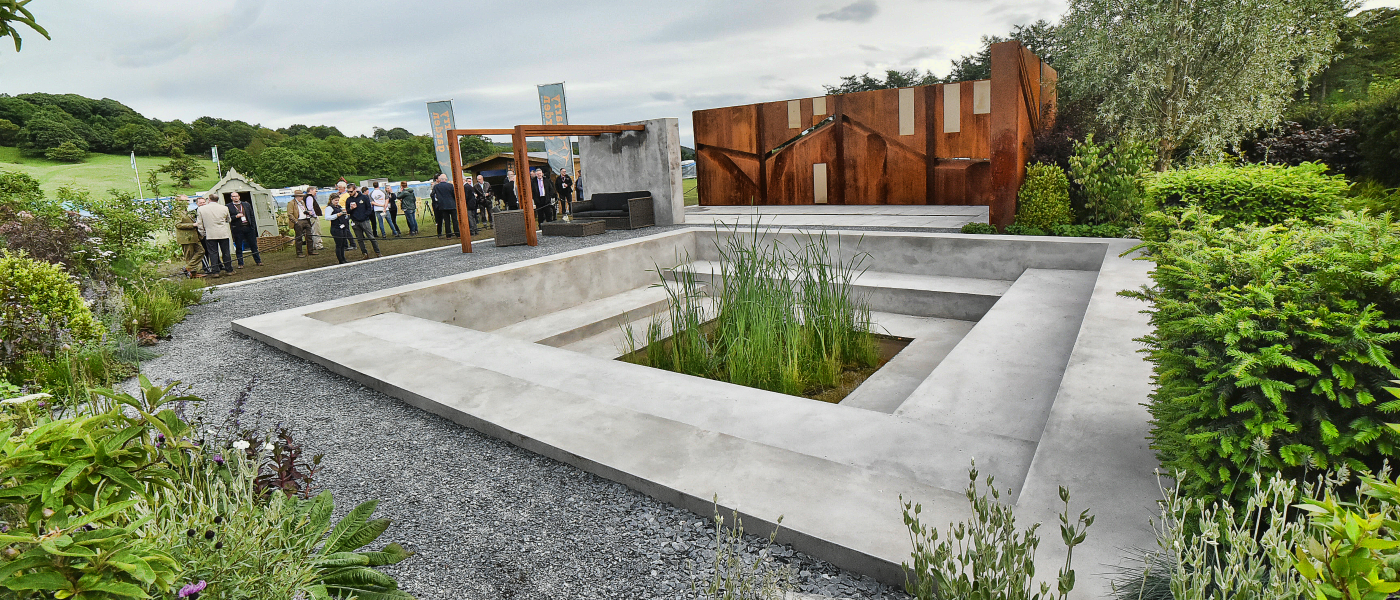 Institute of Quarrying's centenary quarry garden project wins hat trick of awards at first ever RHS Chatsworth Flower Show.
Members of the Institute of Quarrying (IQ) celebrated a hat trick of successes for the IQ Quarry Garden at the first ever RHS Chatsworth Flower Show, having won 'Best in Show', a coveted Gold Medal and 'Best Construction' from esteemed RHS judges. The garden was seen by up to 100,000 visitors to the show and featured widely on TV news and gardening programmes.
The Quarry Garden, designed by award-winning gardener Paul Hervey-Brookes, was created to celebrate the essential role of quarrying and mineral extraction in modern life, and the compelling Quarry Garden narrative captured the RHS judges' imagination. The garden is divided into three zones; a floriferous and naturalistic area featuring slate monoliths, wild flowers and plants often associated with former extraction sites, moving through to an open, modernist sunken concrete pool and finally a structured paved area bordered by a sculptural artwork.
Paul Hervey-Brookes explained: 'The garden design is an expression of how nature and extraction sits comfortably alongside each other. It features mass produced products manufactured from extracted materials, natural slate, concrete and steel, as well as hard landscaping materials made from recycled and reclaimed materials. I'm very proud of what we have achieved and I'm delighted that this has been recognised by the RHS.'
Miles Watkins, president of the Institute of Quarrying, said: 'This is a wonderful way to mark one hundred years of IQ. Taking on a show garden is a major undertaking and to receive Best in Show and a Gold Medal is recognition of all the hard work and endeavour that has gone into making it a reality. That includes the superb project management undertaken by the team at IQ and the dedication of our garden designer and his build team, as well as the support that the project has received from across the sector.'
The Duke of Devonshire, owner of the Chatsworth Estate and patron of the Institute of Quarrying, commented: 'In my opinion, it was a brilliant idea for the Institute of Quarrying to commission a contemporary garden showing all sorts of elements of quarrying. The Quarry Garden symbolises all that is good about this essential sector of our economy. Its colourful planting and varied use of quarried materials reflects both the natural biodiversity and range of manufactured products that often go unnoticed, but without which our lives would be much less rich.'
The project has been an inclusive process throughout. Students from Nottingham Trent University's School of Animal, Rural and Environmental Science were influential in the initial design concepts of the garden and join young leaders from Aggregate Industries, CEMEX, Hanson and Tarmac as garden ambassadors during the week of RHS Chatsworth. At 480m2 , the Quarry Garden was one the largest RHS show gardens ever. It was supported by Tarmac, CEMEX UK, Hanson UK, Aggregate Industries, Birchover Stone Ltd, Bradstone, Delabole Slate Company and University of Derby.
Miles Watkins continued: 'After Chatsworth the garden will go on to live for what we hope will be at least another 100 years at the National Memorial Arboretum in Staffordshire. We think it's a fantastic example of repurposing on a grand scale and is all the more poignant given the Arboretum is on the site of a former quarry and sits alongside one that is still worked.'
For more information visit https://www.quarrying.org/about-quarrying/quarry-garden