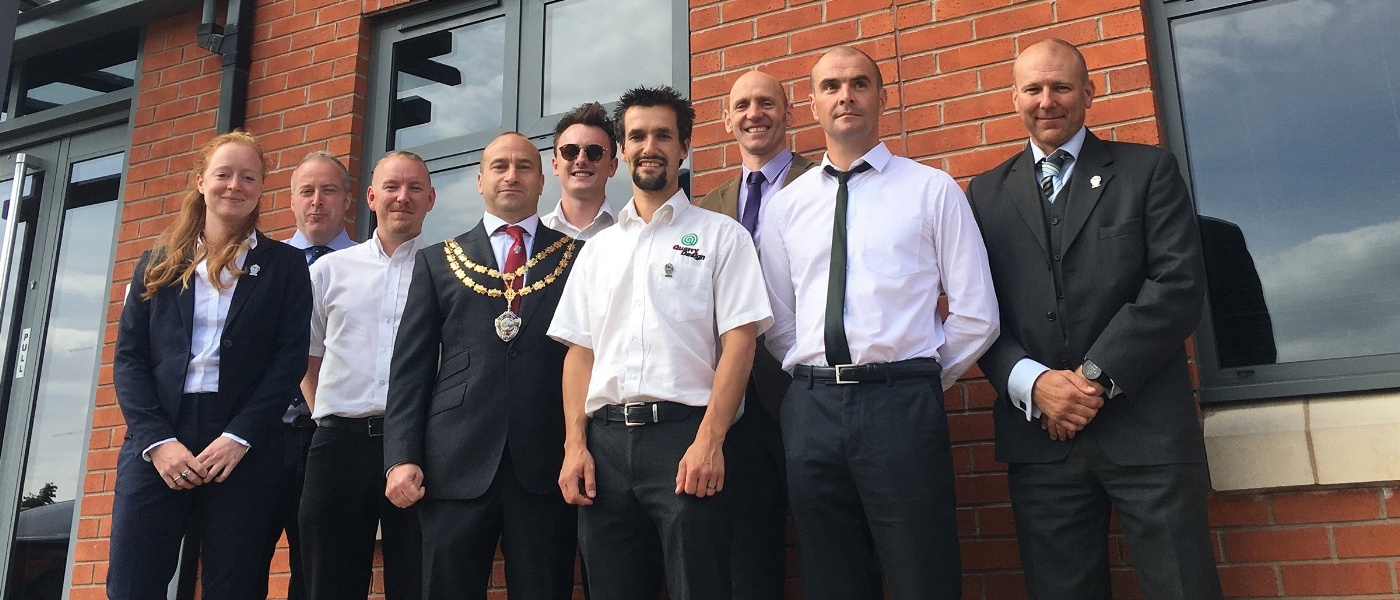 When Adrian Wilkinson and Adrian Charters, the directors of Land and Minerals Consulting Ltd (LMCL), took the decision to attend the Institute of Quarrying's (IQ) Centenary Conference last year, little did they realise that within six months their business would be one of the lead adopters of IQ's Centennial Pledge.
Land and Minerals Consulting Ltd is based in North Somerset, with offices in Dorset, East Yorkshire and County Down. The company was formed by Adrian Wilkinson (managing director) in 2004 as a geological, geotechnical and surveying consultancy and is widely known by its trading name QuarryDesign. Under Adrian's guidance, LMCL's leadership team has always been committed to developing the skills of its team.
Inspired by what they saw at the conference, particularly the Young Professionals of the Future panel session, Adrian continues: "Three of our team are IQ Fellows and we've been active at branch level, but we'd never attended any of the Institute's previous conferences, partially because we thought they were the reserve of the larger operators. But centenaries don't come round that often so myself and Adrian Charters decided to take the plunge.
'With the conference strongly focused on youth, we also invited Dan Pestell, the youngest member of our team along for the experience. He was probably the youngest person at the event. When we saw what IQ was doing to increase membership with the Centennial Pledge, it really chimed with our culture and values so we signed-up there and then."
Dan joined LMCL in September 2016 straight from Clevedon School Sixth Form on the Government's Apprenticeship Scheme, enrolling on a Diploma in Construction and the Built Environment with Bridgwater and Taunton College. He has recently started a six-year part-time BSc Earth Sciences degree course with the Open University.
Dan says: "I'm really keen to learn and luckily for me I'm part of business that has a culture of continual improvement. Since joining LMCL I've also completed a five day surveying course with the Survey Academy in Worcester and qualified to commercially fly small unmanned aerial systems. And in line with our commitment to IQ's Centennial Pledge, I'm now also an Associate of the Institute of Quarrying."
Centennial Pledge
The Centennial Pledge is a two-way initiative developed by IQ in consultation with businesses representing both smaller, independent operators and large multinationals. IQ's ambition is to engage all relevant staff involved in the mineral extractives supply chain - from extractors to contractors, apprentices to managing directors - in membership of the Institute.
Miles Watkins is IQ's President and part of the team driving the Centennial Pledge. He says: "This is a two-way pledge, with IQ committed to driving up the value of membership through improved and enhanced resources. We're already making good progress with this, through the introduction of innovations such as our popular 'Lunch & Learn' webinar programme, as well improving the user experience on our website and developing more relevant online resources."
Rupert Wilks is a senior engineer at LMCL having joined the business in 2016. He is both a Chartered Engineer and Chartered Environmentalist with the IoM³ and is now also a member of the IQ. He explains: "IQ membership is both useful and important to me. I've worked in waste management and the environmental sectors and although I've got considerable experience in the geotechnical aspects of those sectors, the quarrying sector is relatively new to me.
"Being involved in IQ and all that entails will enable me to expand my knowledge and develop my networks within the industry. So it's about opening doors, as well as increasing my knowledge."
IQ's commitment is enshrined in its pledge to support career entry and young professionals by creating dedicated support and resources for students and apprentices to network and share best practices with their peers. A clear, structured pathway to achieve Member of IQ (MIQ) status will also be developed, plus a Mentoring Scheme.
James Thorne, IQ's chief executive officer, helped launch the Centennial Pledge at IQ's 'Inspiring for Generations' conference. He sees the Pledge as an equal commitment from industry and IQ to improving professionalism and standards across the industry. He says: "We have to continue to be relevant to all of our members. The Pledge is about sharing best practice through face-to-face and online forums, providing structured support so that individuals can achieve their career ambitions, as well as consulting on, developing and shaping new technical guidance for professionals. That's all about ensuring our members receive best value, both in the UK and internationally."
The Centennial Pledge also focuses on developing standards and education by carefully aligning its educational programmes with industry needs, including developing and growing IQ's CPC and PRIME schemes. Support is provided to organisations to embed the IQ membership pathway in apprenticeship and graduate schemes, whilst the IQ Skills Wheel is the benchmark for competence and capability across the sector. IQ is also collaborating with sector stakeholders to support and share the work of QNJAC.
James Thorne, CEO, continues: "The Pledge is how we are working towards our own continual improvement in everything we do for our members. That's about being relevant and sense checking what we offer, to ensure it dovetails with the needs of our industry.
"Our target is to achieve 5000 members by 2021, building our presence, profile and value as the go-to membership body for people working in minerals extractives and quarrying. That's everyone involved in technical roles - from apprentices and graduates to those progressing through their careers."
Adrian Wilkinson, MD, LMCl, concludes: "IQ membership is much more than just a badge. It's a point of difference for our business and shows the commitment of our business to the continuing professional development of our people in the core sectors that we work in. I'm very proud that every technical member of our team is now a member of the Institute of Quarrying."