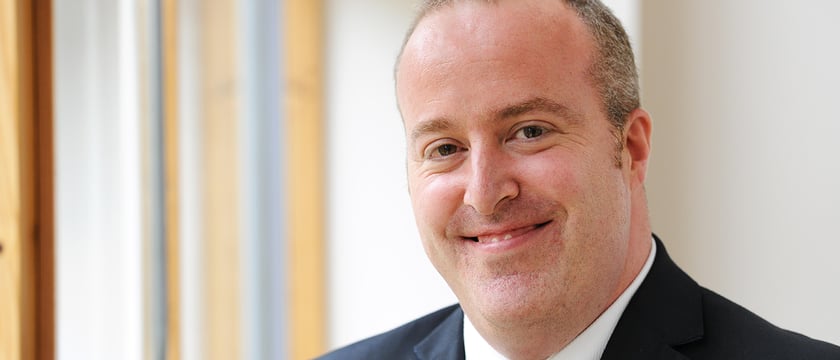 QM spoke to James Thorne, the new chief executive officer of The Institute of Quarrying, about the growth opportunities and challenges facing the industry, and his quest to ensure IQ continues to be at the forefront of education and training excellence, and professional competence within the sector.
Barely a week into his new post and James Thorne, the newly appointed chief executive officer of IQ, is clearly excited by the hive of activity taking place at the Institute's office building in Chilwell, on the outskirts of Nottingham. This year marks a significant milestone for the Institute of Quarrying, as the organization celebrates its centenary.
Succeeding Phil James, who held the CEO role for four years, Mr Thorne came into the job with his eyes wide open: drawn to IQ's reputation as a forward-thinking and proactive organization; as well as the opportunity for career progression by building on his experience in the membership bodies sector.
Before taking the reins as new IQ chief executive officer in late January, Mr Thorne served almost three years as executive director of membership for IOSH (Institution of Occupational Safety & Health) – the world's biggest health and safety membership organization – representing the interests of 46,000-plus workplace professionals. Prior to this, he spent six years at the Institute of Environmental Management and Assessment (IEMA), becoming its head of membership services.
With a strong background in environment and sustainability, it is perhaps no surprise to learn that he graduated with an environmental science degree and spent the early part of his career in the timber industry.
'I'm originally from Dorset and I grew up in a fifth-generation family-run timber business,' said Mr Thorne. 'Being part of the forestry sector and having the opportunities to learn and apply a range of skills in a variety of outdoor environments have been beneficial to my career. I ran my own timber business and was part of a team that established the Dorset Coppice Group, which was set up to ensure the continued protection of woodland whilst helping people in logging and forestry to do things better, safer and in a more eco-friendly way.'
One of Mr Thorne's key tasks that underpinned these efforts was providing the necessary resources/facilities for schools, colleges and local education authorities to run field courses (eg biodiversity, climate change, nature conservation), which introduced young people to topics relevant to the timber industry.
He explained: 'That's when we launched the 'Living Classroom', an education facility surrounded by 30 acres of mixed, broadleaved woodland where we could work with schools and local communities to develop environmental projects and promote the importance of coppice management and using sustainable timber sources.'
As shown, Mr Thorne is a great believer in training and education and he brings to the Institute of Quarrying a passion for helping others, having spent a large part of his career working with volunteer networks and the aforementioned professional membership bodies.
At IOSH, Mr Thorne worked closely with members to improve the organization's support services, as well as helping health and safety professionals to network, share best practice and further develop their careers. Most recently, he was involved in supporting the development of IOSH's new five-year strategy (to be launched in April 2017).
'Although I won't be around when the new initiative is officially launched, it is undoubtedly my proudest achievement at IOSH; knowing that I played a part in helping to develop a strategy aimed at raising the standards of workplace health and safety further and strengthen the organization's leadership, influence and profile not just in the UK but also internationally,' commented Mr Thorne.
Another key achievement for Mr Thorne was the introduction of new support mechanisms at IEMA to help deliver effective environmental management and demonstrate professional development for its 15,000-plus members.
He continued: 'Making up-to-date information easily accessible is essential for any member organization and I'm proud of the wealth of best-practice guidance available at IEMA, ranging from new publications and webinars to e-learning courses and workshops.'
Outside work, Mr Thorne devotes time to his family and, whenever possible, goes to see the occasional cricket match or catch up on his passion for historic building conservation and traditional construction techniques. 'I'm a big cricket fan and love the game, but with a three-and-a-half year old daughter, I don't really get much spare time,' he chuckled.
Early priorities
While family life comes first for Mr Thorne, back in the IQ office one of his priorities will be undertaking what he calls an 'extensive listening phase'. The IQ CEO considers listening – to colleagues, peers, members, partner trade bodies and even critics – as one of the most important competencies a leader can have. And it is something he plans to do a lot of during his early weeks and months at the Institute.
'As a newcomer in the industry, it's vitally important that I listen and speak to everybody associated with the quarrying industry,' said Mr Thorne. 'So far everyone's been very generous with their time and willing to share their insights and knowledge. To be able to listen to disparate views and suggestions – it will give me a comprehensive sense of what's going on in the sector.'
Another important focus for Mr Thorne is to strengthen and build relationships with key stakeholders by sharing best-practice information and being as transparent and open as possible.
'Everyone in the mineral extractives industry has a major role to play in delivering continuous improvements in business performance, health and safety, skills and innovation across the sector. We will be seeking to work collaboratively with all parties to meet common interests and goals.'
Part of Mr Thorne's remit is to encourage and increase IQ membership, and one of his key goals is to develop a strong membership foundation and promote the advantages of joining an innovative and dynamic organization that delivers member value and benefits.
'For me, it's not about setting strict membership targets, but explaining what we do in a language that resonates with people, to help them understand what we can provide, and to help us grow and develop the industry,' he said. 'I want to fully engage with Institute members and non-members to ensure that we meet their current and future needs as well as be representative and relevant to the sector.'
One of the biggest challenges facing the quarrying industry is addressing the skills shortage, and Mr Thorne believes there is an important role for IQ, its members and the industry as a whole to do what they can to attract young, talented individuals and showcase the opportunities a career in quarrying can offer at every stage of their professional development.
'We really need to raise the profile of the sector and attract new entrants,' said Mr Thorne. 'We should be aiming to inspire people from all walks of life by opening up the industry to show people what they can achieve in terms of personal and career development, the international opportunities that exist which all adds up to high levels of career satisfaction. Young people are a key area to engage with but we should be open to recruits from all backgrounds.'
Training and competence
As the quarrying industry looks to achieve the ultimate goal of 'Zero Harm', another major challenge facing operators is improving the health and safety performance of everyone in the supply chain. The key message from IQ is that rigorous continuous professional development (CPD) and encouraging individuals to achieve sector recognition for the highest operational standards can contribute immensely to the sector's overall safety standards and performance.
Having worked with health and safety professionals from a diverse range of industrial, commercial and public sector backgrounds, Mr Thorne has been particularly impressed by the strong safety culture already embedded in the wider quarrying industry.
'What I like about the sector is that we have people willing to step up, work in partnership and share health and safety best practice,' he commented. 'It's the type of industry where employees come to work with a sense of purpose and a focus that you don't often find in other industries.'
One of the key contributing factors in achieving Zero Harm is competence and Mr Thorne reiterated the importance of CPD, skills and ongoing training as an essential investment for future success, for both individuals and employers.
'Our overarching ambition is to continue to deliver skilled employees working in the quarrying, minerals and extractive sectors and, ultimately, as we move forward, my goal is to ensure IQ addresses the UK's ongoing need for higher-level skills through recognized CPD, training and formal education programmes that lead to higher qualifications,' said Mr Thorne.
'We also need to continue to forge partnerships with employers, universities, industry organizations and other professional bodies – delivering better training and qualifications. Not only will this make the industry a more attractive place to work, but ultimately, will help make it more efficient and profitable.'
Special recognition
Mr Thorne's commitment to raising standards, qualifications and training has been strengthened by his own experiences with IOSH and IEMA. He is clearly excited by the challenges and opportunities for IQ going forward and over the next few months, as he gets to know the Institute and industry better, he will be focussing on a wide range of issues to support the progression of the organisation.
Mr Thorne concluded: 'I am extremely proud to be joining the Institute at such an important time and looking forward to the new developments and key growth areas for the organization. Much of our current focus is on celebrating our centenary later this year and we have an exciting set of plans in place to mark what will be an incredible milestone. It will also be a special opportunity to highlight our contribution to the industry over the last 100 years and IQ's growing importance as a professional body synonymous with high-quality education and training around the world.'