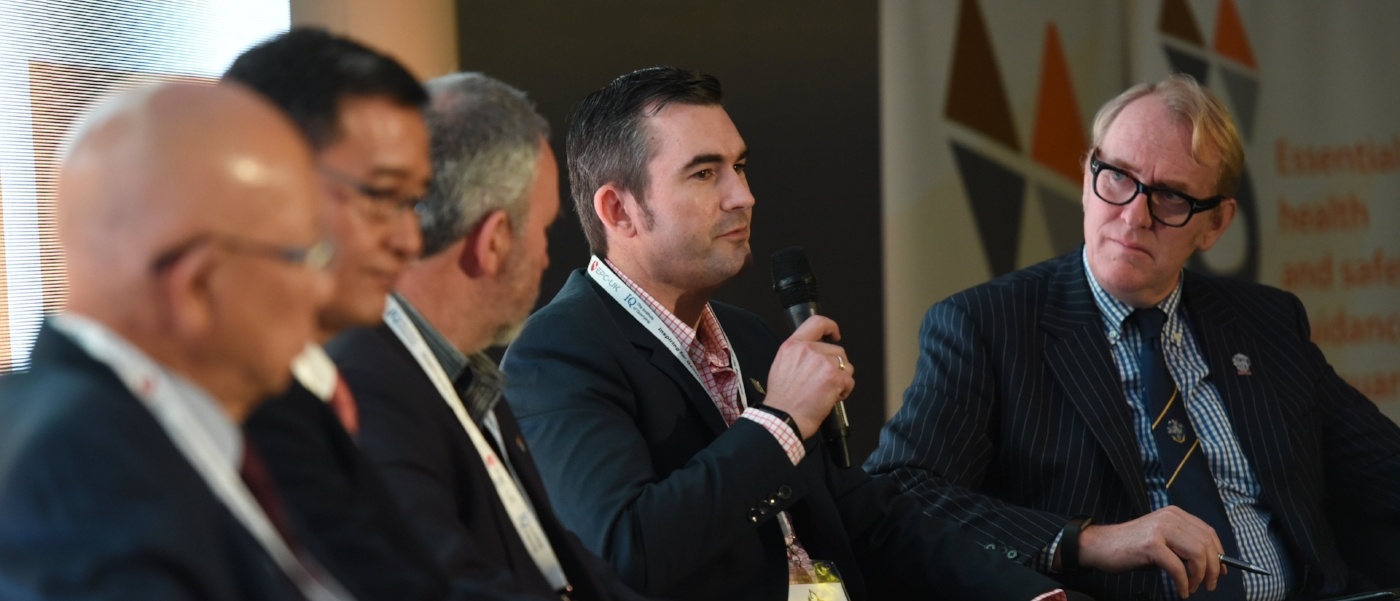 This year's Institute of Quarrying (IQ) 'Inspiring for Generations' centenary conference provided the backdrop to a rare gathering of the Institute's presidents from around the world.
Representatives converged on the Belfry Resort in Sutton Coldfield from New Zealand, Australia, Malaysia, South Africa and Hong Kong. Presidents Clayton Hill (IQ Australia), Peter Morgan (IQ New Zealand), Ir Lee Kam Fatt (IQ Malaysia) and Alfred Chan (Hong Kong) were joined by Terry Pop, secretary of IQ South Africa.
The group arrived a couple of days before conference, investing time meeting with UK IQ colleagues. James Thorne is IQ's Chief Executive. He explains: "Our centenary conference provided the perfect platform for our international representatives to join us here in the UK to mark and celebrate 100 years of IQ.
"We wanted to take the opportunity to find out more about the unique challenges facing each of our international colleagues, as well as the many shared opportunities, and how we can all work together for the benefit of IQ members around the world."
Prior to the conference each of the international representatives joined in an informal, round table discussion about the state of the sector. Subjects for discussion included issues such as continuing professional development (CPD), health and safety, welfare and global and local economic factors.
The picture that emerged highlighted huge territorial differences in the international minerals and extractives sector, in terms of governance, legislation and control. The view emerged that the quarrying sector in South Africa is largely disjointed and unregulated, with a large number of organisations competing for members. Australia presents a complex picture of state-by-state regulation on operating standards, environment and safety, whilst in New Zealand government legislation has introduced the world's first compulsory continuing professional development in the quarrying sector. Malaysia's federal government oversees regulation across its 13 states, with a large number of government bodies involved, from the Department of Minerals and Geoscience, Department of Environment and Department of Occupational Safety and Health all with a stake. In Hong Kong, the small size of the sector means it is influenced less by quarrying and more by product users.
Terry Pop, IQ South Africa, explained: "The South African quarry industry is seeing a prolonged downturn and is awaiting the lead from government around national infrastructure projects to kick start and grow the sluggish economy. This fortunately has not stopped us bringing members together at a number of conferences and functions, although providing cost effective training remains a challenge.
"Membership levels remains stable but a member survey shows an ageing professional population. Our critical challenge is to develop and bring a diverse young membership on board for the future; more importantly, encourage them to see quarrying as a life career. To that end we have established a young member portfolio, with support from the board and a young member invited as a full board member to drive this initiative."
Speaking about IQ Australia, Clayton Hill explained: "We have between four and five thousand active quarries in Australia, ranging from large, international operations run by multinationals to small, privately owned operations. The sector directly employs around 10,000 people, with another 80,000 employed indirectly as a result of what we do.
"We're extremely active in our membership recruitment and currently have 1620 members. We set ourselves ambitious targets and we're looking forward to welcoming our 2000th member within the next two years.
"In Australia we have an extremely complex legislative landscape that is the result of six states and two self-governing territories each in charge of its own rules and regulations. Whilst that may have a profound impact on operational practices, there are many common themes that all operators share. As an industry body we provide support with information that addresses key themes, such as health and safety, environmental management, mental health and safe drilling and blasting, just to name a few. We're about being relevant and accessible, which is key to growing our membership."
Peter Morgan, president of IQ New Zealand, says changes to the regulatory environment in New Zealand have had a major impact on the sector. It is now compulsory for operators to undertake continuing professional development to both achieve and maintain the ability to practice. "Since 2015 the government has introduced strict regulation that is bringing about new levels of professionalism and lifting the bar on standards of practice. Self-regulation was clearly not working and we welcome any actions that improve operational and individual safety, minimise environmental impact and encourage sustainability.
"IQ's role is to disseminate information. We also work in partnership with the Mining Industry Health & Safety Council, which is the main body responsible for health and safety in our sector. We've also got a very good relationship with the government's 'Work Safe' regulator and what they're doing in terms of making the sector a better and safer place to work is excellent."
On the theme of raising professional standards, Ir Lee Kam Fatt, president of IQ Malaysia, adds: "IQ Malaysia works very closely with the Department of Minerals and Geoscience in an effort to raise standards of professional development to world class. Of course, our other main objective is to increase membership recruitment.
"On raising professionalism, currently a quarry manager is not required to hold a qualification to manage a quarry in Malaysia. However, the Department of Minerals and Geoscience and IQ are working together to raise professionalism at various working levels in the industry. Since 2012, IQ has successfully organised training courses on the Quarry Managers Certificate (QMC) and, more recently, the Quarry Managers Practicing Certificate (QMPC). The latter will enable formal recognition of professional qualification."
The requirement for formal training and qualifications, or the lack of, returns time and time again. Once qualified, quarry managers in Australia are under no obligation to refresh or renew skills. Clayton Hill sees the future introduction of compulsory professional development as a positive for the industry and IQ in Australia. In South Africa there is a huge gap in the market for professional development, although there is no regulatory requirement.
Ir Lee Kam Fatt continues: "There is a great opportunity to grow IQ membership in Malaysia. We have 350 quarries, so the required numbers of trained personnel are 350 quarry managers, plus 350 assistant managers. So far in 2017 we have provided training to 200, so there's another 500 to be trained. We are making progress but will continue to drive forward to raise professional standards." IQ Malaysia requires all QMC and QMPC holders to maintain membership together with the required CPD hours annually.
Peter Morgan says IQ in New Zealand has seen a 25 per cent upsurge in membership since the introduction of compulsory CPD. In Hong Kong, IQ president Alfred Chan explains that only one quarry is currently in operation. However, he sees the opportunity to grow membership is considerable: "Over 70 percent of current members work in affiliated industries, rather than quarrying. Given Hong Kong's proximity to South China, future membership expansion is only limited by resource.
"Membership of IQ is attractive to people working in affiliate industries in South China because of our international associations. Our networking events are very popular with members, as are site visits to major infrastructure projects. Combine these benefits with our reputation for excellence in continuing professional development and we are well placed to grow."
Clayton Hill says: "Like New Zealand we are facing the introduction of compulsory professional development in the quarrying sector. That presents challenges and opportunities in equal measure. What we must also continue to be mindful of is remaining meaningful and relevant to our membership. The work we do with women in quarrying and our young member network shows we're taking great steps in the right direction. We're now increasingly using new channels to engage our members too, such as social media and webinars."
In New Zealand the sector is undergoing further review. Peter Morgan says: "Just as we get used to the regulatory changes it's all up for review again. What we need is a period of stability. That's something we can help our members with, helping guide them through the current changes."
About Malaysia, Ir Lee Kam Fatt says: "We need to communicate the value of membership to our sector. Perhaps, like IQ Hong Kong, we need to focus on our international status as a key selling point, alongside access to world leading standards of professional development, networking and site visits."
Terry Pop from South Africa is convinced there is a huge opportunity to plug the education and training gap in South Africa, but key to success is positioning IQ as meaningful, relevant and adding value in a market flooded with membership bodies.
The UK's James Thorne summarises what he sees as an exciting time ahead for IQ, both locally and internationally: "As a membership organisation we have aspirations to be the lead membership organisation representing professional standards in quarrying around the world.
What I've heard, seen and learned from my international colleagues is that there's no one size fits all solution and that for us to succeed we need to innovate and speculate. We have a fantastic team supported by the world's biggest names in mineral extractives. Our vision is clear. We will support professionals, raising standards and cementing the future of our industry at all levels in territories around the world."