The UK mineral extractives sector directly employs 74,000 people at over 2,000 active sites and plants, and supports an additional 3.5 million jobs throughout the supply chain1. Keeping our industry attuned to the latest thinking on safety, health and environmental knowledge is a major undertaking and a key priority for the Institute of Quarrying (IQ).
The Institute's MPQC Level 3 Certificate in Safety, Health and Environmental (SHE) Knowledge for the extractives and mineral processing industries (VQ) was launched in 2017. It is targeted at managers of small operations, supervisors and aspiring foreman looking to further develop their understanding before progressing to a leadership role.
Julian Smallshaw is IQ's head of education and standards. He says: "Since we launched this qualification three years ago we have seen increasing interest and commitment from across the industry. It appears to fill a particular niche in the market, providing the perfect stepping stone to higher level SHE courses.
"A number of businesses have started the year positively, with nine new sign-ups to the programme. We seem to be hitting the mark, with the course proving particularly popular with operators based in the north of England."
Mineral products are essential to the UK's construction and manufacturing industries, the wider economy and our everyday lives. Of the two billion tonnes of all materials typically used every year in the UK, mineral products (at 250 million tonnes or 13 per cent) are the biggest material flow2. With so many people working in such an important sector, it is no surprise that the Health & Safety Executive keeps a close eye on the overall performance of operators.
James Thorne is IQ's chief executive officer. He says: "Health and Safety is an absolute priority for our industry. We are working with our partners to support the sector to continue to create healthy, sustainable workplaces. In 2019 the Strategic Forum for Health and Safety in the Mineral Products Sector, which brings together partners from across the industry, including companies, trades unions, regulators, trade bodies and others, launched the second phase of its campaign to eliminate entrapment incidents within the sector. It is exactly this joined-up approach to health and safety that continues to raise the bar in terms of awareness, education and positive action."
The Level 3 SHE Certificate delivered by IQ provides an in-depth understanding of essential elements required for an individual's career development in the extractives and mineral processing industries. It delivers foundation knowledge in key elements of safety, health and environmental processes and procedures, alongside additional complimentary key areas, such as leadership and communication techniques and theory.
Julian Smallshaw continues: "What's encouraging is the uptake in the qualification by independent operators. Early adopters included the likes of E&JW Glendinning in Devon and Lantoom Limited in Cornwall.
"Now we are working with a number of independent operators across the Midlands and north of England, delivering tailored learning about health and safety. That can involve distance learning, interspersed with face-to-face sessions in the workplace. As more and more individuals equip themselves with relevant knowledge about health and safety best practice, there has to be a positive effect on operating standards."
Tanya Hirst works at RTC Plant Hire Ltd, including Trebarwith Rustic Road Quarry. The company provides expert plant hire, construction supplies and building services for Cornwall and the surrounding area. The quarry operation is a producer of high-quality local stone for the building and construction sectors.
Tanya has recently completed the IQ SHE Level 3 Certificate. She says: "Now I've completed the Level 3 SHE course I feel that I have gained relevant knowledge and skills that have really improved my experience and broadened my understanding of health and safety.
"The IQ SHE Level 3 course has given me the basics to apply my new skills in my workplace. Plus the course content was very interesting and I really would recommend it to others."
Sam Hunt is Sales & Haulage Co-ordinator at Lantoom Quarry. Based in Cornwall, the company supplies Cornish stone from its own quarries, as well as stocking a range of materials from other quarries. He has also completed the qualification: "The SHE Level 3 course helps to increase your awareness of safe working practices, with all the learning material displayed and formatted in a natural way so it's really easy to consume. From start to finish, I valued the content and could easily apply it to real-life situations in the workplace, with insightful material from experts who have been involved in the industry for a long time."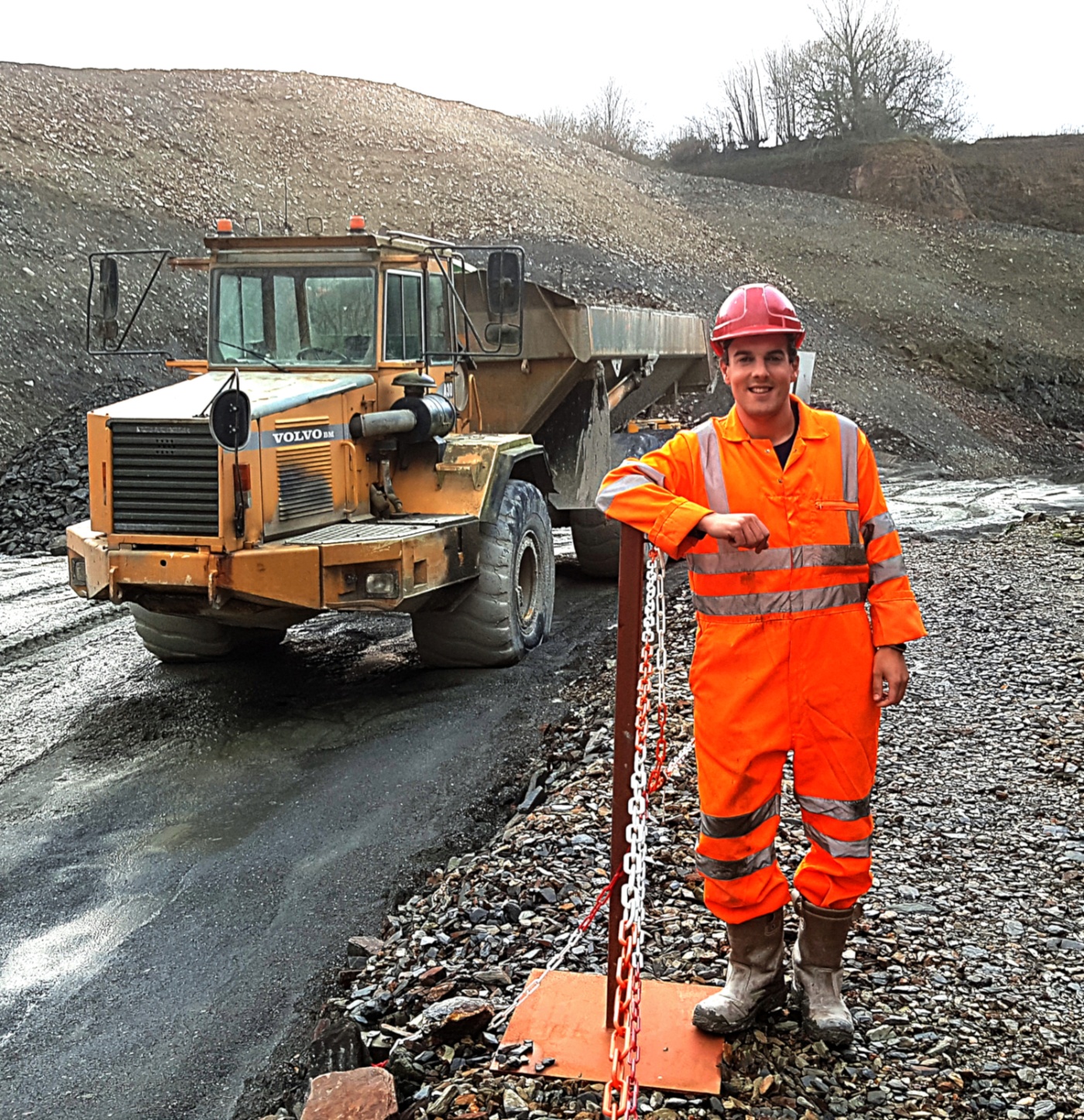 The Level 3 Certificate in Safety, Health and Environmental Knowledge for the extractives and mineral processing industries is open to all, with no prior learning requirements. The course will assist learners in preparing for a future management role.
For further information visit www.quarrying.org
1 Global Aggregates Information Network
2 Global Aggregates Information Network