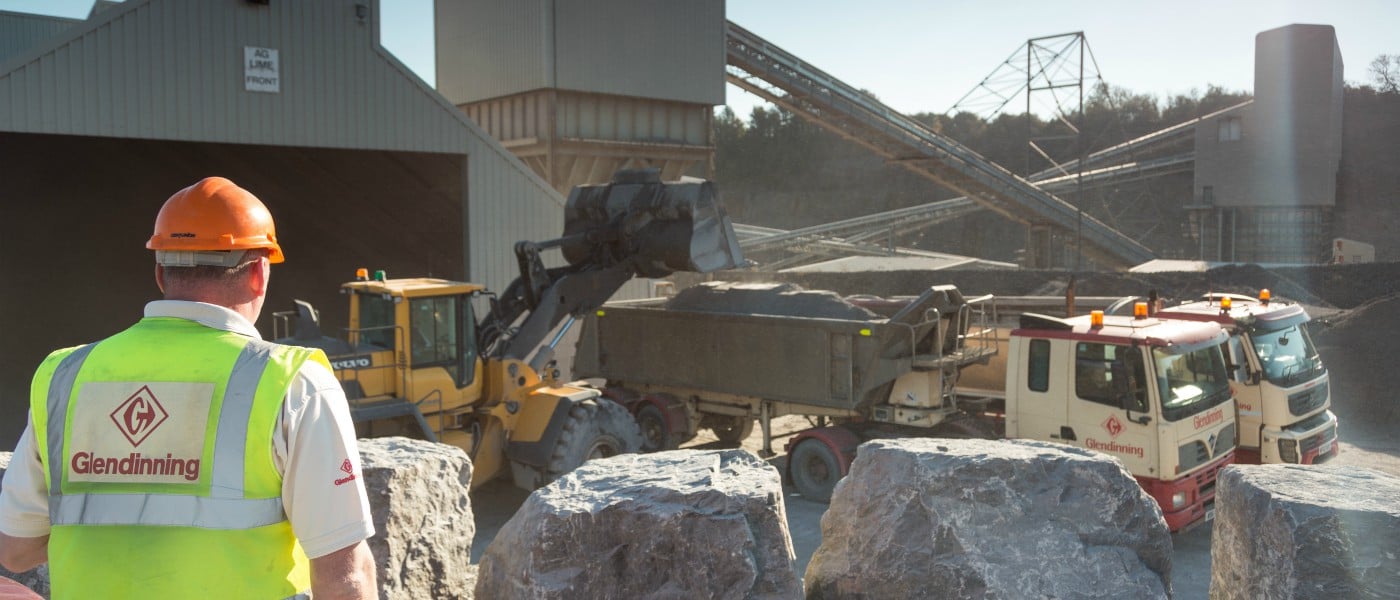 The history of commercial quarrying activity in Devon and Cornwall stretches back to the late medieval period. It's a unique region with an extensive variety of workable minerals. Businesses operating there also have to contend with a variety of unique challenges associated with Devon and Cornwall's standing as one of the UK's most popular tourist destinations. Health and Safety onsite and beyond the gate is top of the agenda for local operators, with companies committing time and resource to knowledge development in this key area.

Independent quarry operators in Devon and Cornwall continue to provide a rich source of local employment, such as Ashburton-based E & JW Glendinning and Lantoom Quarry. It is this mosaic of smaller, privately owned businesses that plays an increasingly important role in shaping the public's perception of the industry, as well as fulfilling the construction industry's insatiable demand for asphalt and building materials.

Devon and Cornwall is a part of the UK which is blessed with an outstanding natural environment but can sometimes be seen as remote from the rest of the country. Across the region mineral operations have a long and rich history which combined with the quality of the environment makes the area attractive to talented people.

James Thorne is the Institute of Quarrying's (IQ) chief executive officer. He says: "Our primary desire is that we as individuals, and all of our colleagues, are able to arrive home at the end of every shift safely. The large, multinational operators are extremely vocal about this, as are the many independent minerals extractive businesses. But it's actions that speak louder than words and we are seeing an increasing number of individuals, from both large and small employers, now formally qualified in Health and Safety, through programmes such as IQ's Level 3 Certificate in Safety, Health and Environmental Knowledge.

"Health and Safety is our absolute priority and we are working with our partners to support the industry to continue to create healthy, sustainable workplaces. With this in mind, the Strategic Forum for Health and Safety in Mineral Products has declared 2019 as the year to eliminate entrapment incidents. The Forum represents a partnership within the industry to tackle key issues on the Health and Safety agenda, and IQ is proud to play its part in supporting its work."

The SHE Level 3 Certificate delivered by IQ has been developed to provide an in-depth understanding of essential elements required for an individual's career development in the extractives and mineral processing industries. It delivers a firm foundation of knowledge in key elements of Safety, Health and Environmental processes and procedures, alongside additional complimentary key areas such as leadership and communication techniques and theory.

E&JW Glendinning

Glendinning Quarry and Concrete Products operates across four sites in Devon and one in Cornwall. Josh Farrar is Deputy Supervisor at the company's Pigsdon Quarry near Bude in north Cornwall. The gritstone quarry produces high PSV chippings for use in surface-course asphalt. Other less profitable types of stone deposited alongside the gritstone are crushed into aggregates for the local construction and farming industries. Pigsdon has an onsite asphalt plant supplying local companies and individuals, as well as regional highway authorities.

Josh has recently completed his Level 3 Certificate in Safety, Health and Environmental Knowledge. He says: "I was really keen to further my own personal professional development, plus there was a specific need for me to have a qualification to fulfil my deputy supervisor duties. My manager found out about the IQ Level 3 course and it was a suitable level, above Level 2 for operatives and below Level 4 manager SHE.

"At every stage of the course I have thought about how what we're learning relates to Pigsdon Quarry, to see if we're doing everything correctly or if I can think of any improvements. What I quickly realised was that we already operate to the highest standards, which was really rewarding. Where I identified any potential issues, the business was already two steps ahead of me implementing good practice. For example, I realised that on occasion we were still manually handling oil barrels and that it isn't as safe as using mechanical means to do the same job. When I mentioned this to my supervisor he informed me that plans were already in motion to address the problem. We're building a new shed so that all barrel handling is now carried out using our onsite telehandler.

"The SHE course has really benefited me. I'm now better equipped to take charge of the quarry when necessary and the qualification is a tangible record of my continuing professional development. The course has benefitted Glendinning's too as I now have the relevant skills and knowledge to safely do my job."

Lantoom Quarry

Lantoom Ltd is independently owned and operates two active quarries in Cornwall. The majority of its products are used as facing stone in wall construction, particularly for new homes.

IQ Associate member Sam Hunt is a Management Trainee at Lantoom Quarry. A graduate from Bournemouth University, he is training for a wide range of operations. An important part of his current role is to efficiently book haulage for the company's products so customers receive a high quality, reliable shipping service. He liaises with Lantoom's quarry manager and quarry operatives for updates on stock and operations to ensure delivery to customer expectations and has also been involved in Health and Safety management, including updating Risk Assessments and Geotechnical Safety.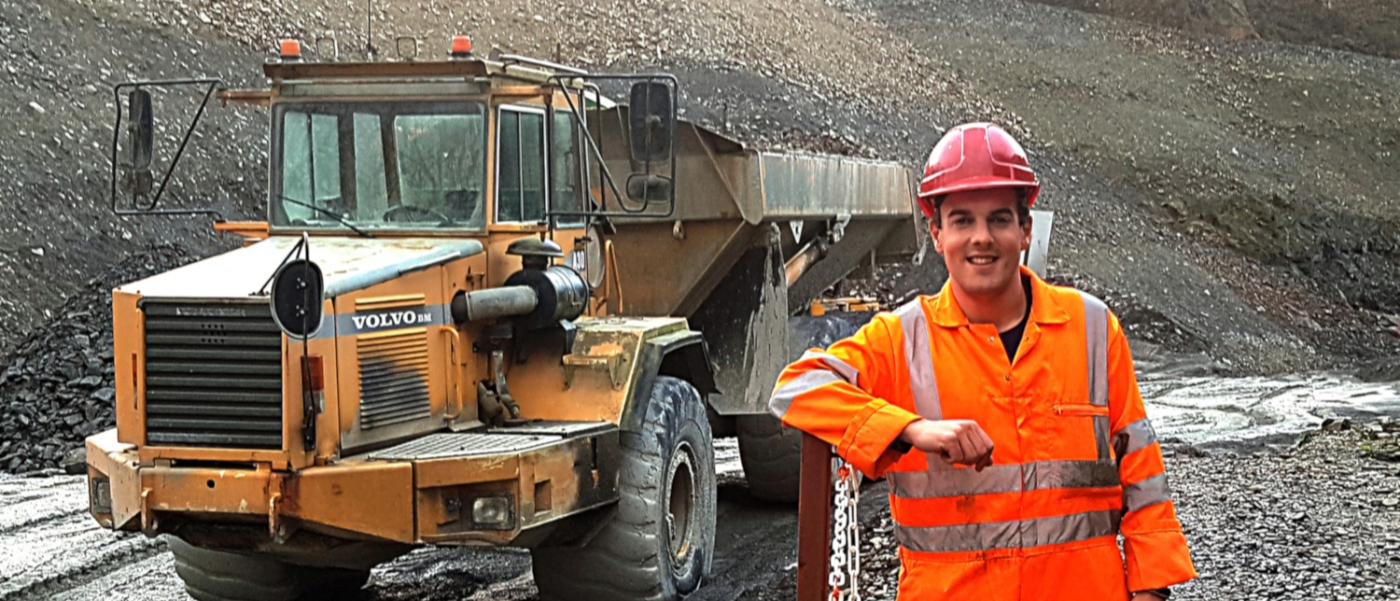 Sam is also a proud recipient of his IQ Level 3 Certificate in Safety, Health and Environmental Knowledge. He says: "At Lantoom Quarry we operate and adhere to the highest safety standards as detailed in the Health & Safety Executive's 'The Quarries Regulations 1999'. The Level 3 SHE vocational qualification was perfect for me at my stage in my career. It provided me with context to health and safety and equipped me with a better knowledge and clearer understanding that I can apply within my place of work.
"At an operational level, one of the things we are very mindful of is the safety of pedestrians related to moving machinery in our quarries. It's an issue that we have been careful to address. The course provides extensive knowledge of the core elements in safety, health and environmental processes and procedures, as well as covering key areas such as leadership and communication techniques - all of which fit perfectly with the way my role is developing."
Julian Smallshaw is Head of Educational Development at the Institute of Quarrying. He points out: "Continuing professional development is extremely important within the mineral extractives industry, and IQ prides itself on delivering globally recognised training, education, and qualifications to its members. Health and Safety is an ongoing industry issue, therefore it is imperative that industry professionals have the knowledge, understanding and practical application of key regulations and standards that affect our industry in order to work towards the aim of zero harm.
"Quarry operators in the south west of the UK are leading by example, with sustained investment in the continuing professional development of employees. Over the last 12 months IQ has worked with a number of independent operators, delivering tailored learning about health and safety. That's involved distance learning, as well as face-to-face sessions in the workplace. As more and more individuals equip themselves with relevant knowledge about health and safety best practice, there has to be positive effect on operating standards."
The Level 3 Certificate in Safety, Health and Environmental Knowledge for the extractives and mineral processing industries is open to all, with no prior learning requirements. The course will assist learners in preparing for a future management role.