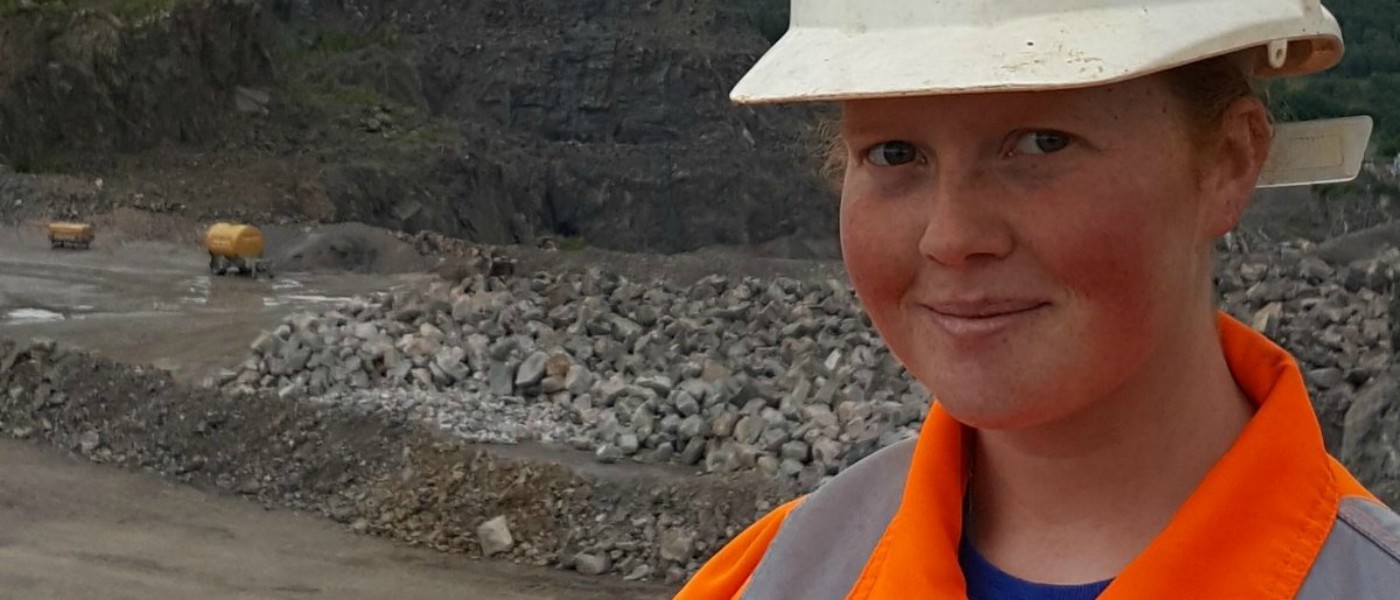 Shotfirer. Surveyor. Geotechnical engineer. Quarry manager. Technical development manager. These are just a few of the job roles that are fulfilled by the increasing number of women now finding opportunities to start and progress their careers through continuous professional development in today's quarrying and mineral extractives sector.
In a year when the Government failed to act on calls for a ban on 'sexist' dress codes, which force women to wear high heels to work, or on employers who coerce female employees to chemically straighten their hair, attitudes towards women in quarrying appear light years ahead of the gender stereotypes endemic in some sectors.
Becky Murphy, Human Resources Business Partner at Hanson claims her company's approach is a good example of the progress being made throughout the industry: "We've established a Fairness, Inclusion and Respect committee, comprised of senior managers drawn from all areas of the company. The aim is to review and communicate the positive actions, as well as the real business challenges, we're engaged in as we become a more diverse and inclusive organisation."
The Institute of Quarrying supports and champions professional development as a means of career progression for all across the mineral extractives sector. Charlene Geddes is a geotechnical engineer at BAM Nuttall, working within BAM Ritchie's Drill and Blast Department. She joined in 2014. A graduate from the University of Aberdeen, Charlene holds a degree in Geography and Geoscience. Looking for a role outdoors, BAM Ritchie ticked all the boxes. She says: "In my opinion we've moved beyond gender. It's about your ability and capabilities as an individual to do the job. That's my experience.
"I work at various sites all over Scotland, so the backdrop to my workplace is the Highlands and Grampians, one of the most beautiful landscapes in the world. Who could ask for more? My current role is Shotfirer and Surveyor. I've been in this role since joining BAM Nuttall three years ago, starting out as a trainee.
"Learning on the job is key to progression. Since starting I've completed a MPQC Award in Shotfiring, along with relevant National Vocational Qualifications (NVQs). BAM Ritchie invest in ongoing personal development, which means new doors are always opening. It's just a case of which ones you want to open to progress your career."
Making in-roads
From starting out in the industry to making a career of it, Helen Bailey, 33, is managing director of The Driven Company Associates Ltd, UK, a technical consultancy supporting asset owners, clients and contractors with the development of engineered solutions in construction materials, with a focus on highways.
Helen says: "Whilst I studied Architectural Engineering at The University of Leeds, and so had a desire to be around construction, the world of materials and more specifically, asphalt, probably found me. Like many in this industry, it was sheer good luck. Just over 10 years ago my PhD supervisor suggested I take a 'holiday' from study and try working at Aggregate Industries research and development facilities in 2006."
Since then Helen has never looked back, joining the industry as a senior asphalt researcher at Aggregate Industries, quickly progressing to research manager. Having completed her PhD she joined Gaia Enviro Tech and subsequently TRL in 2012 as technical development manager.
Driven is now three years old. Helen explains: "Driven by name, driven by nature. The company was part borne out of my desire to progress in the industry at a time when the role I was looking for didn't necessarily exist so what better way to gain experience and progress than creating my own role? I now work all over the UK, as well as internationally. I've been invited to speak in Poland, Mexico and Dubai, accompanying the Institute of Quarrying on a number of overseas joint ventures.
Helen is also a senior lecturer at the Centre for Mineral Products Professional Development at the University of Derby: "I'm passionate about the future of the industry and I'd like to make a difference to education in the sector to improve with its sustainability."
"Very rarely are two days ever the same. It's great being in a sector where there is opportunity to innovate, challenge thinking and break norms. Opportunities are open for all if you have self-belief, remain determined, ambitious and motivated."
New blood
Recruiting graduates into the sector is a continuous challenge, but the ever increasing use of new technologies and modernised working practices in quarrying and minerals extractive is exciting a new generation. Twenty six year old Teresa Pérez Rodríguez is from Asturias, a region in the north of Spain. She is a graduate management trainee at Aggregate Industries working at Lytag in Yorkshire.
Teresa explains: "I've wanted to be an engineer ever since I was told that engineers use their ingenuity to solve problems. That's what appealed to me and it's what I love about my current role in charge of yield and process improvement for lightweight aggregates. I get to apply my engineering knowledge to find alternatives and solutions to problematic areas, which is really challenging."
Since graduating with degrees in Industrial Technical Engineering and a Masters in Mechanical Engineering, Teresa's short career has taken her from her home in Asturias to Madrid, working for LafargeHolcim. In 2016 she joined SINTEF in Norway briefly, before heading to Aggregate Industries and the UK. She continues: "I'm always looking forward, so continuous professional development is very important to me. I've already completed the Diploma in Mineral Extractive Studies at the University of Derby and of course, as a graduate management trainee every day is about learning new skills.
"When I complete my graduate scheme I'd like to do the Management Development Programme course to acquire the skills to become a good manager and to develop myself in this challenging industry."
Changing direction
Mary Carter is Health, Safety & Environment Manager at Frank Lyons Plant Services in Harlow, Essex. Her career in quarrying started 24 years ago when she joined Frank Lyons as Quarry Manager/Landfill Manager. Mary explains: "I met my boss when working for a construction firm as a Site Office Manager on the side of the M1 and when he decided to expand his company he offered me a job.
"I was Quarry/Landfill Manager for 22 years until extraction and restoration of my site was complete in 2015. That's when I took on the exciting new role of HS&E Manager. It's a fantastic role, improving the health and safety of employees and making their workplace better for them.
"I loved my job as quarry manager, but it has been great to find a new challenge. That's meant learning new skills and I'm currently taking a Level 5 NVQ in Health & Safety. My career has always been about keeping up-to-date with operating practices and associated operational legislation. As a small business we don't enjoy the departmental support of a large multinational, but we're probably more agile and resourceful and in some ways more practical in how we carry out our job.
"There's no barrier to what you can do if you put your mind to it. Working in quarrying is a very rewarding way to spend your working life and it tends to become more of a vocation as opposed to just a job. The industry has an ageing workforce so there are plenty of opportunities if you're looking for a career that's as varied as the quarries from which we extract."
For more inspiring career stories go to our Quarry Faces page.