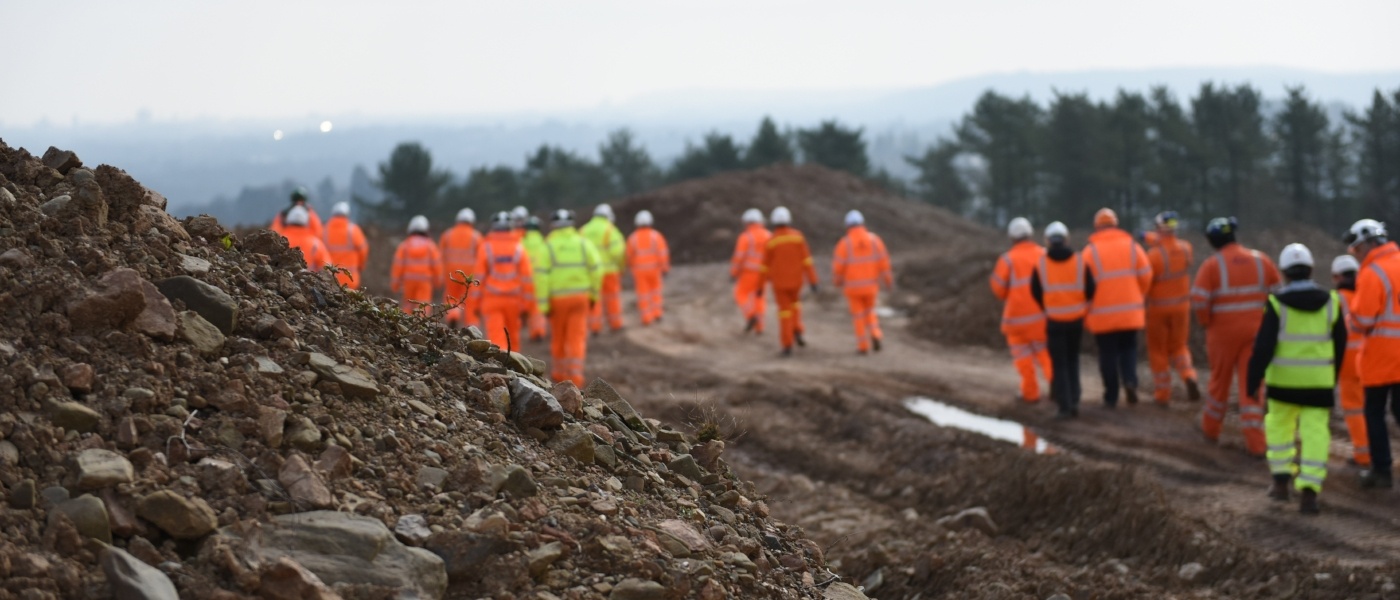 The importance of continuing professional development (CPD) for employees in the mineral extractive sector should not be underestimated – it is a career-long obligation for practicing professionals and ensures continued professional competence and 'fitness for purpose'.
According to the Chartered Institute of Personnel and Development, businesses that invest in CPD attract more skilled recruits and enjoy higher levels of staff retention. With over 34,000
1
people directly employed in mineral extraction and an annual turnover of £16 billion, investment in CPD is increasingly embedded in corporate strategy.
James Thorne is IQ's Chief Executive Officer. Having joined just over a year ago from The Institution of Occupational Safety and Health (IOSH), he is keen that valued employees working in mineral extraction are motivated to remain and that young people starting out on a career are attracted by a culture of personal and professional improvement. "We're acutely aware of the sector's age profile so we need to make our industry appeal to young people, but it's also essential that we retain skilled employees so that they can share their experience with their peers.
"One of the things that comes up time after time in terms of attracting new employees and improving staff loyalty is personal development. Research by global consulting firm BlessingWhite2shows employees actually favour personal development over career progression. They are more likely to stay loyal to a company if given opportunities to develop."
The purpose of the Institute of Quarrying (IQ) is to advance the science and practice of quarrying internationally in the interests of the public at large. It does this by supporting people working in the mineral extractive and related industries through membership and training services.
On the list of IQ's membership services is Education & Training. The Institute's Education team continuously develops sector specific courses, at the same time tailoring learning formats to suit individual and group needs. Thorne continues: "Education & Training is one of the big benefits of IQ membership, both as an individual and for your workforce. It provides recognition that you think highly of an individual, because membership opens the floodgates to a wide range of personal and professional development opportunities.
"We are finding that people are increasingly looking for personal development at work, not just traditional career advancement. That's not just us staking an empty claim, it is validated by research3. Also flagging membership of IQ as a hook for new employees is a great way of showing the value placed upon new recruits.
"Embedding a culture of continuing professional development is the key to unlocking the latent added value inherent across the sector. That's where our new Centennial Pledge comes in to its own."
Centennial Pledge
The IQ Pledge was launched at IQ's 'Inspiring for Generations' centenary conference in October last year, following development in collaboration with businesses representing smaller, independent operators and large multi-nationals. Trailblazing organisations already pledging commitment include Aggregate Industries, CEMEX UK, EPC-UK, FCC Environment, Grundon, Hanson UK, Longcliffe Calcium Carbonates, Quarry Design, Raymond Brown, Sibelco, Tarmac, Glendinning and John Wainwright & Co.
Thorne explains: "The Centennial Pledge sets out how IQ will support the profession. Likewise, the Pledge is also a commitment from industry to support IQ and our mission, whilst developing standards and education by carefully aligning IQ's educational programmes with industry needs. Our goal is to boost membership to over 5,000 by 2021. That must be an achievable goal, given the sector employs over 34,000 people directly in mineral extraction."
Julian Smallshaw is IQ's Head of Educational Development. He has been involved with the quarrying industry all his working life. His passion is to give something back to the industry within the field of training and education. He says: "Encouraging and financing professional qualifications for people working in mineral extraction should be second nature to businesses. More knowledgeable employees are more productive, better motivated and more loyal. Plus investing in education and training is a powerful and tax efficient way of bolstering staff retention and creating an organisation-wide culture of learning and innovation.
"The Institute of Quarrying's Education team has developed a number of targeted programmes suitable for people employed in supervisory roles. It's a gap area and one which we're keen to address. These include Level 3 qualifications in health and safety and leadership and management."
The new IQ Academy Level 3 personal development programmes are:
Certificate in Safety, Health and Environmental Knowledge accredited by MPQC

Certificate in Leadership and Management Practice with a dedicated extractives pathway accredited by The Institute of Leadership and Management (ILM)
Smallshaw continues: "Our new programmes have been designed very much with supervisory roles in mind. The Level 3 Certificate in Safety, Health and Environmental Knowledge for the Extractives and Mineral Processing Industries has been developed to provide an in-depth understanding of essential elements required for an individual's career development in the extractives and mineral processing industries. The course delivers a firm foundation of knowledge in key elements of Safety, Health and Environmental processes and procedures, alongside additional complimentary key areas such as leadership and communication techniques and theory.
"Likewise, the Level 3 Certificate in Leadership and Management Practice provides an internationally recognised qualification with an extractives pathway to help learners develop skills and techniques to effectively lead, supervise and manage workplace behaviour.
"Both courses are about providing relevant work-based skills and enhancing knowledge and expertise. It's this sort of personal development that is so highly regarded by people as it reflects the value that is placed upon them by their employer."
On the job learning
Andy Caile is Quarry Manager at Tarmac's Dene Quarry in Derbyshire. He entered the industry as an apprentice quarry fitter and was one of the first to register for Technical Member of the Institute of Quarrying (TMIQ) in 2014.
Having completed over 1,000 hours of CPD. He says: "Everything I've learned through the CPD scheme I've applied to the site. When I was appointed quarry manager it was the start of a completely new challenge, and as a team we have focused on getting things right. CPD has enabled me to enhance my knowledge and develop as an individual.
"In turn, I hope I have validated Tarmac's investment through the operational efficiencies and improvements that we have introduced at Dene Quarry. Restoration work on the site is taking place. We've added new and better signage and traffic management now runs more smoothly; plus production has increased."
Summing up, James Thorne says: "Continuing professional development is hugely important. It ensures you continue to be competent in your profession and it is an ongoing process and continues throughout a professional's career. We're seeing a positive mood swing in the mineral extractives sector that is enshrined in our Centennial Pledge. That's about collaborative working that benefits all stakeholders and what's good for quarrying must be good for IQ."
More information on the new IQ Academy Level 3 qualifications.