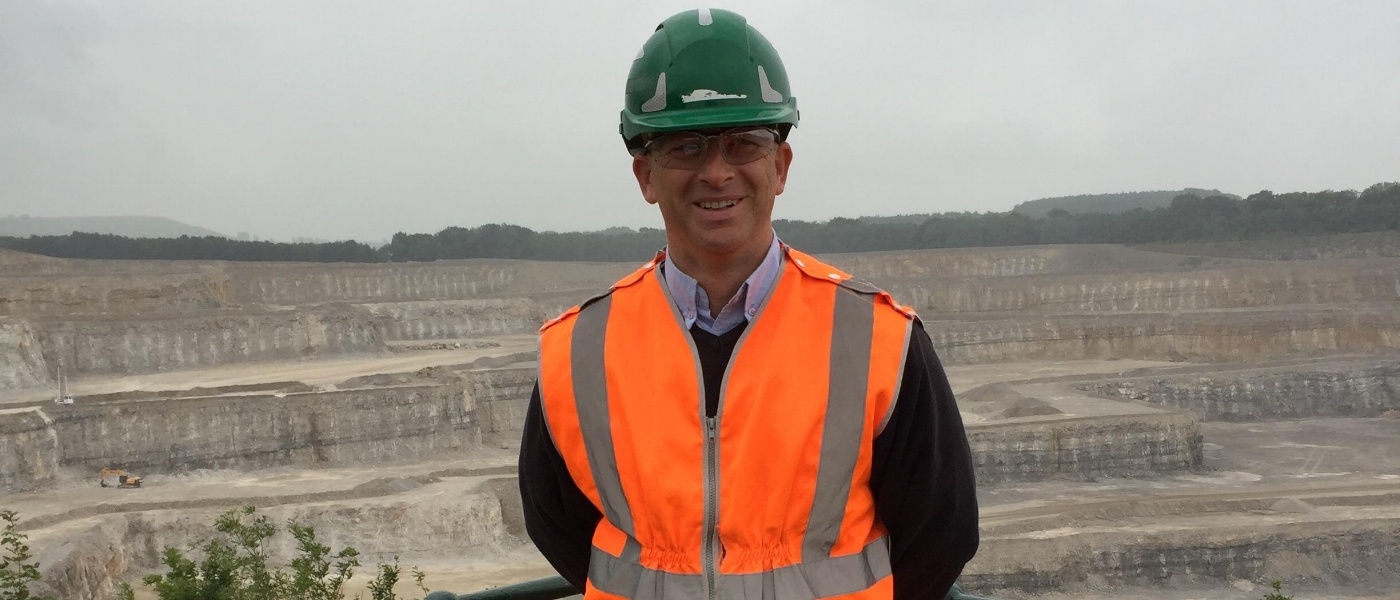 The IQ branch network is at the heart of our member communities. Local branches provide opportunities to get together and meet other professionals with a view to help and support each other. Some members become volunteers, helping to arrange these events. Events are designed to share knowledge and ideas affecting quarrying and provide valuable continuing professional development (CPD). These regional blogs will focus on the people that make these branch events so worthwhile.
Kicking off 2018 is the IQ Derbyshire branch, represented by Tarmac Tunstead Quarry Manager Phillip Shimwell.
About Phillip
Life in quarrying began for Phillip over 20 year ago when he was a fresh faced adolescent picking clay off a conveyor belt at Goddards Quarry, in Stoney Middleton. Throughout the years he has worked in many different roles and at several quarries around Buxton. But in 2016 a once in a lifetime opportunity became available at Tunstead Quarry and he was delighted to become part of the team at one of the biggest and most respected quarries in Europe.
Phillip's role involves managing the development of the 500-hectare quarry and blasting three-four times a week, overseeing the maintenance of its mobile plant, as well as looking after the safety of more than 30 members of his team.
For anyone considering a career in the quarrying industry, Phillip's advice is: "Even if you start off at entry level, having self belief and a hard working attitude will help you progress. It is an industry that supports people. You receive so much assistance to improve your skills and you are encouraged to push on with your personal development. I started off as a clay picker and am now manager of one of the biggest quarries in Europe, so I think it's fair to say I know this from experience!"
Derbyshire Branch
Phillip joined IQ as a Technical Member (TMIQ) in 2015 and upgraded to full member (MIQ) in 2017. He sits on the committee and is also involved in supporting the local community. He regularly attends technical evenings and events held by the Derbyshire branch and finds them extremely worthwhile.
"I try to attend all meetings because they're so informative. The subjects are relevant and there is always a wealth of experience among the people that attend so we bounce ideas off one another.
"Branch events are also a great opportunity to catch up with people from other quarry sites and we often share ideas for best practice and experiences. I particularly enjoyed the recent technical evening discussing wildlife in quarries."
How can I get involved?
For any members in Derbyshire looking to get involved with their local branch, contact:
Chairman
John McGough - jhmcgough@yahoo.co.uk
Vice Chairman
Simon Cutler – simon.cutler@chepstowplant.com
Secretary
John Hattersley – john.hattersley@me.com
Programme Secretary
Nigel Morton – nigel.morton@suon.net