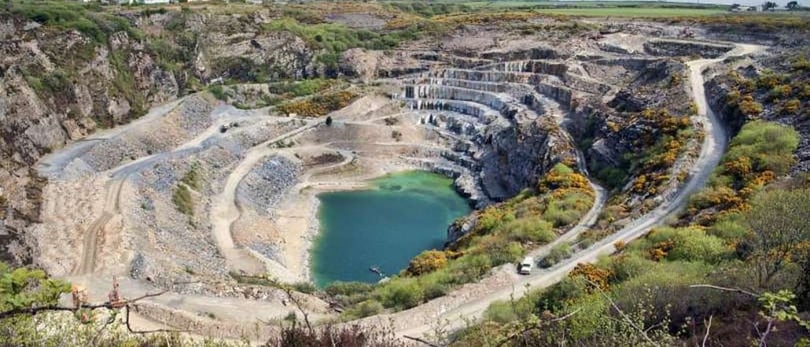 Home to one of the oldest slate quarries in England, Delabole Quarry, and renowned Cornish slate, the history of Devon and Cornwall's quarrying activity stretches back to the late medieval period.
Key resources
The key resources in our region are steeped in history. Haytor granite was used in the reconstruction of London Bridge, which opened in 1831; Lantoom stone is believed to be 395 million years old, formed during the Devonian period; and Cornish Delabole slate has been used as a building material for over 800 years. In fact, historical evidence of blue/grey slate used on medieval buildings around Cornwall, England and Wales indicates that slate was quarried in our region well before the 13th century.
Key sites
One of the most significant quarries in our region is Delabole Slate Quarry, which is one of the largest slate quarries in England. It has been operated continuously from the 15th century, making it the oldest working slate quarry in England. It is even mentioned in the Domesday Book of 1086. Delabole Quarry was also once the deepest man-made pit in Europe, but due to new massive open cast mines and quarries this is no longer the case.
Our region is also home to the natural beauty spot and arguably Dartmoor's most famous landmark, Haytor. There are several quarries on the northern slopes of Haytor, which were worked intermittently between 1820 and 1919. A fun fact about this picturesque site is that Haytor granite was used in the reconstruction of London Bridge, which opened in 1831 and moved in 1970 to Lake Havasu City in Arizona. The last rock was quarried here in 1919 and was used for the Exeter war memorial. Today it's a popular National Park with many enjoying walking trails with panoramic views from the top of Haytor Rocks, as well as providing a haven for wildlife.
Key events
IQ members run regular networking events for local members to get involved with in and around their region, including technical evenings, seminars, and other CPD events. To take a look at some of the events on offer to members on the IQ events page where you can also subscribe to event updates.
How can I get involved?
For any queries about the Devon and Cornwall branch and how you can get involved in local events, please contact The Institute of Quarrying on 0115 972 9995 or mail@quarrying.org.
Chairman
Jonathan Attwood
Deputy Chairman
Andy Thomas
Tel: 07870 919371
Email: Andrew.thomas1@hanson.biz
Branch Secretary
Penny Brodie
Email: penny.brodie@hanson.biz