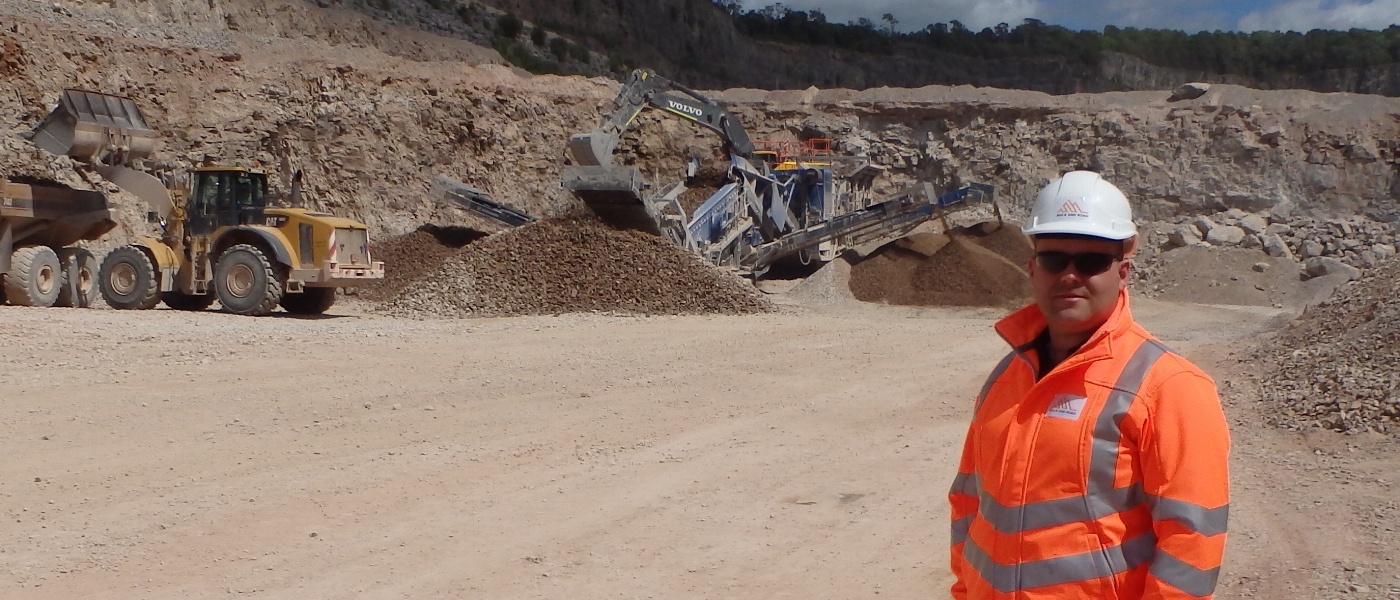 The IQ Lancashire branch is in a region that covers some large towns and cities, including Carnforth, Bolton, Manchester, Stockport, Liverpool, Wigan and the Wirral. It is also an extremely important source of limestone and boasts some stunning natural landscapes, including the North Pennine Hills and Lake District.

Gordon Dick has lived and worked in Lancashire for 15-years and a member of the Institute of Quarrying for almost 20-years. He is currently the Director of his own business, Rock and Road Training Ltd, and is July's 'Member of the Month'.
About Gordon
For Gordon, quarrying and mineral extractives runs in the blood. His Dad is a former surveyor for the National Coal Board and a long-standing member of IQ. It's thanks to him that Gordon took the path to a career he loves today:
"After completing my university application, my Dad appeared with a flyer for the BEng in Quarry and Road Surface Engineering at Doncaster College. With a strong interest in engineering and not wanting to hurt his feelings, I decided to follow it up. When the university decision letters arrived, I was overwhelmed to also receive three letters from quarry producers requesting interviews and my CV; I was offered a sponsored student role with Bardon Aggregates and the rest is history. To this day, I've never been bored in the industry and don't see that coming any day soon."
Gordon became a member of IQ in 1999 as a student at Doncaster College and is extremely grateful for the endless opportunities he has received.
"The network I developed through IQ membership will last a lifetime. It's thanks to this that I have worked my way through various operational and managerial roles. I have also received a lot of training in a variety of fields along the way. It wasn't until I began developing my own business, Rock and Road Training, to pass my skills and knowledge with others in the industry, I realised just how well qualified I was!"
Lancashire Branch
Gordon began his IQ journey as a fresh-faced adolescent at the Yorkshire branch but for the past 15-years he has been heavily involved with the Lancashire branch. He has held committee positions for a number of years, progressing from secretary, vice-chair to chairman and branch representative to council.
"I'm extremely proud of the Lancashire branch. We have great support from the whole region, a committed committee and have developed a strong branch atmosphere; technical evenings are a good mix of social and business.
"As well as joining IQ membership, I would also encourage everyone in our industry to get involved with branch events. This is a unique sector where General Management roles require a vast skill set. Sharing best practice amongst your network and taking advantage of the continuing professional development (CPD) opportunities which are accessible through the membership programme is second to none for progression!"
How can I get involved?
The Lancashire branch is very active and recently held its Summer Dinner Dance. More than 100 people attended and £2000 was raised for charity.
The Technical Season begins again in September. All events and activities are advertised on the branch's page on the IQ Website. You can also like IQ Lancashire on Facebook - @LancashireIQ.
Chairman
Mark Broadley
07740 934603 / mark.broadley@aggregate.com
Vice Chairman
Sam Wrathall
Secretary
Neild Waring