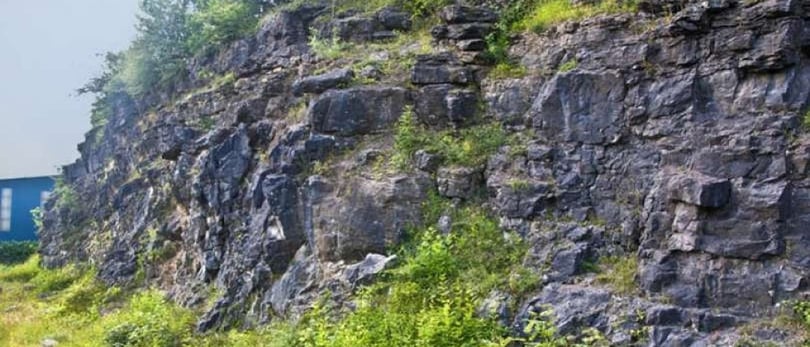 The Lancashire branch is in a region that covers some large towns and cities, including Carnforth, Bolton, Manchester, Stockport, Liverpool, Wigan and the Wirral. Our region is an extremely important source of limestone and also boasts some stunning natural landscapes, including the North Pennine Hills and Lake District.
Key resources
Lancashire has important hard rock resources consisting of both limestones and sandstones of Carboniferous age, as well as major rock types from other key geological periods.
The Lower Carboniferous is represented by the shallow marine Carboniferous limestone at Silverdale and Ribble Valley, running through Clitheroe into Yorkshire. At Silverdale this limestone supports the most important single example of limestone pavement in Britain.
Upper Carboniferous Millstone Grit forms the core of the upland area of the Forest of Bowland and the higher moors to the east of Chorley. Pendle Hill, to the east of Clitheroe, is a striking hill rising to 557m and is formed by Upper Carboniferous shales and sandstones, the oldest Millstone Grit sandstone seen in the central Pennines.
The coastal lowlands of the county are generally formed of Permian and Triassic sandstones and mudstones.
Lancashire was completely covered by ice during the last glacial advance of the Quaternary, or Ice Ages, and as a result the solid geology is largely covered by layers of glacially derived sediments. These form a skin of superficial deposits. In places they are so thick it eradicates all visual clues to the nature of our underlying solid geology.
Key sites
Both disused and working quarries are a common feature of the picturesque landscape in our region.
For example, Cross Hill Quarry was abandoned as a working quarry in the early 1900s and has become an exceptional refuge for wildlife. The quarry floor, made up of mounds of spoil, is rich in lime and provides optimal growing conditions for many limestone grassland flowers such as the common spotted and northern marsh orchid.
Salthill Quarry has been designated an SSSI (Site of Special Scientific Interest) by virtue of its geological formations. Fossilised rocks are abundant in several areas of the reserve with the fossilised tubes, which are parts of Crinoids (sea lilies), estimated to be around 335 million years old!
Key events
IQ members run regular networking events for local members to get involved with in and around their region, including technical evenings, seminars, and other CPD events. To take a look at some of the events on offer to members visit the IQ events page where you can also subscribe to event updates.
How can I get involved?
For any queries about the Lancashire branch and how you can get involved in local events, please contact The Institute of Quarrying on 0115 972 9995 or mail@quarrying.org.
Chairman
Mark Broadley
Tel: 07740 934603
Email: mark.broadley@aggregate.com
Vice Chairman
Glyn Barnes
Email: glyn.barnes@bamritchies.co.uk
Secretary
Sam Wrathall
Email: swrat1@hanson.biz
Treasurer
Ian Thomas
Email: ian.thomas@aggregate.com