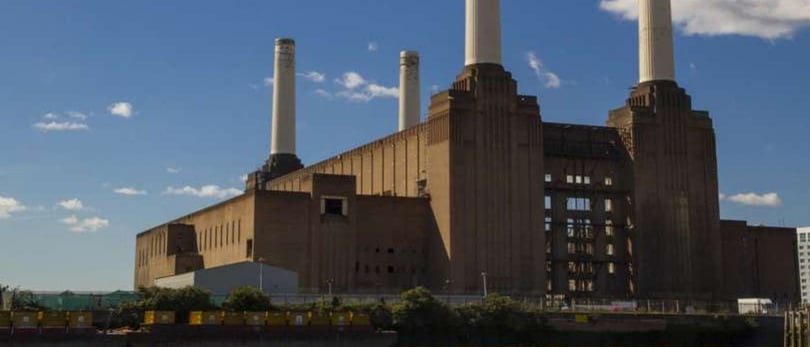 London and the Home Counties covers all of the south east; from the Isle of Wight and Channel Islands, which has a geological history stretching further back into the past than most of Europe, as far north as Oxfordshire.
Key resources and sites
Here are just a few site examples of active quarries in our region and some interesting facts about them.
London
Situated in a prime location south of the river, 'Cemex Battersea Concrete Plant' has supplied to some of the most prestigious projects across Central London. Concrete was supplied to the world-renowned skyscraper 'The Shard' during its construction, which often required both day and night pours to ensure project completion. The Plant also has numerous popular culture references, including the cover art of Pink Floyd's 1977 album Animals and its appearance in the 1965 Beatles' film Help!
Channel Islands
Guernsey has a geological history stretching further back into the past than most of Europe. Many local houses are constructed of blue-grey Bordeaux Diorite or red-brown Cobo Granite, both formed approximately 570 million years ago. The only remaining active quarry is 'Ronez Les Vardes' on the west coast of the Island where Bordeaux Diorite is extracted and crushed on-site to produce aggregate.
In Jersey there are three working quarries: 'Ronez', 'Gigoulande' (Granite Products) and 'La Saline', all situated in the Northwest Igneous Complex. La Saline provides building and ornamental stone, while the larger quarries concentrate on providing aggregate, road metal, concrete blocks and a clay-granite chip mix called hoggin.
Isle of Wight
The geology of the Isle of Wight is dominated by sedimentary rocks of Cretaceous and Paleogene age. 'Blackwater Quarry' has been producing sand and gravel for the island's requirements since the early 1930s and is the largest producer of land based aggregates on the Isle of Wight.
Key events
IQ members run regular networking events for local members to get involved with in and around their region, including technical evenings, seminars, and other CPD events. To take a look at some of the events on offer to members visit the IQ events page where you can also subscribe to event updates.
How can I get involved?
For any queries about the London and the Homes Counties branch and how you can get involved in local events, please contact The Institute of Quarrying on 0115 972 9995 or mail@quarrying.org.
Honorary Chairman
Iain Ormrod
E-mail: iain.ormrod@tarmac.com
Deputy Honorary Chairman
Gary Langton
E-mail: gary.langton@brett.co.uk
Branch representative to Council
Tyrone Partridge
E-mail: tyrone.partridge@daygroup.co.uk
Committee Members
Glyn Richards
E-mail: glyn.richards@cemex.com
Will Taylor
E-mail: will.taylor@brett.co.uk