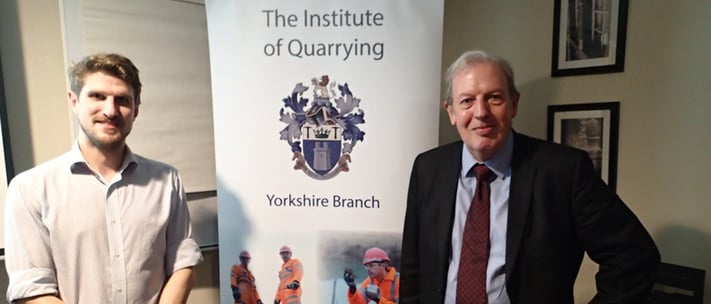 The Yorkshire branch held their December meeting at the usual venue of the Bridge Inn, Wetherby, where there was an excellent turnout to hear Alan Millband of Howes Percival give a talk on 'Mistakes and Aggravation'

Alan Millband is a Partner in the law firm Howes Percival where he heads the Regulatory and Health & Safety Team. He has specialised in this area for over 25 years and has a particular expertise in health and safety law in the quarrying and extractives sector. As well as presenting on the subject on a variety of speaking platforms, including the recent QNJAC conferences, he lectures on the minerals management honours degree course at the University of Derby and has been appointed editor of the Institute of Quarrying's textbook, 'Health and Safety Law in Quarries'.

Alan's presentation 'Mistakes and Aggravation' took a closer look at, on the one hand, the health and safety mistakes that the sector keeps making and which keeps putting them on the HSE's radar; and, on the other, why so many material breaches of health and safety law have features that make it harder for HSE (Health and Safety Executive) not to take enforcement action and which influence courts towards higher fines.

Using various examples, presented with his usual dry wit, Alan ably demonstrated how easily firms trip themselves up, despite appearing on the surface to be doing all that it required. In one of the best attended meetings of the season, Alan responded to a number of questions before being thanked by Technical Chairman Aidan Ranftler.